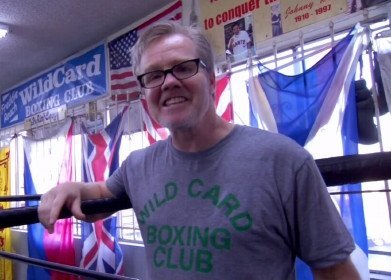 Trainer Freddie Roach will be taking over the reins to train WBA "regular" heavyweight champion Alexander Povetkin (26-0, 18 KO's) for his October 5th fight against IBF/IBO/WBA/WBO heavyweight champion Wladimir Klitschko (60-3, 51 KO's), according to Steve Kim.
Klitschko and Povetkin will be fighting in the 33-year-old Povetkin's home country of Russia in Moscow at the Olimpiyskiy. Whether that'll be any kind of an advantage for Povetkin remains to be seen. Having Roach as his trainer could help Povetkin, because Roach knows about many of Wladimir's weaknesses in having watched him fight many times in the past.
Povetkin will likely be a huge underdog in this fight no matter who trains him. If nothing else, Roach should be able to give Povetkin enough training advice so that he'll be competitive.
Povetkin is still unbeaten, so he's got that going for him. He's never tasted defeat, but he did come awfully close to losing to cruiserweight Marco Huck last year in a 12 round majority decision win in February of 2012.
The main problem that Roach is going to have in trying to get Povetkin ready for this fight is that Povetkin doesn't have any experience fighting quality big fighters.
He's fought one tall heavyweight in 6'5" Andrzej Wawrzyk, but that wasn't a fight that will prepare Povetkin for what he's going to be dealing with on October 5th because Wawrzyk had zero power, zero experience and zero skills. That was like fighting a C level fighter with an inflated record.
It was useless fight other for record padding purposes for Povetkin. Roach is going to have to find some tall sparring partners that can actually fight and then have Povetkin spar constantly with them to try and get ready.
In the past, Roach has talked about Wladimir being vulnerable to pressure from his opponents. That's likely going to be Roach's number 1 strategy for Povetkin against Wladimir. He'll have Povetkin pressure constantly, stay close and be busy when Wladimir is attempting to clinch.