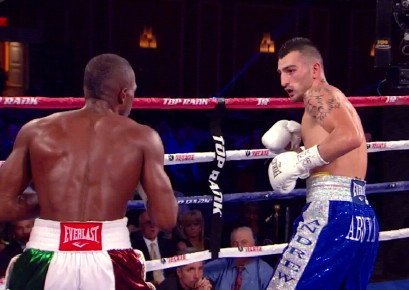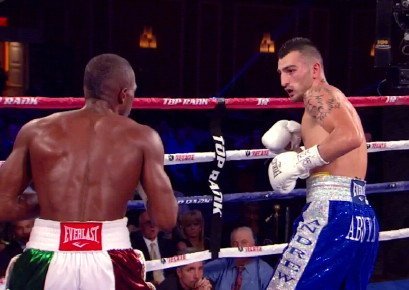 #1 WBO, #5 IBF, #10 WBC, junior middleweight contender Vanes Martirosyan is hoping to get the winner – or loser – of the September 14th fight between Mayweather and Canelo. Martirosyan, 27, thinks he can out-box and stop Canelo, who he hears has problems in dealing with boxers in sparring sessions.
Martirosyan said to esnewsreporting "yeah, I would want to fight the winner. I'll take the loser too. I've heard in sparring he's [Canelo] not good with boxers. I'm a boxer/puncher. If I catch him, I'll hurt him. He's going to get his a** schooled. Mayweather's going to bring him back to reality. I think Mayweather by decision or knockout. Canelo's a strong fighter, but I think Mayweather's too smart."
I don't think Mayweather is going to be interested in fighting Martirosyan if he gets past Canelo. There's no advantage in taking that fight because Martirosyan doesn't have a big enough fan base to make it a fight that would attract a lot of fan interest or bring in a lot of pay per view buys.
Additionally, Martirosyan fights for Top Rank, and that might be the killer for any kind of deal taking place between Mayweather and him.
Canelo likely won't be interested in facing Martirosyan either win or lose. It would be a tough fight for Caenlo and he already struggled badly to win his last fight against Austin Trout last April. Martirosyan can do the same things that Trout can do except that he's a bigger puncher.
Canelo might win the fight by a controversial decision and that wouldn't help him win fans. As bad Canelo looked against Trout, he can't afford to be facing a better version of Trout in fighting Martirosyan.
I don't think Golden Boy Promotions would say yes to this fight in a million years, because Martirosyan is all wrong for Canelo. He would be able to box, move and punch with power, and that would potentially create nightmares for Canelo. Martirosyan would force him to fight three minutes of every round. That would be difficult for Canelo due to his stamina issues.