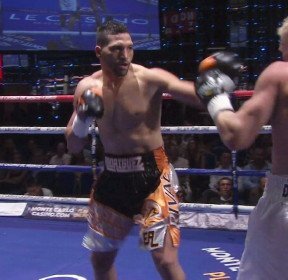 For just a moment, let us allow ourselves, the true boxing fans to acknowledge the great accomplishment of Edwin "La Bomba" Rodriguez. Last Saturday evening at the Salle des etoiles in Monte Carlo, Monaco the Dominican cum Massachusetts fighter thoroughly destroyed Denis "Drago's Son" Grachev after less than two hundred seconds had elapsed. Perhaps the fact that throughout the majority of the first and only round, Grachev stood almost squarely in front of Rodriguez.
Add to that the almost platinum buzz cut adorned by Denis made his head look like a box for which to box and three sides of the box to hit was all Edwin (24(16)-0) would need to tee off on his opponent. It is up to the interpretation of the boxing know whether or not the first round TKO victory was a true shock or as expected.
Denis Grachev (13(8)-2(1)-1) made a huge splash last year when he withstood a few rounds of tapping shots and a knockdown from then undefeated and highly hyped Ismayl Sillakh and proceeded to pummel the Ukrainian into submission via an eighth round TKO win in Austin, TX. A national audience was introduced to the Russian bomber on ESPN's "Friday Night Fights". He then put up a hell of a challenge in what became his first loss last year to Lucien Bute. He rebounded last March with a hard fought win over Zsolt Erdei in the initial offering of the "Million Dollar Super 4" in Monte Carlo.
It may truly take a parent more than a boxing fan to understand and appreciate the recent backstory of Edwin Rodriguez. Although his six year old twins are now happy, healthy and vibrant, this was not always the case. His children were born dangerously premature and required surgery and various treatments. Many people amongst the medical staff at the hospital in Worcester, Massachusetts were of the opinion that one or both of the babies would not survive. This is a story of tragedy squashed by triumph. Hopefully, no parent will ever have to go through this type of ordeal.
All together, Saturday's broadcast in the United States on the BeIn Sports network was quite refreshing. The entire four fight card was entertaining, yet the co-main event stole the show. Michael Buffer flew all the way to the coast of France and didn't even tell those in attendance to get ready to rumble. The French aren't the rumbling types. "La Bomba" barely had to break a sweat and all in his corner were winners. Classy gentleman and trainer Ronnie Shields was all smiles. Even Lou DiBella smiled. Referee Stanley Christodoulou should perhaps stay in an official's tuxedo and away from the judges' table. He rightfully stopped the contest, however he did pass on a very questionable scorecard as a judge just a few months ago. Last April, he had Saul "Canelo" Alvarez as a 118-109 winner over Austin "No Doubt" Trout in their highly competitive light middleweight unification bout in San Antonio, TX. Most would agree that the action was much, much closer than that. He was obviously close enough this time to see the action clearly.