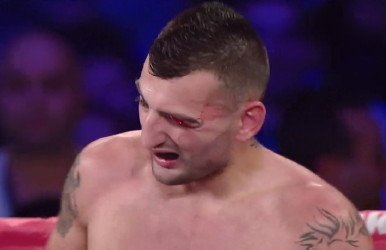 By Rob Smith: Vanes Martirosyan (32-0-1, 20 KO's) and Erislandy Lara (17-1-2, 11 KO's) will have to do it again after fighting to 9 round technical draw in their WBC 154 pound eliminator bout on Saturday night at the Wynn Resort, in Las Vegas, Nevada, USA. The fight was stopped in the 9th round when Martirosyan suffered a nasty cut over his left eye when he banged heads with the 29-year-old Lara, causing the fight to be stopped and go to the judges cards.
The final scores were 86-85 for Martirosyan, 87-84 for Lara and 86-86 even. Without a winner in the fight there still isn't a mandatory challenger to face WBC junior middleweight champion Saul Alvarez next year. Unless the World Boxing Council has another option, Lara and Martirosyan will have to fight again so that a mandatory can be determined to face Alvarez.
Martirosyan fought well and took the action to Lara. Had the fight continued to the finish it's possible that Martirosyan might have been able to pull out a win. However, we'll never know now.
Neither of these guys looked like they're in the same league as Alvarez. They might be able to give him some problems but it's hard to see either of them being able to hang with Alvarez for 12 rounds. They would have to really raise their game to beat Alvarez at this point.
—
Undefeated #1 WBO featherweight contender Miguel "Mikey" Garcia (30-0, 26 KO's) dispatched Jonathan Barros (34-4-1, 17 KO's) in the 8th round. Garcia didn't look all that great until dropping Barros with a left hand in the 8th to get the stoppage win. Barros landed a lot of shots but just didn't have the power to be able to really worry Garcia.
Undercard results tonight:
Anthony Flores TKO 3 Luis Hernandez
Eric Flores UD 4 Daniel Calzada
Jesse Hart KO 3 Joshua Meyers
Jesse Magdaleno KO 1 Jose Silveira
Andrew Hernandez TKO 2 Rudy Puga
Brett Rather UD 4 Avery Gibson