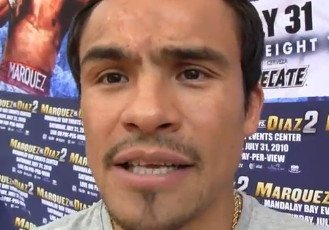 40-year-old Juan Manuel Marquez (55-7-1, 40 KO's) has his eyes on a fifth fight against Manny Pacquiao if he can get past Mike Alvarado (34-2, 23 KO's) in their HBO televised fight this Saturday night at the Forum, in Inglewood, California, USA. Marquez wants the Pacquiao fight because he's the WBO welterweight title holder, and Marquez wants the opportunity to win a fifth division world title.
For him winning fifth world title will somehow validate his long 21-year pro career. You can't help thinking that even if Marquez beats Pacquiao to capture his WBO title, Marquez will continue on and have some other goal that will keep him fighting. Hopefully, Marquez doesn't get it into his head to try and capture a junior middleweight title, because that would be really pushing it.
"We all want the fifth title. It's very important to all of us," Marquez said. "That's the motivation now to keep going. The first thing is Alvarado, but we know that the fifth fight with Pacquiao is a possibility."
This seems like it's likely to end badly for Marquez. He'll either get beaten or made to look old by Alvarado on Saturday or Pacquiao will do it to him next September in Macao. China.
Marquez seems to have aged since his win over Pacquiao in 2012, and he'll have problems with his new mobile fighting style.
Alvarado has a lot of incentive to beat Marquez on Saturday, because a victory for him would get him a fight against Pacquiao. Alvarado hasn't tasted the huge money yet like Marquez has in his four previous fights against Pacquiao, so he has a major reason for wanting to beat him so that he can get that fight.
A loss for Alvarado would definitely hurt his career, and that's why he's going to be fighting at a high level on Saturday. Alvarado is moving up in weight from 140 to 147 for this fight, and you can expect him to be a lot stronger than he's been in his recent fights and with better stamina.
Alvarado won't be stripping weight off for this fight like he's had to do to make weight for his fights at 140, and that's going to make him stronger. Marquez likely picked Alvarado because he saw him as an easy mark after his recent stoppage loss to Ruslan Provodnikov last year, but this could backfire on Marquez in a big way with Alvarado being too much for him to handle at his advanced age.