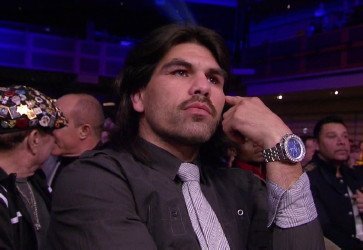 One of the knocks on former WBA/WBC light middleweight champion Saul "Canelo" Alvarez (42-1-1, 30 KO's) is that he's been matched up with mostly welterweights or former welterweights by Golden Boy Promotions since he moved up to the 154 lb. division in 2010. In Canelo's 11 fights at junior middleweight, he's only fought 3 actual junior middleweights who had been fighting at that weight for most of their careers.
The other 8 fighters that Canelo has faced have been welterweights that either moved up to fight him for a payday or simply moved up because they weren't competitive at 147 against the better fighters.
On March 8th, Canelo will be fighting a legitimate junior middleweight in Alfredo Angulo (22-3, 18 KO's), and he's giving himself a good chance of beating the red-haired Canelo because he feels that he's not been facing guys from the weight class with power, and he plans on giving Canelo an introduction to the 154 lb. weight class in this fight.
"I know that both in size and in weight and power, that I'm a real 154 pounder, and I believe that I'm the first one in this weight class with that combination of experiences facing Canelo," Angulo said to RingTV.
Canelo has beaten the following junior middleweights during his career: Austin Trout, Ryan Rhodes, and Luciano Leonel Cuello. None of them were big punchers, and Rhodes and Cuello weren't even close to being in the same class as Canelo and other fighters in the division. They were both soft touches for Canelo. Angulo definitely will be the hardest puncher that Canelo has faced in this weight class, and likely the hardest puncher he's ever faced in his career.
It's kind of disappointing that Golden Boy Promotions has been matching Canelo up with so many welterweights while he's been fighting in the junior middleweight division. You can't blame them for doing this, because it's a smart way of making Canelo look better than he is. It's a whole different ball game if Golden Boy had matched Canelo up with nothing but legitimate junior middleweights in the last four years instead of mostly 147 pound fighters.
Instead of 8 of Canelo's 11 fights in the last four years being against welterweights, Golden Boy should have put him in with nothing but junior middleweights like Erislandy Lara, Vanes Martirosyan, Demetrius Andrade, James Kirkland, Carlos Molina, Sergey Rabchenko, Jermell Charlo, and Anthony Mundine.