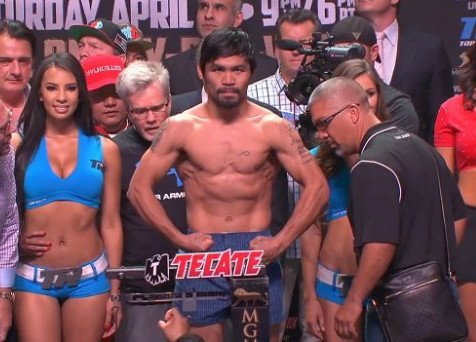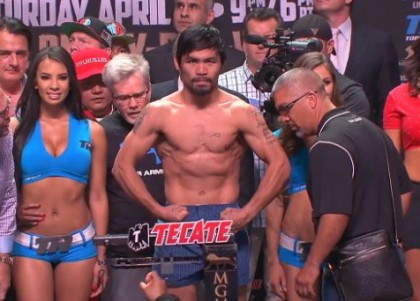 Manny Pacquiao is an intelligent man. His influence bestrides sport, politics, music and popular culture in his home country of the Philippines. His frightening boxing career that has seen him snare world titles in six weight classes has been forged not merely on brutality, but also on thoughtful artistry. There is no doubt that for a man with so much brains behind his glorious brawn, the signs will have been there. As inconceivable as it may seem on the eve of the greatest occasion of his career, his fight with boxing's Pound for Pound monarch Floyd "Money" Mayweather, Manny Pacquiao is travelling to Las Vegas to complete one last throw of the dice.
This is not to suggest, in the vein of many of this superfight's detractors, that Pac-Man has faded too far to make this long-desired fantasy match-up competitive. In fact far from it, in recent displays against Chris Algieri and Brandon Rios he has shown himself to still be in possession of the lightning speed and ruthless boxing skill to dominate championship-level operators. Against Rios in particular he showed an ability to brutally nullify the sort of come-forward puncher that Mayweather has himself laboured with in two bouts with Argentinian traction engine Marcos Maidana. However the old cliché reads that styles make fights, and for Pacquiao his style may be more out of fashion than a shell suit at London Fashion Week when it comes to opposing the former Pretty Boy.
When Manny first emerged at championship level his stock-in-trade was a lightning-fast offensive whirlwind of punches, gruesomely effective in their power and accuracy. However in recent years he has become a more economical fighter, and this could play into his opponent's hands. When Mayweather has found himself troubled i.e. the Castillo bouts, the first half of the Oscar De La Hoya showdown, and in patches against Miguel Cotto and Maidana, it has been when met with relentless pressure. When this bout was first mooted back in 2009, a Manny Pacquiao barely into his 30s was dismantling the likes of Cotto and Manchester's popular Ricky "The Hitman" Hatton with a startling attack-minded offense. You would back that version of the diminutive destroyer to trouble today's slowing Mayweather, but Pacquiao has changed.
The 2009 vintage of Manny Pacquiao would have seen the Juan Manuel Marquez knockout blow coming before it landed, and he certainly would not have let a passive performance in his first match against Tim Bradley be left to the interpretation of some admittedly wretched judges. But despite the fact he has emerged from these losses and continues to impress at world title level, Pacquiao is intelligent enough to know he may not have enough left in the tank to beat Floyd Mayweather. Even in his current state the unbeaten man seems too tricky, too evasive and too quick to let the Filipino into the fight. But it seems that making this megafight happen is more of a sound business decision than a competitive one. The payday for incurring a loss in this fight will far outstrip that of falling again to a fighter of the Bradley or Marquez calibre, both world-class operators but modest box-office attractions.
This is not to suggest Pacquiao will not give his opponent the best fight he can, and he will fully believe he can. But when observers ask the question of "why now?" when it comes to this fight, I believe it is fair to say that the answer is because if Pacquiao must lose again before his magnificent career comes to a close, it may as well be against the opponent who will garner the most money and interest.