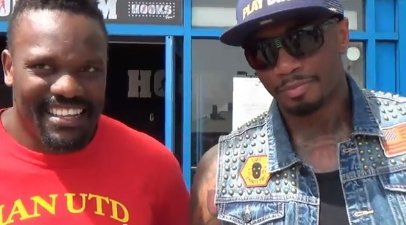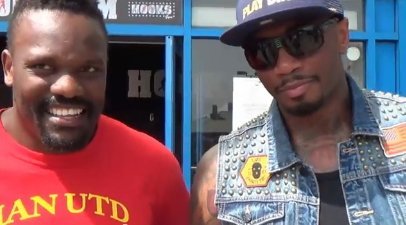 Hey Malik, it's been awhile. How are you doing bro?
I'm good bro, blessed and always be entertained by life.
In your last bout, you lost to Dereck Chisora by what many consider to be a controversial knockout. Talk about the impact that this loss has had on both your career and general psyche…
Well to start things off controversy or no controversy it was a good fight and Chisora officially won fair and square, whatever senseless acts that these referees or judges may do in these fights are not the fighters call, so it is what it is and that milk is spilled so no need to cry over it. As far as my psyche is concerned its better than it has ever been, I still believe I'm the best skilled heavyweight on the planet, I still look good, I have two beautiful, healthy kids that I'm crazy about and I can't wait to get back in the ring to finish my mission to a heavyweight championship.
Is a rematch with Chisora something that the fans can expect to see in the future?
I'm hoping so man, it's something that I definitely want and it's something Chisora told me personally that he would make happen. I'm looking forward to it and I'm hoping Chisora is man enough to keep his word, we'll see.
What are your thoughts on Chisora as a fighter in general?
Same as it was before the fight, he's a good, rugged and tough fighter, you have to give a guy credit who fought for the heavyweight championship of the world against a reigning champion like Vitali Klitschko with only 14 fights and took Vitali a tough distance. Dereck is a tough fighter.
What would you do differently in order to ensure victory in a rematch with Chisora?

Well I was in his hometown on his promoter fight card and like the title said for the fight I was behind enemy lines and I say all that to say, I still was up on all scorecards. I was giving Dereck unnecessary opportunities early in the fight with wrestling, elbowing and just inside working and I still was winning, from what I saw from watching the fight if we fought again I would start off a lot quicker than I did and steal on him a lot more.
It says a lot about how serious you are taking your career by accepting the fight against Chisora after so many other fighters turned it down. If a rematch with Chisora is not secured, what's next for you Malik? Who is on your radar?
Yeah man, I just want to fight, and the world is on my radar, whoever I can get that's relevant in this division I will take.
When can we expect to see you back in the ring Malik?

Shit, ASAP bro. I'm just training, living life and waiting on the call.
Your friend and fellow heavyweight Deontay Wilder scored a nice win last week over former heavyweight champion Sergei Liakhovich. Did you happen to see this fight? If so, what were your thoughts?
Yeah me and Deontay was actually talking all the way up until the morning of his fight against Sergei and he told me he was going to cripple him the way he did, one word describes that kid man a fucking "BEAST." He has a right hand that just can't be taught, it's God-given and I only speak off of what I have felt from when we use to go at it in training camp. He's official tissue, good fighter.
Friendship aside, boxing is a business, and if a fight with Wilder was offered to you, would you accept?
Of course, me and Deontay are bros but we are both chasing history and we both have family's to feed. And if it ever had to come to that we would have to put our personal relationship on the side and handle our business and get back to being bros after the fight.
Out of the following fights, describe how you see the fight playing out and who takes home the win:
Wladimir Klitschko vs. Alexander Povetkin- Been in the ring with both guys, Povetkin is tough and deceiving but if I was betting my money it would go on Wladimir.
Vitali Klitschko vs. Bermane Stiverne (not signed yet)- Vitali by stoppage.
David Haye vs. Tyson Fury- Before 6 rds I got Haye by KO. After 6 I got Fury by KO or decision, great fight.
Seth Mitchell vs. Chris Arreola- Arreola by knockout
Bradley vs. Marquez- I don't care
-Alvarez vs. Mayweather- Mayweather best performance victory
Any final thoughts for the fans?
SOLIDEEN!
For questions and comments, to schedule an interview, or to simply chat about boxing, Charles White can be reached at whitec29@students.wwu.edu or 360-333-5911.