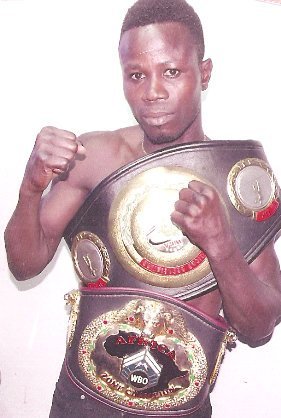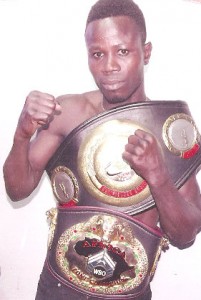 Ghanaian, Maxwell Awuku, currently ranked number 6 by the WBO at Junior Lightweight is relishing his impending trip to the United States of America to begin the new phase of his career, and the former WBO and WBA Pan Africa Super Featherweight champion is pledging to return home a world champion.
Experienced Awuku, 35-2-1, 23 KOs, has just received his US visa after getting a P1 approval and is expected to depart Accra for his new life in the US by the first week of September and he is already setting lofty targets after spending almost a decade of his professional career on the African continent.
Hitherto, in his 10th professional fight back on November 24 2006, Awuku caused a major upset with an astonishing victory over former world champion, Lehlo Ledwaba who boasts Manny Pacquiao in his fighting resume. Former IBF Bantamweight titlist, Lewdaba was trying to get back to the top but Awuku's defeat forced the South African into permanent retirement.
Awuku was also once lined up to fight Rene Gonzalez for the WBA world title but fell through at the last minute. Still, Awuku never got the credit he deserved until he defeated world title contender, Joseph Laryea in 2009, successfully defending the WBA Pan-Africa title he had won after beating Ledwaba. Laryea went on to challenge for the WBO world title, albeit unsuccessfully, against Ricky Burns whilst Awuku was still bidding his time.
That time, he says is now as he sets sights on the US to challenge the elite Super Featherweights in the world. East Side Boxing caught up with Awuku at the Fit Square Boxing Gym in Accra where he trains under the tutelage of his trainer, Coach Daniel Lartey. With nine years professional career behind him, Awuku believes he is primed to take on the very best in the world.
"My victory over Ledwaba has been the happiest moment of my career. It has been very difficult to get the big fights I've always wanted since. The next phase of my career depends on my manager, Anthony Kermah to look for the best opponents at 130 and 135 lbs for me. Anyone they put in front of me, I will beat him," Awuku told us exclusively.
He continued: "I believe with my record of 35 wins in 38 fights , I'm ready to take on the best. I am also aware that the terrain in America is tough, true it's the Mecca of boxing. It has always been my dream to fight in the US and return to Ghana one day with the world title.
Maxwell Awuku added: "I thank my fans, my trainers, my technical team and fans for all the encouragement up to this point. I know I will have to dig deeper to conquer the elites in my division and I'm sure with good management and good promotion in the US, the sky is the limit."