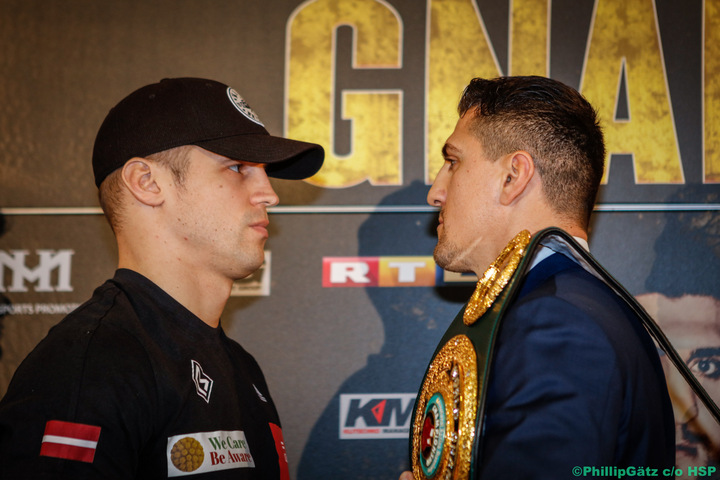 Marco Huck: "I always want to win by Knockout!"
The decision of the World Boxing Council to confirm that the bout between Marco Huck and Mairis Briedis at April 1st in Dortmund, Germany, will be for the WBC cruiserweight championship of the world was the main topic at the press conference today.
"From my childhood it was a dream for me to fight for the green belt of the WBC", Marco Huck said. "Now this dream comes true. It is a maximum motivation for me."
Hard hitting opponent Mairis Briedis (21 wins, 18 K.o.`s) says that the status of the fight makes not a big difference for him. "Of course it is an honour to fight for the WBC belt, but it will be the same Marco Huck in ring like before. I prepared very well and take this really seriously, of course. I fight with a warrior and that means everything can happen. I have no plan for a knockout but I want to fight with a lot of tactical discipline."
Marco Huck is the IBO champion of the world and he wants more. "My opponent ist strong. I know this. But I am stronger. If I wouldn´t believe in this I would be in the wrong place. And of course – I always want to win by knockout!"
Marco Huck and undefeated Mairis Briedis contest the Interim World Boxing Council cruiserweight Championship this Saturday in Westfalenhalle, Dortmund, Germany.
The fight is possible, because current cruiserweight champion Tony Bellew moved up one division to face former champion David Haye.
Marco Huck has a record of 44 professional fights with 40 wins and 27 KO´s. Briedis is undefeated in 21 fights and he has knocked out 18 of his rivals.
Both fighters completed their medical examinations required by the WBC prior to a world title bout. Huck also complied with the pre-weighings of 30 and 7 days. Briedis complied with the pre-weighing of 30 days but did not comply with the 7 days.
Medical examinations and pre-weighing are needed, in order to protect the health of fighters who dispute a title. We are grateful for the consistent hard work of William Boodhoo, who is responsible for requesting, collecting and collating all of these requirements and details.
World Boxing Council middleweight female champion Christina Hammer will be defending her crown against Swedish fighter Maria Lindberg this Saturday in Westfalenhalle, Dortmund, Germany.
Hammer arrives with an impressive record of 20 fights without loss. She won the WBC crown last November by defeating Kali Reis. Lindberg only has a single blemish in 16 bouts, and it was Hammer who defeated her!
Both fighters had no problems with the pre-weigh in and medical examinations required by the WBC, in order to protect the physical well being of competitors.
Briedis – Huck LIVE on Boxnation this Saturday
Marco Huck and undefeated Mairis Briedis will face clash with the WBC Interim Cruiserweight title on the line on April 1 in Germany.
The fight will take place as the current champion cruiserweight champion, Tony Bellew, will move up to face former champion David Haye next Saturday in London.
Marco Huck has fought 44 professional fights, he has got 40 victories with 27 KO´s. On November 19 he defeated Ukrainian Dmytro Kutscher by UD.
Briedis is undefeated in 21 fights and he has knocked out 18 of his rivals.
Big-punching cruiserweight contenders Mairis Briedis and Marco Huck will square off for the vacant interim WBC world title on April 1st at Westfalenhalle in Dortmund, Germany, exclusively live on BoxNation.
'The Channel of Champions' will be the only place to see the undefeated Breidis, with an outstanding record of 21 wins and 18 knockouts, take on the once dominant man of the division in Huck.
32-year-old Huck dominated the 200-pound division from 2009 to 2015, making a division-record tying 13 defences before his shock knockout loss to Poland's Krzysztof Glowacki.
Huck, however, is looking to regain his spot at the top of the division as he takes on the highly-touted Latvian Breidis, who was the mandatory challenger to face Liverpool's Tony Bellew before his move up to heavyweight to take on David Haye.
Following that fight, Bellew must decide if he will remain at heavyweight or move back down to cruiserweight. If he does so, he will be obligated to face the Briedis-Huck winner next up. If he decides to stay at heavyweight the Briedis-Huck winner will become the full titleholder.
Huck currently holds the lightly recognised IBO world title, which will also be on the line, as he looks forward to following in the footsteps of his hero Muhammad Ali.
"I am a professional boxer for 12 years now and I've been waiting a long time for the opportunity to get a unification fight", said Huck. "I am very excited that this is finally happening and that I am even able to fight for the prestigious WBC title, in which my beloved idol Muhammad Ali has been world champion in. This is great for me. Mairis Briedis is still undefeated and has the reputation of being a very unpleasant opponent with a very hard punch. I prefer opponents of this calibre, for the bigger the challenge, the better I perform. I will be preparing very intensely because if I do my homework well, a fight is usually decided in my favour before it even gets started."
The 32-year-old Briedis is hoping to prove he is the real deal when he takes on the toughest opponent of his career.
"I am incredibly happy about the upcoming fight against Marco Huck. He is a true cruiserweight legend and has already had a lot of incredible fights," said Briedis.
"In this fight we will battle for the WBC title, which means for both of us – all or nothing! I know that Marco will also give his best. Therefore, let the best man win!," he said.
Jim McMunn, BoxNation Managing Director, said: "This is a very exciting fight and one that in all likelihood will produce an explosive finish. Both men are serious punchers and if one of their bombs land it's going to be an early night. BoxNation subscribers will be in for a treat when these two hard-hitters get into the ring on April 1st exclusively live on BoxNation."
BoxNation is available on Sky/Freeview/Virgin/TalkTalk/EE/Apple TV/ online at watch.boxnation.com and via apps (iOS, Android, Amazon) for just £12 a month. Buy now at boxnation.com. Huck vs Briedis will be shown live in Germany on RTL.