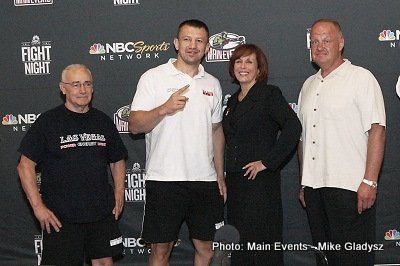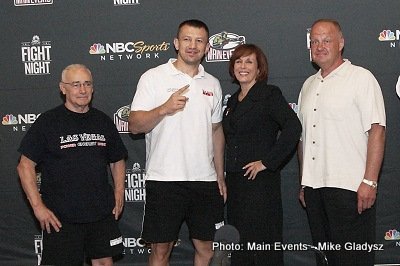 Today, Main Events CEO, Kathy Duva held a press conference to announce to the media Tomasz "Goral" Adamek's next fight and opponent. The Totowa, New Jersey based Main Events in association with Peltz Boxing presents on Saturday August 3rd  a three fight program featuring Adamek 48 – 2  facing Hartford's Tony Grano 20 – 3 – 1 in a ten round heavyweight bout at the Mohegan Sun Casino in Uncasville, CT.
Adamek a native of Zywiec, Poland who now resides in Jersey City, New Jersey normally draws a huge contingent of local Polish fans when he fights in his adopted home state. The fight will be televised on MSNBC Sports Network. The televised portion of the broadcast has been dubbed "Three to See".
Headlining the card will be Brooklyn's Curtis "Showtime" Stevens  taking on Saul Roman of Tijuana, Mexico in a ten round middleweight contest. The broadcast will also feature former heavyweight contender "Fast" Eddie Chambers 36-3 of Philadelphia now campaigning as a cruiserweight. Chambers will battle with Thabisco Mchunu 12- 1 of South Africa
Adamek is coming off a close split-decision victory against former cruiserweight titlist Steve Cunningham in December 2012 in what was a re-match from their 2008 cruiserweight title bout. Adamek's contract with Main Events had expired and he has not fought in 2013. However he has rejoined with the Main Event's fold.
Kathy Duva spoke first at the dais. She commented that Main Events has had a long and beautiful relationship with Tomasz, his manager Ziggy Rozalski, and trainer Roger Bloodworth and hopes for it to continue. Adamek's manager Rozalski spoke next and thanked Duva for giving them the exposure of being on MSNBC and that he too is pleased to be working with Main Events again. Next was trainer Roger Bloodworth who commented how happy he was about the fight being given to such a large viewing audience.
The popular Adamek would be considered the draw to this event. However his bout will not be the last of the telecast but the first to be followed by the other two fights described. His bout is scheduled for 10:30 P.M. EST to accommodate his large overseas popularity. Kathy Duva further spoke of her high esteem of Tomasz Adamek stating how over so many years now she has run out of superlatives to describe how Adamek is guy who always finds a way to win. She recognized that Grano is known as a boxer who comes to fight hard and expects a thrilling contest
Next to speak was Adamek himself. His opponent Tony Grano was training in Florida and unable to attend today's press conference. He stated that after fighting four times in 2012 this long layoff of 7 months (long by Adamek's standards) helped to rest and recoup his body. He has been back in the gym 10 weeks working on technique and conditioning with Bloodsworth. Adamek has watched a few of Grano's fights and expects him to come to wage war as a win over the internationally known Adamek would uplift his career. Adamek's ultimate goal he said was another title shot.
Next Adamek took individual questions from the media in attendance. When asked if the layoff affected him he stated that he is not 20 anymore he is 36 and his body needed rest after fighting four times in 2012. With this rest he feels like a young guy. He feels the key to his victory will be quickness. He replied to a question about fighting in Tony Grano's home state and the support he will receive. Adamek responded that his faithful Polish fans are expected in large numbers and will give him the audience support that he is used to in New Jersey. At this stage of his career he is not bothered by the location of a fight as he has fought all over the world. He stated that it is never easy in the ring and that every opponent comes prepared to fight hard because they know what a warrior he is. He admitted Grano is a tough opponent but he is not "scared or chicken". Adamek complimented Roger Bloodsworth his trainer of two years and said with every training session he learns more. When asked if he had any words for his opponent the gracious Adamek said "Yes, good luck".
Kathy Duva responded to a question of the relationship of MSNBC with fight fans. Her response was that there was somewhere between 5 and 6 million viewers in previous Main Events telecasts. That it is tremendous for the fighter to get that kind of exposure and to the network to have this large of an audience. She termed it a "perfect partnership". I asked Tomasz that being 36 now did he have in his mind a cutoff date from the sport. He responded that he will listen to his body. Right now he feels great much better than when he was a light heavyweight because he can eat as he wants at heavyweight now. He will depend on his trainer Roger to watch his reflexes and movement and leave it to him to make the decision when it is time to quit.
There will be other non-televised fights on the card that will be announced at a later date. Tickets are priced at $120 and $35 plus facility fees and can be purchased by calling Mohegan Sun Box Office 860-862-8499 or toll free at 888-226-7711 ext. 8499. For ADA accessible sales call Mohegan Sun Box Office at 860-862-8499.