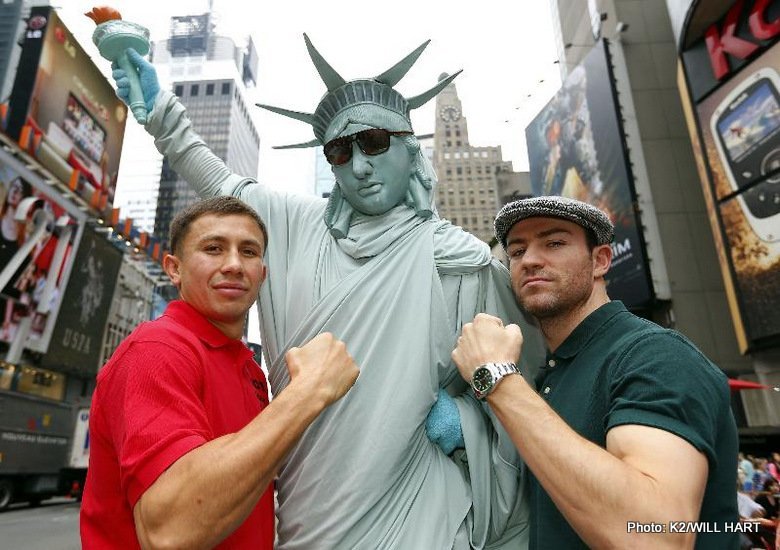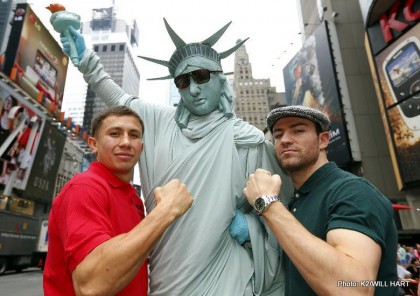 When Gennady Golovkin and Matthew Macklin made their HBO debut both exceeded expectations. Golovkin needed only 5 rounds to dispose of Grzegorz Proksa while Macklin showed his worth pushing Lineal Middleweight Champion Sergio Martinez proving his draw versus the aging Felix Sturm, which many believe he won, was no fluke. Has Golovkin been prematurely crowned a king of a division? Does Macklin have what it takes as a +650 underdog to pull off the upset? Answers to those questions will come Saturday night with the fans ultimately winning in what should be an entertaining fight.
The day he stepped foot in America and on the premium channel giant HBO, the fighter who goes by the alias "Triple G" made his presents felt in a major way. Golovkin catapulted himself near the top in the minds of hardcore boxing fans across the world, in less time than it takes the average person to say Gennady Gennadyevich Golovkin's full name.
His amateur background is a stellar one with wins over well known pro names, the two biggest being a stoppage win over Lucian Bute and beating Andre Dirrell on his way to winning a silver medal as a member of the 2004 Kazakhstani Olympic team. These days you rarely see a fighter with an aggressive come forward style have that much success at the Olympic level. Hand and foot speed combined with holding and burning the clock from an early lead, as if it were the early 1950's when pro basketball teams would hold the ball to secure a lead before the a shot clock was introduced in 1954, has become the norm in today's amateur system.
You can see his amateur experience and overall skill he has developed on display when pressuring his opponents with attention to detail. He cuts the ring off well with constant movement quickly trapping his prey on the ropes or in corners than releases fluid combinations from all angles.
What makes him potentially very dangerous is his ability to use his offensive weapons as defensive blockers. Golovkin does a good job of blocking incoming punches. His footwork keeps him in position to throw, dodge, or even take punches on his way inside. He does need to improve his head movement, a weakness that became evident in his fights with Kassim Ouma and to a lesser extent Gab Rosado.
Gennady's offensive usually comes behind his sturdy jab. He has a good habit of aiming for what's open. He doesn't seem to be limited in what type of punch he can throw, often mixing up his punches not just head hunting the way many heavy handed fighters mistakenly do. He throws them all with good hand speed and a purpose turning what seems to be relatively light contact into a knockdown similar to the may Lucas Matthysse scored his 1st and last knockdowns on Lamont Peterson.
As far as wins Matthew Macklin's resume won't have you overly confident to want to slap some money down on the underdog heading into this HBO fight. He took two losses early in his career, one was to a non-descript opponent named Andrew Facey in his 10th pro fight. The other loss came against the more respectable Jamie Moore for a domestic title.
After his loss to Moore, he managed to string 11 straight wins together collecting a few domestic belts on the way earning him a shot at the WBA Super World Middleweight Title holder Felix Sturm. Macklin was a huge underdog versus Sturm but put on a great performance taking the fight to the Champion. Many thought he did enough to earn the win and although he didn't do enough in 2 out of the 3 judge's eyes, he did more than enough to convince fans across the world and fighters at the middleweight division that he was a serious contender not to be taken lightly.
He may have loss by split decision but that loss caught the eye of Lou Dibella of Dibella entertainment. Dibella had seen enough and not only signed Macklin, he put him directly in the ring with his cash cow Sergio Martinez who had just scored an 11th round KO over previously unbeaten Darren Barker.
Macklin surprised many when he switched up his style in his fight versus the consensus Top 5 pound for pound Martinez. Most thought he would use that same aggressive body punching style that he had shown with Sturm. Instead he fought with patience and a solid jab that seem to confuse Sergio who assumed he would be able to counter Matthew with ease. Macklin use some movement after being tagged not letting Martinez land more than one shot at a time. He also used timing to slow down the speedster, often landing a solid right hand to the head and body.
But like all great champions do, Sergio dug deep and used Macklin's late aggressiveness against him knocking him down twice in the 11th round and forcing his corner to call the fight before the 12th round bell could ring. Once again in a loss Macklin impressed many having been in control of the fight or at least even through seven rounds.
Macklin won't have to find Golovkin in this style matchup, in fact he may need some breathing room as the fight wears on. Golovkin, who's coming off a KO of the year contender over Ishda in March of this year, won't be retreating or waiting for the right time to counter attack. Not to say that Gennady can't counter punch but when he does it will be in the pocket most likely on the inside.
It was impressive that Matthew used two different game plans for Sturm and Martinez. He may have to add yet another layer to his game if he hopes to come out victorious over Golovkin to counter his relentless almost machine like presents in the ring. It's doubtful we will see Macklin doing much damage on the outside in the way of movement or some of the countering shots we saw from Kassim Ouma off the ropes. Subtle head and feet movement will be a must but how long can he keep Golovkin off him.
One clear advantage for Macklin is his quality of opponent, namely two, when comparing Gennady's resume. Kassim Ouma was Golovkin toughest fight yet and he competed well in his fight with Jermain Taylor at 160, but he and Rosado have done their best work at 154. That leaves Ishda and Proska who have both shown promise but are inconsistent at best. Rosado was able to land some flush jabs, right hands, and uppercuts even with all the punishment he was taking, which is another key point in any fight that includes Gennady. How much punishment can Matthey Macklin take from the heavy handed Golovkin?
Macklin has to be smart but also has to return fire and at times be the fire starter behind his improving jab. Does Macklin have enough power to slow down the freight train that will be Golovkin? Matthew has been stopped twice already in his career so it's hard not to think that won't happen in this fight.
A mix of heart and smarts will be the only way Macklin can win this fight. Heart enough to take those incoming bombs from Triple G but the smarts to know when to tie up on the inside and not get into exchanges. My gut tells me Macklin will be in this fight early to midway assume it goes more than 6-7 rounds. My Prediction is at some point the power of Gennady Golovkin will drop and stop Matthew Macklin mid to late rounds in what should be a fight full of oohs and aahs.
Written by Chris Carlson Owner and Host of Rope A Dope Radio at www.blogtalkradio.com/ropeadoperadio
Follow on Twitter @RopeADopeRadio
YouTube Channel "The Rope A Dope Report" Subscribe at http://www.youtube.com/user/kg21carlito
Visit http://ropeadoperadio.wordpress.com/