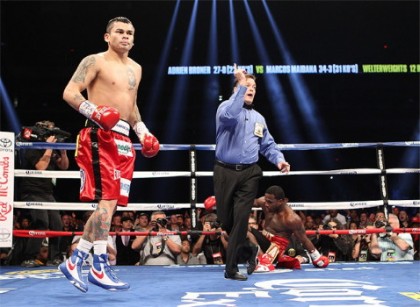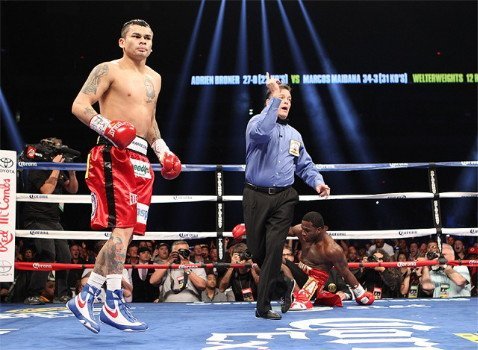 (Photo credit: Hogan Photos) Awesome, amazing, impressive, just plain great. Those were the kind of adjectives flowing out of the mouths of fans at the Alamodome, San Antonio, TX. Showtime announcer Brian Kenny said it best when he expressed his astonishment at the trio of ringside announcers Mauro Ranallo, Al Bernstein and Paulie Malignaggi concerning their score cards. Brian unabashedly scolded the three men for scoring the fight so closely. He, along with the judges, felt Marcus Rene Maidana clearly dominated the fight! Hooray for Brian!
Why? Brian opened the door to what many fans were thinking, and that was Adrien "The Problem" Broner was finally bewildered and made speechless. The usually vocal rogue scurried back to his dressing room. Unless he was seriously hurt, (and hopefully he is not) it appeared he deliberately wanted to avoid any post-fight humiliation as the loser. Such animosity can be explained by common understanding that Broner intentionally tries to be divisive, and he succeeds. It's the end justifies the means kind of thing, only most fans don't like the means. Hence, Broner shouldn't be surprised when he gets his wish.
More than a few fans were rejoicing in their good fortune. No longer will they be subjected to his profanity laced trash talk, or his constant bragging and predictions about him becoming number one after Floyd Mayweather, Jr. His b.s. has become tiresome. He carried that act into the ring, intentionally crossing over into Maidana's space, trying to intimidate him. Maidana correctly ignored him and his tactics, and readied himself for the action about to start with the opening bell.
No one knew what to expect. There were lots of theories. Some said Broner's speed would be the difference, explaining Maidana has never fought anyone with Broner's kind of speed. In the other camp, fans said Maidana hits too hard, and would expose Broner. The answer to the theory was Maidana isn't going to be able to hit him, so how can he hurt him? The response was Maidana's awkward style was going to flummox The Problem, which of course came true.
The pre-fight analysis was Broner is a slow starter, and that was something Maidana should exploit. In other words, he should make sure he stays active and makes sure he wins the early rounds. Some thought trainer Robert Garcia would have Maidana box more, using his jab and movement to present problems for Broner. Maidana did start things with some movement and a pretty good jab. Not surprisingly, Broner was doing much. The question crept into fans' minds, was this going to be another one of those Broner fights where he takes a round or two to pick up on his opponent's rhythm, and then starts to methodically was him down, and starts picking the guy apart with fast, accurate punches?
Well, punches have a way of changing the best laid plans. Maybe it was Maidana's plan all along. It was simple too. Knock the other guy down, and keep doing it until he can't get up. That's what happened late in the 1st round. All of a sudden Maidana exploded with an attack, throwing punches from angles Broner had never seen before. Broner's facial expression seemed to say, "We've got a problem!"
Things got worse in the second round. Maidana managed to get Broner concerned about body punches, including a jab to the body. Then Maidana changed tactics and came up from the floor with a left hook. It found it's way to Broner's chin, and down went the mouth. He bounced backwards into the ropes and then onto the canvas. Now Broner's face clearly said, "We've definitely got a problem!"
As the fight progressed, Maidana kept busy, clearly throwing and landing more than twice that of Broner. Every time Broner seemed to settle in and start walking Maidana down, Maidana would explode with another weird, but effective combination. Often times one or more of the punches would shake Broner, and he would start backing up again and lay off any offense.
The fight was not without problems for referee Laurence Cole. Early in the fight, he warned both fighters for usually elbows and forearms. Later he warned Broner for pushing off. He did that at least three more times, without levying a penalty? In the 8th round, Maidana caught Broner again with another left. Broner went down and seemed clearly to be in trouble. Maidana closed quickly, hoping to end the fight. Broner grabbed and held on tight. Maidana tried to break free, and when he couldn't do so, he brought his head up from Broner's chest to a spot under Broner's chin. It was an obvious attempt by Maidana's to break Broner's death grip.
Referee Cole saw it as intentional. Broner saw his chance for an Academy Award, and grimaced, sinking to the canvas. Cole sent Maidana to a neutral corner, and then proceeded to see if Broner was alright. He then gestured to the judges that they should deduct a penalty point from Maidana for a penalty point. More damaging for Maidana was the rest Cole gave Broner, who seemed to be milking it for all it was worth. As Paulie Malignaggi later said, the so called head butt didn't seem anywhere near as damaging as the punch that preceded it. Hence, Broner escaped to the bell.
Broner was clearly losing the fight. He knew it. His corner knew it, as did everyone else. He had to do something dramatic to breath life into any hope he might have of winning the fight. In the 11th round, he got a tired Maidana to move back. He once again tried to walk him down, and got his jab going, and then showed the promised speed his fans hoped for. He started bouncing hard sharp shots off of Maidana's now more stationary head. Maidana seemed somewhat vulnerable, and Broner fans wondered if their guy might pull the fight out.
However, once again Maidana dug deep and started back on the offensive. He got his own jab going, and then strung a few more of those strange looking combinations together, and had enough left to do the same in the 12th and final round. As a result, Maidana won a UD and the WBA World welterweight title. Merry Christmas.