Josh Taylor & Ryan Martin and Ryan Burnett & Nonito Donaire are ready for their hotly anticipated Ali Trophy Quarter-Finals at The SSE Hydro tomorrow in Glasgow, Scotland.
Fans in the U.S. can watch Taylor vs Martin, Burnett vs Donaire and the undercard LIVE on DAZN – UK fight fans can watch the show for FREE, including the massive undercard, on the World Boxing Super Series YouTube channel.. or look above.
Ali Trophy Super-Lightweight Quarter-Final & WBC Silver Title
Josh Taylor (13-0, 11 KOs): 139.1 lb /63,09 kg
"Listen, there is no one going to beat me here in Glasgow with these fans behind me," said Taylor after weighing in. "I am in the best shape of my life. I am ready for Saturday, I can't wait!"
Ryan Martin (22-0, 12 KOs): 139.3 lb/63,18 kg
"I am ready, I am prepared, I have trained my ass off," said Martin.
Ali Trophy Bantamweight Quarter-Final & WBA World Unified Bantamweight Championship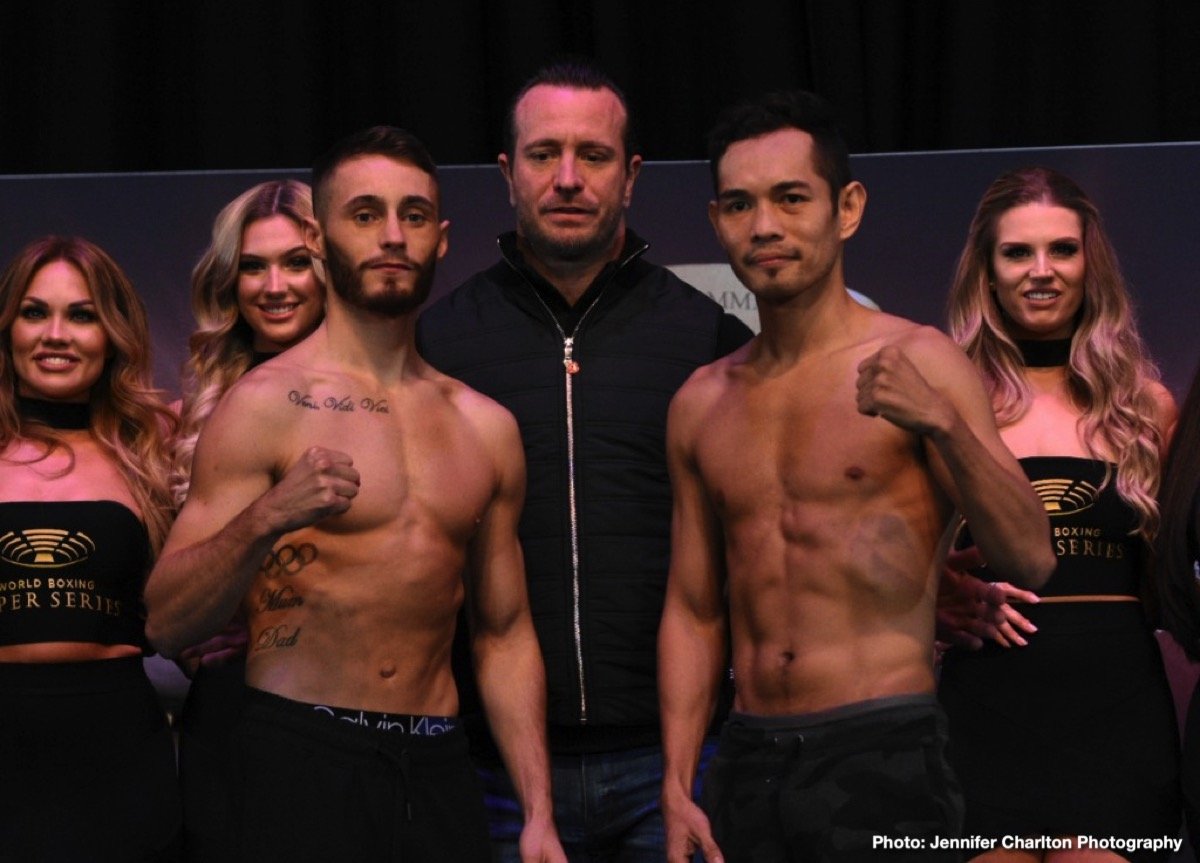 Ryan Burnett (19-0, 9 KOs): 117,8 lb /53,43 kg
"Nonito is an incredible fighter," said Burnett. "His track record speaks for itself. I am grateful to share the ring with such a good fighter."
Nonito Donaire (38-5, 24 KOs): 117.7 lb/53,38 kg
"This is what I have been dreaming about for a long time," said Donaire. "The WBSS is what boxing should be. The best against the best. The belts put together. There can only be one! That's it!"
Fans in the U.S. can watch the quarter-finals LIVE on DAZN, the global sports streaming platform. To sign up for a one-month free trial, fans can visit DAZN.com or download the DAZN app to their preferred connected device.
Tickets starting from £35 (plus fees) are available to buy from: thessehydro.com
Josh Taylor & Ryan Martin and Ryan Burnett & Nonito Donaire are ready for their Ali Trophy Quarter-Finals at The SSE Hydro on Saturday in Glasgow.
"This is a great opportunity," said 118 lb quarter-finalist Donaire (38-5, 24 KOs), a former four-weight world ruler.
"The WBSS has been a great opportunity to create this enormous desire and inspiration. I'm never shy when it comes down to fighting. I'm just grateful to be in the ring with a great man."
It is not the first time Donaire is facing a fighter from Northern Ireland. Last year at featherweight the Filipino-American lost via unanimous decision to Belfast boxer Carl Frampton:
"There are definitely similarities," said Donaire of Burnett and Frampton.
"Belfast guys have big balls. They've got big balls. They're there to fight, and that's something I like. As you know from the history of me in this game, I've always come to fight the best out there, and that's why I'm in this tournament. That's what you will get, the best of me!"
26-year-old Burnett (19-9, 9 KOs) paid respect to his nine year older, legendary opponent.
"I think everyone has things you can exploit but there's not much with Nonito. He is an incredible fighter," said Burnett. "We all dream of these moments of fighting the best and becoming the best in the world. The World Boxing Super Series is making this come true. Not just for the boxers but for the fans. This is what the world needs."
140 lb quarter-finalist, 25-year-old Ryan Martin (22-0, 12 KOs), talked about the magnitude of the quest for the Muhammad Ali Trophy.
"It doesn't bring any added pressure it just brings more glory to the win. Fighting for the Ali Trophy, that's huge. He means such big things both in and outside of the sport of boxing so I'm just grateful to be a part of this and have the chance to fight in his honour."
27-year-old Josh Taylor (13-0, 11 KOs) is looking forward to fight in front of a familiar crowd in Glasgow for the third time at The Hydro.
"I'm good. I'm nice and relaxed," said Taylor.
"Delighted to be back in Glasgow. The Hydro is now my home. Every performance I'm having there, I'm getting stronger and the fans are getting bigger and bigger, and noisier. They believe in me, and there is absolutely no way there is anybody who's going to beat me in there anytime, and especially on Saturday. I'm feeling confident.
"I don't feel any pressure. I actually love these big events. I love the big nights. I love the big occasions. When the big occasions arrive, I turn up. I love it. I thrive under the big lights."
"It's great to be in Scotland," said Kalle Sauerland, Comosa's Chief Boxing Officer.
"We are super excited to bring the lights to Glasgow. Week in week out I sit up here with the most talented athletes. Gladiators of the business. On Saturday, we have a doubleheader. A stacked card. I wouldn't be exaggerating when I look at the quality and the depth to say it's the best card Scotland has seen for many many years.
"If you look at what the super series is trying to do and what we are doing, it's bringing the best versus the best. No BS. This is about the real thing. It's about finding out who the best is in the weight classes.
"We found out the best super middleweight was Callum Smith. We found out the best cruiserweight was Aleksandr Usyk. This season the guys up here are going to show us who is the best bantamweight and best super lightweight in the world.
"We expect 6,000 in the arena on Saturday. We're going to have a great atmosphere. I've been here a few times for the football and I'm sure the roof will be raised!"
On the line Saturday in Glasgow:
Fans at The SSE Hydro in Glasgow will be treated to a spectacular doubleheader featuring two Ali Trophy Quarter-Final contests as Scottish Super-Lightweight star Josh Taylor takes on the undefeated American Ryan Martin.
Meanwhile, Northern Ireland's WBA World Champion Ryan Burnett meets former four-weight World Champion, Filipino-American Nonito Donaire in a Bantamweight Quarter Final.
The quarter-finals are available in UK on all WBSS platforms; YouTube, Facebook and WorldBoxingSuperSeries.com. Burnett-Donaire starts 9 pm, Taylor-Martin 10 pm.
Tickets starting from £35 (plus fees) are available to buy from: thessehydro.com