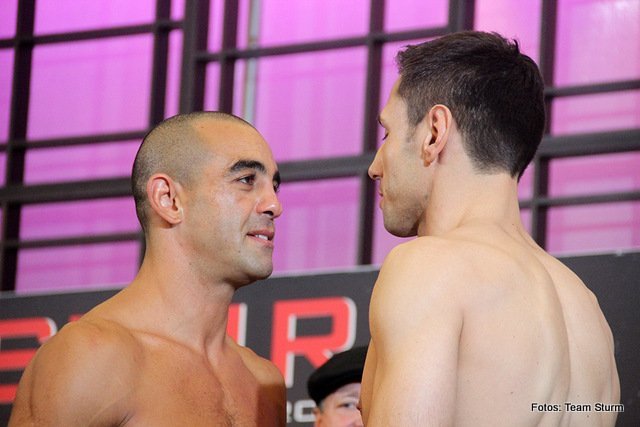 According to an Australian press report, middleweight contender Sam Soliman has allegedley admitted that he took the stimulant "oxilofrine" before his recent bout with former world champion Felix Sturm in February.
Journalist Ron Reed wrote in an article, which was published on 3/28/2013 in the Australian newspaper "Harald Sun" and later tweeted by Sam Soliman on his official Twitter account (@samkingsoliman), that "he [Soliman] has landed in trouble because he used a drink he bought from a suburban health food shop after being assured by the supplier and the manufacturer it did not contain a banned substance" and further that "private testing has confirmed it was a caffeine formula drink, similar to coffee, that Soliman purchased to help counter the effects of broken sleep during training."

This contradicts an official Statement by Soliman made on 3/16/2013: "He did not test positive for any substance under the anti-doping rules of this fight." They also disregarded the substance "oxilofrine" as not performance enhancing and stated that it was agreed that the list of banned substances in the official IBF ruled would be the foundation for testing. The IBF, in fact, does not list the substance in their standard bout agreement under the "Anti-Doping" paragraph.
The same agreement, however, says that that the "use of drugs, stimulants or injections in any part of the body before or during a match to or by any boxer is prohibited" under the "Drugs and Stimulants" paragraph. It is not disputed that "oxilofrine" is regarded a stimulant, even if the effects were minor, which cannot be said for certain.
The "Bund Deutscher Berufsboxer" ("BDB"), the local commission that oversaw the event on February 1st, also forbids the use of stimulants in their rules, as does the National Anti-Doping Agency (NADA), which works under the internationally accepted VADA code. According to sources close to the situation, the NADA was charged with the drug testing before the bout. Both, the Soliman and Sturm camps, agreed upon this beforehand. This makes it, at least, dubious that Sam Soliman and his handlers now want to disregard the substance taken by their fighter, even if it was without knowledge, as insignificant.
When contacted, Wolfgang Schiffbauer of Sturm Box-Promotion offered the following statement to us: "We are strictly for a clean and fair sport. If you take a forbidden substance unknowingly, it does not mean you are not guilty. As a professional athlete you need to make sure that everything you take is clean. We will continue to observe the ongoing situation and await a resolution before thinking about our next step.