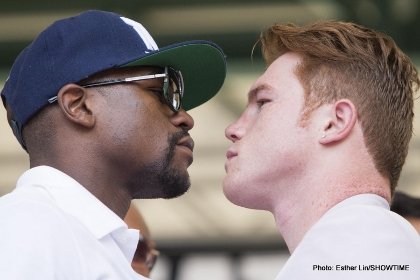 Martin N. (Philadelphia, PA): You have been consistent from day one about Canelo's better-than-average chances against Floyd Mayweather in September. Did you see anything on All-Access to sway your opinion one way or the other?
Vivek W. (ESB): I wouldn't say that I saw anything in the "All Access" episode one to really give me a reason to adjust my position. What I will say is that I saw a few things that did in fact solidify the position I've held from day one, though. One of the most intriguing highlights of this episode was when Floyd openly acknowledged something I've talked about for quite some time. That was the fact that to a degree, Canelo has been an "understudy" of him, who actually employs many of his same ring strategies, and will inevitably attempt to use them on him. Years ago, I said the fighter I see having a real shot at Floyd will be a guy like Floyd. Hard to hit, a thinking fighter, a strategy swapper (mid-fight when necessary), and a tough S.O.B. who can take a lickin' and keep tickin'!
So far, I think Canelo has proven each of those elements quite well for a young fighter. People say he has no defense, yet he sits #2 on the compubox plus/minus ratio (hit vs getting hit); only behind Floyd Mayweather, and ahead of masterful fighters like Andre Ward and Guillermo Rigondeaux. Relative to his ability to swap strategies and be a thinking fighter during battle, we saw him nullify Austin Trout's greatest weapon, which has been very effective for him (the continuous jab). Trout is a very smart fighter, yet he was outsmarted by the younger fighter enough to lose the decision. How tough is he? Jose Cotto shook him up early in their fight. But as a testament to his mettle, he was able to bounce back, and actually end the fight early.
All of these things present elements of Floyd that you'd have to think very hard about when skimming his list of recent opponents who were able to do the same. And all of these elements display shades of Floyd that Floyd will have to deal with from a man younger, stronger, and just as hungry. The only reason I still give Mayweather a slight edge is because the one thing Canelo will need the most is the one thing he doesn't have. He has a sharp mind. But he doesn't have a Mayweather mind! By Floyd's own admission, his "opponents play checkers"! He "plays chess"! This time around it will be two chess masters squaring off. Floyd is the "Grand Master". Canelo is the pupil slowly grasping for that level.
So, to answer your question, I say the "All Access" segment that aired last Saturday night gave me more reason to support my initial theory that although Floyd still has the edge, Canelo will still present something we haven't seen Floyd faced with lately. Mosley showed power for all of two rounds until Floyd switched gears and lost him in the smoke! Cotto was a tough vet with great skill and power, but he was lost when Floyd switched gears as well. Judah had speed, ring savvy, and talent, but joined the ranks of all the others when Floyd added a few extra wrinkles. For the first time in a long time….maybe ever….Mayweather will have to change gears more than once or twice in a fight, as this opponent is known to change as many as needed to win as well. How does it all end? That's precisely why we'll all watch on the night of September 14th! Stay tuned!
http://youtu.be/HikEO2a_Tjw
Ana G. (Northridge, CA): Abner Mares was recently mentioned by Goldenboy CEO, Richard Schaefer as the best fighter in the sport behind Floyd Mayweather, and a star in the making. As a big Mares fan, what are your thoughts about his lost and his future?
Vivek W. (ESB): During the live broadcast I sat on the phone ready to analyze the fight with my "Left-Hook Lounge Radio" co-host, video guru Sai-En (Andre Gant). Less than 30 seconds into the bout I told him Mares "appeared bone dry" and "if the fight goes two rounds I'd be utterly surprised". Less than two minutes later, he would fail to recover from two well placed shots that pulled the curtains on him and removed the veil of invincibility some were beginning to create around him. I don't think it's safe to use the word "EXPOSED", because I think he's still a very good fighter with a helluva upside.
That being said, for those who haven't followed my journey in this sport, feel free to archive back as far as you can go, and you'll see me respond the same way today as I did nearly a decade ago when it comes to people around the sport ordaining certain young talents before they have earned it. Mares is a tough fighter.
Mares is a physical fighter. Mares is a strong fighter. But Mares does NOT have the skill level to make him a top 3 (mythical) P4P fighter in the sport like some were starting to imply. For a non-fundamentally skilled fighter to become a top 3 (mythical) P4P fighter, he either has some funny business happening which propels him beyond natural causes; or he has faced a roster of opponents who stood in front of him with no skills. Outside of that, it simply doesn't happen.
In the case of Mares, I love his heart, but heart doesn't always equate to greatness. He's young and has time to develop. Development is what he needs the most, as it equates to experience. The reason he lost this fight was a key indication of inexperience. Remember the pre-fight interview when Jim Gray spoke to Floyd Mayweather moments before entering the ring with Miguel Cotto, and Gray was quoted as saying he'd "never been in a locker room this warm before a fight"? For those unaware, the air-conditioning unit wasn't malfunctioning. That was simply an intelligent mind at work who didn't want to get caught cold like he did a few fights earlier against Mosley.
Those are the secrets of cagey vets like a Mayweather who use every legal advantage in the books to ensure a sound performance once the bell rings. Mares is a young guy with a ton of upside and I have no doubt that he will evolve over time. But skills wise, he gets hit too much. So any time he faces a fighter with a big punch, warm or not, this could be a possibility. One other point to highlight is that this was only Mares' second at the 126lb level. He didn't look spectacular against Ponce De Leon despite the KO victory. But here, we learned that he simply may not have grown into the frame necessary to handle the true Featherweight punch. So that's something we have to watch out for as well. If he decides to go back south to Super Bantamweight, Guillermo Rigondeaux said last week he's open to making a fight happen! (Just a thought)!
Jason B. (Miami Lakes, FL): I saw your FaceBook post about Robert Guerrero declining the option to face Keith Thurman. Why do you think a warrior like Guerrero made such a decision and what do you think is next for him?
Vivek W. (ESB): It's really difficult to speak for another man. I think in time Guerrero will come out publicly and make his reasons known. From the outside looking in, it appears that he's probably just trying to find a way to stay closer to the wage level he just enjoyed against Mayweather. Sad part is that any other opponent in the sport would be a considerable step down from the Mayweather class. I can understand his logic, if this is it. But I don't and won't support him sitting on ice until he finds what he would consider "the right opportunity". Timothy Bradley once tried that. Apparently he looked at Mayweather who took a few years off and came back looking sharp, and was coaxed into thinking he could too. It resulted in his head nearly being taken off by Provodnikov, as I'm sure most remember.
It's a very difficult proposition to ask a fighter who has already shown that he can balloon in weight between fights to take a substantial amount of time off and return in the same rhythm. Keith Thurman is a young fighter who has much promise. Adding that name next to a "W" on the resume certainly has appeal to it. And not only that, but it gives him enough press to setup a really lucrative bout on the flipside. Right now, coming off a loss to Mayweather that wasn't even close, I think any fight against a known opponent that offers decent money is a fight worthy of taking. To decline this opportunity for non-health related reasons tells me that without question, there's a fear of inherent danger. One can never advance too far in life without taking these type of risk at some point.
Pre-Mayweather, he was very vocal about the fights he wanted. I'll be watching the headlines to see if he is equally as vocal to tell us about the fights he apparently doesn't want….and perhaps what fights he's willing to accept in the mean time. Broner is apparently set to square off against Maidana. So that one won't be happening next. Khan is looking at Alexander in Dubai. The Top Rank stable is off the table. Thurman is co-headlining fight at the very least. Why there isn't enough money in that fight for a guy who has never really headlined a card of his own away from Mayweather on the big networks is baffling to say the least. Lets see what the next few days hold and whether or not any of them provide answers from him.
Marc V. (Brooklyn, NYC): You recently mentioned that Gary Russell would like a crack at Jhonny Gonzalez. After seeing what Gonzalez did to Mares, do you think Russell actually has a shot?
Vivek W. (ESB): Right now, I'm probably not the guy you'd want to ask anything about Gary Russell Jr. I was once a very big fan of his skills. Right now, that opinion has shifted. I think the kid has a tremendous upside. And I think the kid has far more than we know to dedicate the sport. Trouble is, it's all based on what we THINK, because thus far, we have yet to see any of it! On paper, he's incredible! Trouble for him is (as the legendary Pat Riley would say), "paper burns, as the world turns"! In case you can't tell, I'm very disturbed about the lack of progress we've seen in the career of Gary Russell Jr. I'm even more disturbed about the fact that he often speaks as if his accomplishments support his limited progress.
I know there was an injury involved in recent times. But prior to that injury, I just saw no push to display his perceived greatness. After Jhonny Gonzalez destroyed the man Russell Jr. said he could have destroyed, (Mares), Goldenboy CEO, Richard Schaefer stated that Russell "wants a big fight" and is open to this one with Gonzalez if Mares doesn't take the rematch. We don't quite know what's going to happen on that front, but what we do know is that hit or miss, Russell Jr. shouldn't let it prevent him from showing us his mettle. The ripping combinations and speed look great. But if it doesn't happen against a worthy foe, he's basically a window shopper in my book.
One of those guys touted to raise havoc, yet never had his hand raised when a durable opponent arrives to raise hell! I think it should be duly noted that this is no official indictment on Russell. But I do think as a journalist in the sport who would rather be hated for being honest than loved for lying, it's always healthy to call a guy out and put him up to task if and when applicable. I have supported Russell Jr. and will continue to. That being said, I'll never stop short of some necessary tough love! If Russell Jr. or his handlers have any thoughts they'd like to share on the matter, tonight and every other Monday night they can find me on "Left-Hook Lounge Radio". I'd be glad to give them an open mic and discuss his road to glory. As right now, it hasn't taken him as far as I thought it would.
(Vivek "Vito" Wallace can be reached every Monday night at "Left-Hook Lounge Radio" at 9ET/6PT. He can also be reached at 954.300.5692, FaceBook, Twitter (@vivekwallace747), Instagram (ViveksView), and Youtube).