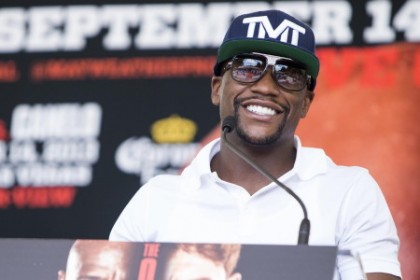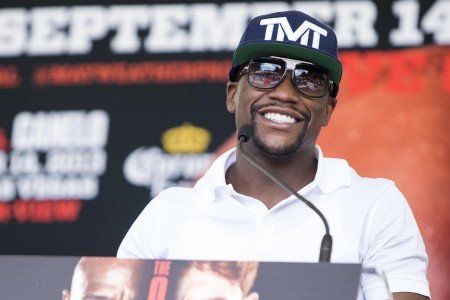 (Photo credit: Esther Lin/Showtime) Carlos H. (San Francisco, CA): On your FaceBook account you stated that Mayweather should "closely analyze" the defeat of Anderson Silva as he prepares for his bout with Saul 'Canelo' Alvarez. Explain that statement, as I don't agree.
Vivek W. (ESB): I think too much has been made of my response to this question. My point was that you don't just wake up one day and receive the consensus vote as one of, if not thee best of all-time in your craft. You get there with an incredible amount of skill and near flawless execution of that skillset. In the case of Silva, it's safe to say that his talent came so effortlessly that he probably wasn't taking it as serious as he needed to at this age. If he wasn't serious while in the ring (as evidenced in his gimmicks that backfired), it's safe to say he may not have been outside of it. I think when you're born with this level of skill you often forget how hard it is to stay at the top of the heap. You take things like reflexes for granted.
I'll never forget an old interview where Floyd Mayweather Sr. spoke about the fact that all it takes is a split second removed from your reflexes to result in a fighter being hit with something today that they were fortunate enough to escape a million times in the past. Shortly after that, his own son was clocked at the hands of Mosley in a fight that almost ended in a rare defeat. That was sheer proof that time away from the ring and/or limited focus can affect the very best. Mayweather was composed enough to overcome that dangerous moment. Silva never recovered. There lies the difference between the two. That, along with the fact that Mayweather takes his craft too serious to try gimmicks in the ring like Silva and Jones made a history of.
Mayweather may talk in the ring. But his entertainment has nothing to do with making fans laugh while in the ring. He's all business. At it's best, my point was that Mayweather – when you look at the big picture – is in a similar position in this fight. A scenario where he, as the man atop the mountain in the sport, will have to take on a young bull with the power to hurt him and the youth to usher an old lion into retirement without advance notice. This isn't to say it will happen. It is to say it can happen. Some laugh at that notion, but anything less than his best fails the test! Canelo is a very live dog. Mayweather accepting the catchweight that Team Canelo used as a bait trick is clear proof.
He told Cotto that he "wanted [him] very comfortable when they meet". That being said, I think that decision led him to take the catchweight here. Remember the video documentary ("30 Days") where Mayweather stated openly that he "tried, but couldn't get him (Cotto) out of there as much as he wanted to"). I think Mayweather learned that in terms of skill, he is the Alpha. But when it comes to a detrimental size advantage, he could literally face his Omega, if he gives too much edge to the wrong guy. I can respect the catchweight at the scales far more than a re-hydration clause on fight night, so it works for me.
Bottomline, yes, Mayweather is against a dangerous young, undefeated fighter. So was Silva. Mayweather remains the last man standing of a crop that included Cotto, Margarito, Williams, Mosley, Judah, Pacquiao, and others. Will he remain on his feet? Or for once, fail when it's time to compete? Stay tuned.
Carson H. (Covina, CA): What are your thoughts about Miguel Cotto working with Top Rank again and his choice to go with Freddie Roach?
Vivek W. (ESB): To be very honest, it's a bit of a head scratcher to me. What's even more mind-boggling is his recent penchant of changing trainers every other fight. He hasn't really given himself a chance to learn the strategy and depth of any particular style being taught. I thought he showed glimpses of greatness under Diaz. I love Freddie Roach, but I have no idea what his point is in going to a trainer who has a stable of fighters who are basically offense first fighters. I would have co-signed Robert Garcia, or even the mild-manor of Virgil Hunter. Roach makes no sense for a fighter like Cotto who needs to avoid getting hit at all cost.
The only thing I can think of with the Top Rank connection is the possibility of him trying to line-up a future fight with someone in that stable. Timothy Bradley has recently gone on record in stating that he will take this fight at the drop of a dime. That's one possibility. I guess one possibility we can rule out is Pacquiao. Although under the right terms I'm sure Cotto would have no issue finding a new trainer….AGAIN! Honestly, I don't see great logic in either of these moves. The best logic I can think of is the fact that there's great fiscal responsibility in promoting fights.
This move allows him to do so – in unison with one of the most established promoters in the game. We've seen Mayweather do this with GBP. It was common knowledge that Cotto left Top Rank to open the door for better relations with GBP. Now that that particular ship has sailed and nothing solid (outside from a few grand paydays) came from it….why not go back to the place that buttered your bread from day one? That's the only thing that makes any sense. Outside of that and him realizing he would be black-listed from any showdown with Top Rank fighters (if he remained outside the stable), nothing else makes sense.
Edith B. (Los Angeles, CA): Is there any truth to rumors circulating about Garcia vs Matthysse on the Mayweather vs Canelo undercard?
Vivek W. (ESB): On my FaceBook page I tipped my hat to this possibility as much as nearly a full month ago. I refrained from going public because it wasn't a source that made me very comfortable. At this point, the possibility has become more and more likely. I felt from day one that the only thing standing in the way of this possibility was the economics. It made total sense, and I'm not sure why they tried to even entertain putting on such a big show a week before the biggest show to be made in the sport. There's so much that goes into a Mayweather vs Canelo type bout. There's no way possible that they could have done that and given adequate preparation to such a megafight.
Many fight fans don't know the effort and energy that goes into these full scale productions. Once you go behind the lines it becomes evident that it's an uphill battle time and time again. At any rate, I'm glad to know that they've finally put the wheels in motion for this to happen. It somewhat justifies the inevitable $70 ($80 for hi-def) that fight fans will shell out on that evening. One thing that they can do to firm the card up even more is consider placing Broner vs Maidana at the bottom of the card. Those three fights and you'd be looking at a card with sheer eligibility to smash the 2.4M PPV buys Floyd Mayweather shared with Oscar De la Hoya. Without a doubt!
I really think this is the wave of the future. We will continue to get decent cards throughout the calendar year, but in a sport where everything else seems to be "beefed up", these mega cards are being promoted like Super Bowls. And there's only one way to live up to the hype. That's to increase it with valid supportive talent on deck. At this point it's all a dream….but hey, some dreams do come true! All I'll say is don't pinch me now! If this is a dream I'd rather stay asleep long enough to see it all play out!
(Vivek "Vito" Wallace can be reached on Monday evenings at "Left-Hook Lounge Radio" at 9ET/6PT. He can also be reached at FaceBook, Twitter (@vivekwallace747), & Instagram (ViveksView).