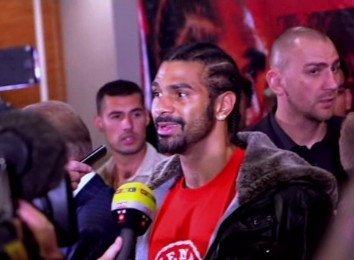 Former two division world champion David Haye (26-2, 24 KO's) says he's just signed the contract for a fight against the unbeaten but totally untested 6'9" Tyson Fury (21-0, 15 KO's). Haye is now hoping and praying that Fury doesn't duck out and choose not to sign his portion of the contract.
David Haye said on his twitter "I've just signed to fight Fury on Sep 28, lets hope he finally agrees (and signs today) and he doesn't keep delaying. Word around "Camp Fire" is Fury is looking to duck me and fight Toney "The Tiger". Lets hope they are just to rumours."
Gosh, I hope Fury doesn't get a case of stage fright and head in the opposite direction for some of the journeyman he's been building his unbeaten record. I'd hate to see Fury ending up turning down fights against Haye and Kubrat Pulev and then going back to the journeyman circuit to continue to pump up his inflated resume.
There's talk of Fury suddenly showing interest in facing American heavyweight Tony Thompson following his 5th round TKO win over David Price last Saturday night. It was predictable that Fury would go for a fight like that because it would be his way of showing how much better he is than Price if he were to beat Thompson. At the same time it would show Fury as the avenger by beating Thompson in what could be a Britain vs. America type of promotional billing.
I can see everything going wrong for Fury if he takes that fight because Thompson is so much better than anyone that Fury has faced before. Thompson would likely wear Fury down just like he did Price last Saturday. Fury looked pretty gassed out in his recent win over fringe contender Steve Cunningham. Thompson would be a tougher fight for Fury because of his high work rate and huge size.
Fury needs to take the smart money and go for the fight with Haye because facing Thompson won't give Fury the same payday, and he's just as much likely to lose against Thompson as he is Haye. The only difference I can see is it'll take a little while longer for Thompson to stop Fury compared to Haye.