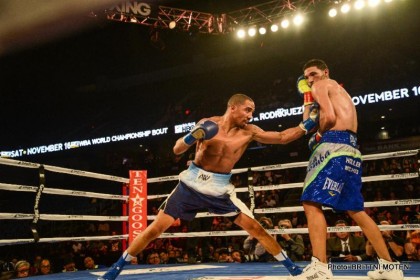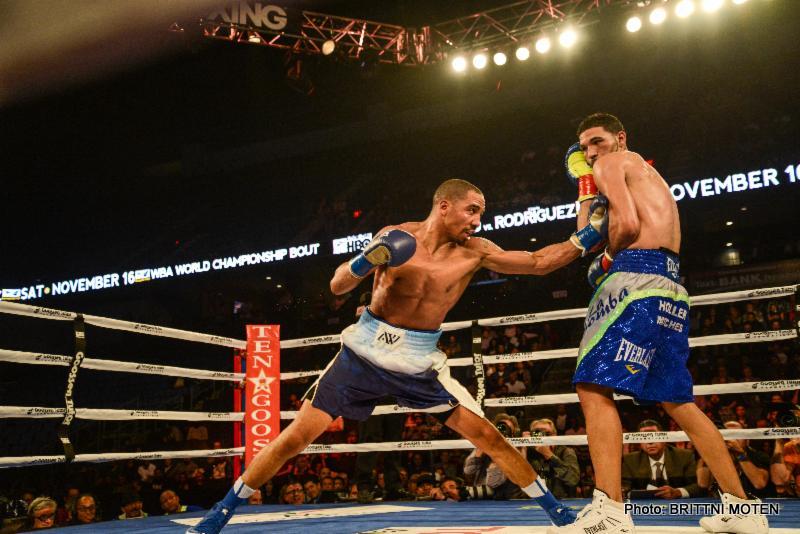 Dexter R. (Tampa, FL): I think it's time Andre Ward gets serious consideration in the P4P discussion. Is it far-fetched (in your opinion) to label him as the best P4P fighter in the sport?
Vivek W. (ESB): I've been a huge Andre Ward fan from day one, and back in 2009 when people were laughing at me and questioning him, I said with confidence, (feel free to check the archives), that he would not only win the Super Six Tournament, but in my estimation, was already viewed as the #2 P4P fighter in the sport, trailing only behind Floyd Mayweather. That being said, perspective should always be measured down the center, with few emotions attached. Bottom line, Ward's performance was as brilliant as you can ask, coming off such a major injury and lengthy layoff. He performed to perfection with poise and brilliance. I have nothing but praise for him, but when we speak along the lines of perspective, it's important to note that this victory came over Edwin Rodriguez. Think about that!
At its best, Rodriguez is simply a powerful fighter with a ton of heart. There are no particular elements, fundamentally, that separate him from anyone else in the sport. Despite never taking a loss prior to his showdown with Ward, clearly, no one in the sport had him listed in their top 5, let alone top 5 P4P. It was a good litmus test for Ward on several levels, but I don't think a victory over a fighter like Edwin Rodriguez places anyone at the top P4P spot in the sport. Not only was Rodriguez a second-tier opponent, but the various subplots looming around this effort in particular makes one wonder whether or not he was even at his best. All that being said, you can't blame Andre Ward! The guy has been a model act in the sport from day one, and it's becoming a bit troubling that few give him his due credit.
Fans and media rave fighters who stand in the pocket and bang, using limited footwork and defense; but few give him credit for doing even more amazing! Consider this example pairing a few of the purely fundamental fighters (not named Floyd Mayweather) that we have in the sport today:
In Guillermo Rigondeaux, you have a cerebral fighter who is extremely technical in execution, fundamentally. The scope on him is that he's "too defensive", and "dull to watch" as a result. In Adrien Broner, you have a guy who is comfortable in the pocket banging, (which is crowd pleasing), but typically prefers to be defensively conscious (which is not crowd pleasing). Then you have Bernard Hopkins, a guy that doesn't have the youth or offensive gifts, but he'll bang with cerebral intelligence and limited offense. Again, not a crowd pleaser. Now……..think about Andre Ward. Here you have a guy who prefers to take the fight to his opponent aggressively with incredible offensive execution – (crowd-pleasing) – who is cerebral enough in his approach and execution to also adapt a Mayweather-esque defense, yet ONLY when necessary to avoid harm.
If you love and appreciate a fighter who is totally open to standing in close and banging with his opponent, and you can appreciate a guy who has enough ring intelligence to make an opponent miss and make him pay while slowly picking him apart standing right in his face, what is there not to like in Andre Ward? He's a pure hybrid of Mayweather (offense) and Hopkins (grittiness and defensive execution). I've resigned to the fact that people just aren't crazy about him, personally! Because everything about his fighting style is made to love. He can box, he can brawl, he can do it all! He's not flashy outside the ring, and he doesn't have to be. The guy kicks ass and makes it look easy. He's a "class act" that ain't afraid of a "class clown"! Show me another one of those anywhere in the sport! He isn't the best P4P fighter yet. But he's slowly making a damn good case! Stay tuned!
Branden H. (Northridge, CA): Andre Ward has basically defeated everyone at 168. Who would be (in your estimation) the best next opponent for him to face?
Vivek W. (ESB): I think, first off, we'd have to define the term "best". If we mean "best" in terms of money value, I think a Chavez fight, with some good pull and promotion from Top Rank would net him his biggest purse right now. Froch would be a strong money fight, as well. But getting Ward to cross the pond won't come easy or cheap! And to be quite frank, their initial contest wasn't even a close call, so unless Ward simply wants to cross the pond for the sake of doing something different, I don't see that happening. He doesn't owe Froch another shot. There was nothing to base a second opportunity on, as it wasn't close and I don't think the end result changes, to be quite frank.
If we mean the "best", as in best quality, without doubt it's "GGG". That fight has to be made. That's the only man that fans around the world truly want to see him square off against. I'm a little bothered at the way fight fans in the past pressed Mayweather, Broner, Donaire, and others to go up in weight to seek "greater challenges", yet have given "GGG" a pass. On October 31, an ESPN article coined by a Brian Campbell referenced that "Team Golovkin has boldly opened [their] window wider, now inviting 175-pounders to take their best shot". This was a verbatim statement, yet no one in the media has called Golovkin out for not facing the one man viewed to be his biggest threat.
Edwin Rodriguez was a solid puncher who stood at 6ft, with a 76 inch reach and destructive power. "GGG" is a svelt 5'10", with a 70 inch reach. If the lengthy powershots of Rodriguez couldn't find their mark without encountering a stiff, disruptive jab, I find it very hard to believe that "GGG" would get as close to Ward as frequently as he has to others. The flipside is that his pressure and power could eventually wear Ward down. When you look at that angle, the accuracy of conventional logic carries no weight! The dynamics in this fight are very intriguing, and it's the most entertaining fight either man can take right now. At some point I wouldn't mind seeing Ward venture north to face the powerful Stevenson. But once he does that, a fight with GGG (a middleweight) is further complicated, because Ward would have to come back down. I say do it now!
Arthur V. (Ft. Sill, OK): I'm a huge Manny Pacquiao fan, but I'm a little scared going into this fight, Saturday. I don't know what to expect and fear this could be the end. What do you think the future holds for Manny, win, lose, or draw, after this fight?
Vivek W. (ESB): It's very difficult to answer that question without knowing the results. But what we can do is take a quick look at each angle, so here's the good, the bad, and the ugly: All things remaining equal, Pacquiao wins this fight, hands down. But that statement is made on the strength of an assumption that he returns to the ring the same person who stepped in back on November 12th, 2011. I picked that night specifically, because that was his last victory, although even in that case there were many who questioned it. Few give Rios a chance, but Rios is more gritty than Bradley and he throws more. He gets hit more, but he can take more. If he's landing as often and as hard as Marquez did, watch out! Because all bets are off!
As it relates to the "Good" case scenario, ideally, Pacquiao will enter strong and perform strong. His ability to take a flush punch was questioned not only in the devastating KO, but moments prior too, when a shot he's taken a thousand times before suddenly floored him (RD5 of Marquez IV). If he can remain durable enough to withstand a fighter like Rios for 12rds, and dish out that vintage Pacquiao punishment, he has to be viewed as a major threat to anyone between 140-147 today. Bar none. The "Bad" equation comes down to a victory in a lackluster performance. It's probably not too fair to say, but the reality is that if he fails to get the stoppage, he may be considered a question mark to some. Fans will embrace the victory, but critics will be realistic enough to assess that someone like Rios – two years ago – would never make the finish line against Pacquiao.
So this "Bad" case scenario is basically a bitter-sweet moment where Pacquiao wins, yet isn't quite himself. An ending like this would probably see his team avoid opponents like Mayweather, and perhaps even Marquez to take other 'busy' fights for decent paydays (unless he decides to walk away – in which case we can expect Top Rank to cash out their chips and put him in the lions den immediately). An "Ugly" scenario would be a flat out poor performance, in terms of both appearance and results. This is the only scenario where I can see this being Pacquiao's final career fight.
Not only would he have to lose, but he'd have to take a beating to the point where those around him would give him no further options. A loss by way of a stoppage would seal the deal. I wouldn't bet on it, but going in, there are just so many looming subplots. The year layoff, no victory in the past 2yrs, and poor performances in every fight since 2011, etc. I would like to think that Pacquiao is capable of making another charge. That said, I've also given my son (an avid Pacquiao fan) the good ole "next Saturday could be the end of a great era" speech. The signs are there. Alton Merkerson (trainer) said that Roy Jones was "getting hit with shots that never used to land" months prior to the Tarver stoppage. Roach made an eerily similar statement in the recent past. We've seen one devastating KO. Anything close would definitely signal the end for Pacquiao. Stay tuned!
(Vivek "Vito" Wallace can be reached every Tuesday night at 9ET/6PT on "Left-Hook Lounge Radio". He can also be reached at vivekwallace@ymail.com, Twitter (@vivekwallace747), Instagram (ViveksView), and Facebook).