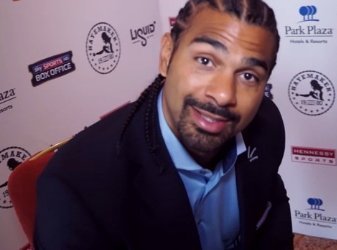 It looks like those fight fans who remained interested in seeing Tyson Fury get it on with David Haye will be disappointed on a permanent basis. The heavily hyped British heavyweight showdown, that was postponed from September due to a cut suffered by Haye in some late sparring, has been called off for a second time – this time due to shoulder surgery Haye underwent in Germany this past Thursday.
And now, with some experts telling Haye he must retire from the ring, Team-Fury are searching for a replacement foe for the February 8th date the Haye fight was rescheduled for at The Phones 4U Arena in Manchester (the fight set to go out live on Sky Box Office).
Fury and his promoter Mick Hennessey are understandably fuming.
"I'm absolutely furious but in all honest this is exactly what I expected," Fury said to The Mail Online. "Everyone knows I was very suspicious when he pulled out the first time and this confirms to me that he's always been afraid of me and never wanted this fight."
In light of the number of times Haye has pulled out of fights, and with the Fury fight now being postponed (or cancelled) twice, it's likely many fans will agree with Fury. Right now, Fury's promoter Hennessey is considering his legal position and the promoter is wondering why Haye, who called for the Fury fight to be rescheduled after pulling out with a cut, kept silent about his shoulder problem.
Fury is now looking for a new Feb. 8th opponent, yet as Hennessey says, it will not be easy pleasing the approx 20,000 fans who have bought tickets to see Fury Vs. Haye.
"In my view it might just be, simply, that he's bottled it," Hennessey said of Haye and his desire to face Fury.
As of now, the short-list of possible foes for Fury are: Deontay Wilder. Bermane Stiverne. Bryant Jennings.
As for Haye, it may be that his credibility amongst fight fans has been forever tarnished.