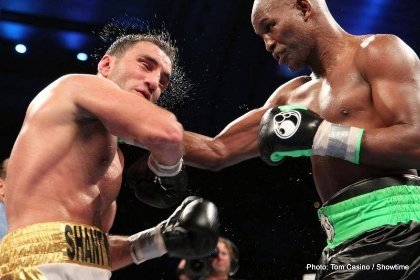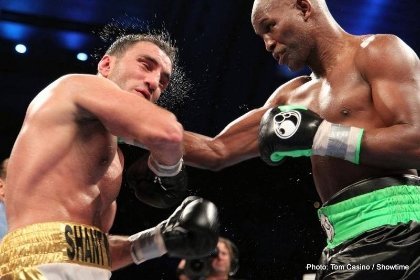 Thomas W. (Conyers, GA): So many have buzzed about the legacy of Floyd Mayweather, but few in the sport give Hopkins the same respect. How would you compare the two legacies?
Vivek W. (ESB): Rather than comparing the legacies of these two men, I'd like to lay out the importance of why both legacies should be celebrated. In Floyd Mayweather, you have a man who managed to put together a level of dominance that remains unparalleled in nearly any sport. His bitter breakup with Top Rank promoter Bob Arum put him in an unfortunate situation where he wasn't able to face certain fighters at the time; but there wasn't a man outside of the Top Rank stable in his path who he didn't face, and those he couldn't face under Top Rank, he later faced away from Top Rank (Cotto & ODH). The only wildcard is Paul Williams, who decided to go north in weight when Mayweather took time off after facing Dela Hoya and Hatton. When you look at those he did face, you have a tally of close to 20 champions, and more than 10 bona fide Hall of Famer's.
As part of that list, you have the upper echelon of his era (Corales (RIP), Hatton, Judah, Cotto, Marquez), a few labeled as the best prior to his era (Mosley, ODH, Genaro Hernandez (RIP), etc), and even some of the standouts of an era that will see days well beyond his own (Canelo, Guerrero, etc). This unmarred tenure of dominance for a man of his fundamental skill level and resume strength is a feat few can place their names next to in the book of history. Hopkins' legacy is a different animal. It's not only about his legacy, but the story the preceded it. Faced with a troubled past, he opened a chapter of his life that has yet to reveal it's final page. Boxing was his answer to life's troubles, yet initially, he even failed at that, losing his first pro fight via decision.
In the midst of it all, he never folded. He took the one lesson the streets of Philly could offer (toughness), and turned a still photo in his mind into a motion picture the world would later witness. Unlike the Ali's, Jones jr.'s, and Mayweather's of the world, this is a guy who accomplished just as much with far less. He isn't fast, he isn't powerful, and he isn't the most orthodox guy in the world. What he does bring to the table is a very developed mind that allows him to adapt in nearly any environment, and overcome. From defeating young studs like Trinidad and Pavlik, to walking down the much bigger Antonio Tarver; Hopkins has routinely found a way to succeed with one primary attribute which sustains him to this day. His mind.
Some found Hopkins' choice to face the little known Murat as reason to be critical. I remind them all that not only was this a mandatory defense for Hopkins, but Murat's little known stature alone is a major reason to marvel the victory. How many young, prime champions in the sport have we seen face opponents under the radar, but above the rim, and get outworked as a result of minimal motivation? Donaire vs Navaez immediately comes to mind. At age 48, Hopkins has every excuse in the book to take it easy in camp, or take his foot off the gas, so to speak. Not only did he perform well, but not once could you see him breathing hard, despite the increased output and active workrate. Everything about the Hopkins legacy should be marveled.
His consecutive string of defenses as middleweight Champ and his dominance in such an older age is merely the tip of the iceberg. There's reason to support either mans legacy over the other. Mayweather has proven his worth, ten-fold. Flip side of that argument is that Hopkins' legacy has seen just as many accomplishments, and has spanned 25 years. Who can argue with that? The debate will continue, but for the record, I don't think either man can solidify their position by facing each other. Mayweather would have to give up nearly 30lbs in a situation he can't win. If he wins, "B-Hop was too old". If he loses, "his legacy is tarnished for losing to an old man". I'm a huge fan of both, but I have zero interest in that bout. It's a great technical battle. But we know what happens when you get two counter-punchers headlining a PPV card. Are u ready to drop $75 for that?
C. Halloway (Oakland, CA): I think Gabe Rosado was well on his way to defeating Peter Quillin. I guarantee you that they don't give him a rematch. Do you think there should be one?
Vivek W. (ESB): Coming into this fight, my Facebook prediction headline read as follows: "Rosado will have his moments, but in the end, Quillin will be too much for the spirited Philly fighter. In somewhat of a shocker, Quillin will stop the gutsy banger late. QUILLIN via TKO11". I was one round off, but what made me lean in that direction was two things. For starters, judging by the heart of Rosado, I knew if he landed enough he'd have the ability to keep Quillin uncomfortable. The second thing, in strong contrast to the first, I knew that Rosado's face would bust up after seeing the way "GGG" left him. It played out the way I felt it would. A guy like Rosado is best when he slugs it out, yet his face can't hold up in that element for too long. Take a fighter like that and a puncher like Quillin who can land frequently, and there's no way to avoid facial damage.
I had the fight very close coming down the stretch. The only thing that separated them on my card was the knockdowns. The scorecards drawn up by the judges, I thought were horrible. That said, fans and fighters need to realize that this is simply the way fights will be scored, and when it comes to getting a decisive victory, outside of a KO, anything less fails the test. The house-fighter will always get the nod in close rounds, regardless of whom the aggressor is. This has been my biggest challenge with guys like Rosado, Lara, and even Matthyssee. Matthyssee has his power to lean on. But when he, Lara, and Rosado face the upper echelon of the sport, each does just enough to make you think they "could" win, but never enough to actually cement that decision in the minds of the judges.
A week ago, we saw Ruslan Provodnikov in that same boat. Not too long ago he had a much more popular Timothy Bradley on the brink of defeat, yet lost on the cards in a fight many felt he should have won. Eager to overturn this trend and take the fight from the judges hands, he stepped in the ring against a much more dangerous puncher in Mike Alvarado. He walked through the fire and refused to be denied, stopping his opponent in a fight that he would have certainly won had it gone the distance. Granted, he has great power, but what he did that the others fail to do routinely is press the action until he got the desired results. Had Rosado fought they way he ended in the beginning, things could be awfully different now. Same for Lara, and same for Matthysse in each of their respective losses.
I would love to see a rematch, but I do think the stoppage was adequate. That cut was no less threatening than the one Vitali Klitschko suffered against Lennox Lewis. Hopefully they can agree to terms and make it happen….but I doubt it happens that way. Quillin is a GBP fighter and they have their eye on a higher prize. Goldenboy Promotions Chief, Richard Schaefer will sit with Miguel Cotto later this week to try to muscle him out of a potential showdown with Martinez, and instead place him in the ring with Canelo. This option becomes a lot easier if they can also line Martinez up for a lucrative showdown with Quillin, and a shot at the Canelo/Cotto winner if he wins. People seem to sleep on the depth found in the GBP stables, but this possibility speaks volumes about how deep and how dynamic they really are!
How many promoters can get away with talking a fighter out of a mega fight against another; all on the strength of selling them both on a totally different mega fight with equal or greater appeal….and a followup mega fight in the aftermath? GBP could very well pull the trigger on a blockbuster move that would give us Cotto/Canelo AND Quillin/Martinez on separate cards with the winners facing off in the end. If Garcia and Khan have made in excess of $1M under GBP, most definitely Matinez could against Quillin in a GBP/DiBella co-promoted venture.
Top Rank paid Cotto $2M for his return to the ring against Rodriguez. He'd get about $3.5M tops under Top Rank to face Martinez, who wouldn't net more than about $1.6M or so, himself. Cotto would make as much against Canelo, and Martinez would make close to what he would against Cotto facing Quillin, with the Canelo/Cotto winner up next if he wins. Pay close attention to the headlines. Unless Cotto is contractually obligated to Top Rank (which we know he isn't), there may be some very interesting developments to come. Stay tuned.
Rob J. (Brooklyn, NYC): Deontay Wilder looks to be the future of American Heavyweight Boxing. Would you agree? How would you rate him so far?
Vivek W. (ESB): The word "future" is probably the best way to put that. Right now, my honest opinion is that he's far too raw to be perceived that way. I love his power, but how many times in the sport do we have to see a guy with tremendous power get totally unraveled at the hands of a man who could take his punch and land far more, or simply make him miss and make him pay? We haven't seen enough of Wilder. His speed, power, and uncanny ability to land from awkward angles as a heavyweight make him a threat to anyone. Offensively, I think he is just as dangerous as any heavyweight in the game today. But defensively, I think there are far too many holes in his arsenal to prevent him from reaching the top, even in this weakened state of the division.
His balance is very poor. Constant movement and a forward aggression would keep him on his backfoot and one step away from a flash knockdown at all times against a feared puncher. He simply hasn't learned the art of having a firm base beneath him, and the using that base to create both offense and defense for himself as needed. Another thing that I question is his ability to take a punch. I don't think he has a glass jaw, but all it takes is one powershot on the heavyweight level to quickly pull the curtains on an opponent. There has to be some level of durability present, and I think it's safe to say he hasn't been tested enough to prove to us whether he has it or not. Firtha landed two pretty telling shots. One in which Wilder was off balance and nearly touched the deck; then another where he regained his composure fairly quickly afterwards. Firth is no Wladi-K or Vitali.
As a matter of fact, Firtha isn't even an Arreola or Stiverne. I really think some of the bigger punchers could tell us something we may not wanna know so soon about Wilder. Apparently they're looking get him into a Championship fight by early to mid-2014. My suggestion would be to get this guy more rounds against credible opposition, and create enough healthy ring habits to sustain him while he tries to reach the next level. His jab is good. At the elite level in the heavyweight division, it needs to be great. Foot work, consistency and efficiency of the jab, head movement, and more dedication to body work. If perfected, those four things could literally make him a top tier fighter in no time. The only other attribute he'll need can't be taught. Hopefully he has it. (A chin). Stay tuned….
Vivek "Vito" Wallace can be heard every Tuesday night on "Left-Hook Lounge Radio" at 9ET/6PT. Also, he can be reached at Facebook, Twitter (@vivekwallace747), and Instagram (ViveksView).