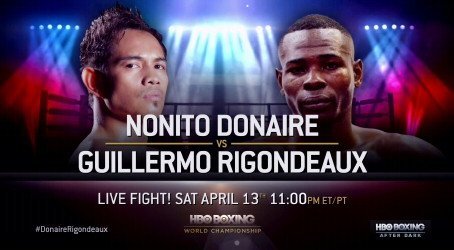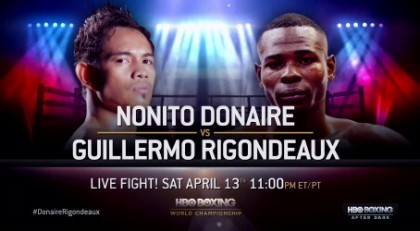 Cassidy H. (Queens, NYC): I've heard you speak strongly about Donaire in the past. Seems like he has all the momentum going into his clash with Rigondeaux this week. How do you see it all playing out?
Vivek W. (ESB): Nonito Donaire is one of those fighters I've always carried very close to heart. I love his genuine attitude outside the ring, as well as his ability inside of it. What has given me mixed emotions regarding Donaire in the past was the fact that, to me, he appears to be one of those talents that live up to the level of his competition. When the media starts placing your name on the mythical P4P list, and the sport starts tossing out accolades such as "Fighter of the Year", and those type of things…..I think you truly have to bring a certain level of consistency to rate them. In my mind, Donaire hasn't always carried the level of consistency I'd like to see in a fighter placed on such a high mantle.
Against Narvaez and others, I think he showed very little consistency. Beyond that, I think he also hasn't faced the level of talent one would like to see him solidify such a status with. Jorge Arce, among others, I just didn't really have a strong support for as an opponent for a fighter of his caliber. At any rate, the past is the past, and here in the present, Donaire will have the chance to prove that he's as good as myself and many others have felt for quite some time. What I love most about this fight is that it's the very stage in which stars are born. One of the best examples was Miguel Cotto's victory over Shane Mosley. Donaire is already a big name and Rigondeaux isn't quite comparable to Mosley. Yet it was a fight where a man who many felt was ready for that elite level had the chance to prove it to the world….and he did!
Next Saturday night, we get to see if Donaire is the "Rose" or the "Thorn". I've always said that "roses" tend to LOOK beautiful. But they're also cosmetic, and are known to wilt to their natural form under heat and intense pressure. The "Thorn" is sharp and on point under all conditions and will do damage whenever given the chance. Rigondeaux will be arguably the most talented fighter Donaire has faced. I favor Donaire in this fight because Rigo is vertically challenged (in comparison) and will be facing a firestorm. It's common knowledge that the busier fighter will always get the nod. As talented as Rigo is, I just think he will be too cautious under the fire Donaire will bring to score enough points to make a difference in the end.
That being said, there's no more fierce counter-puncher in the weight class. And one wrong move from Donaire could result in a disastrous loss of epic proportions. A loss for either man won't spell the end. But both will enter the ring with questions surrounding them. For the good and bad….those questions will finally have answers. You stated that Donaire has the momentum. To me….he also has all the pressure. Rigo isn't totally a household name yet. But a nation who recently saw it's biggest hero fall (literally) is looking at Donaire to be the "next". Whatever momentum he has he'll need….along with a solid game plan. Anything less fails the test!
Jose C. (Little Havana, FL): Manny Pacquiao is apparently planning a Fall fight in Macau, China. Bob Arum has started to talk more and more about staging his fights overseas. What do you think the main influence behind this decision is?
Vivek W. (ESB): Bob Arum has talked about this for quite some time. To be quite frank, I don't think any of us can legitimately say why it is that they've began to shift from America. I think the whole scenario relative to Pacquiao not being happy with the tax situation here at home (in the U.S.) is probably the safest theory. Most of us American's don't like that scenario. Someone making the type of money Pacquiao is would certainly have a right to feel that way. Of course the conspiracy theorist will have their own perspective, and I won't totally discount some of those as possible contributing factors either. To dissect those theories we dig a little deeper.
First, you have those who have said "off record" that Pacquiao's medical condition is worst than many are led to believe and the battery of test he'd be required to take here in America would certainly see him disqualified from any action in the near future. This is a theory that few have spoken about publicly, yet many in the underground feel has great merit. Some even going as far as saying Pacquiao allegedly had a seizure following his knockout loss. Hopefully this isn't the case, but if the rumors of him having to have brain scans in China and all of the other workups discussed are true, this certainly isn't a good thing, no matter where he plans to fight.
A second rumor that has gained steam is that Team Pacquaio has become less enthusiastic about the American market after two consecutive poor outings and wishes to take advantage of the mainstream Asian market which remains largely untapped. True or false, there's equivalent benefit to this option, as America has certainly cooled off to the once hot Filipino phenom. There are many other rumors that continue to grow by the day, but at the end of the road, Team Pacquaio participates in a business, and has every right to consider the best options to preserve their business and protect their investment….which is Pacquiao. The Marquez fight apparently won't be happening. I don't see a Rios fight happening in Macau.
One thing no one is talking about is the fact that location is primarily a big thing because it's very tough to see any mainstream American fighters agreeing to fight there. Unless of course they're with Top Rank. That's the most telling thing about this option, to me. Few other American based fighters would agree to cross the pond and take a fight there against Pacquiao outside of the Top Rank stables. So this tells me that who ever it is….we should all know in advance it'll be an in-house fight. One that he can be expected to win….even if close…..to ultimately get him back at the top and back into major contention for a fight that will somehow land right back where he didn't want to be. Las Vegas. Mark my words and stay tuned.
Martin R. (London, UK): I had mixed emotions on Zhou Shiming's debut performance. How did you rate him and what are your overall thoughts?
Vivek W.: (ESB): I want to be careful not to call Shiming a "hype job", but I'd be the first to say that I wouldn't argue with anyone who feels compelled to at this stage. I had very mixed reviews for him myself. At the core of my positive and negative thoughts, I think we all have to keep in mind that this was the kids very first outing. Few historical legends of the sport can say they looked as good as they did at the height of their success on night one of their pro career. It just doesn't happen that way. There was a lot of pressure. A lot of spectators. A lot of promise and prediction. At the end of the night he didn't quite reach that climax expected, but the most important thing is that they received a building block to build him to that level……and that was a victory.
To me, his performance was very sporadic. The jab at times was incredibly accurate. At others, incredibly off center and failed to hit the target. There was a lot of punching behind the head. There was a major lack of balance in footwork and base support when he threw his punches. There just seemed to be many flaws at play to mask what I think is a very intricate talent. My biggest concern is that Freddie Roach, as much as I like the guy, probably isn't the best person to hone his skills. Roach is incredibly gifted at what he does, but what he does isn't a strong foundation for a fighter with a skills template in place. Linares, Khan, and a few others have all failed trying to make this transition with him.
Roach's style seems to suit those fighters who can take major punishment to inflict their own. There's practically no defense or fundamental strategy to support the typical gameplan in the Roach template. Take a look at his best pupils. Pacquiao and others in his camp have been known to use offense as their defense.
This isn't to take away from his ability to train. It's simply to say that one would need a granite chin, and a better-than-average stamina to support the given philosophy. Anything less could fail the test! When I saw how Shiming lost his footing regularly and appeared easily swayed from time to time, my first thought was that a body-banger with a good chin could possibly eat him alive.
In all fairness, I think Roach has the ability to train him beyond some of those amateur flaws. Whether he makes it to the elite class as some have projected remains to be seen. Lets give him the time to iron out those wrinkles before we say that this tandem won't work. Hopefully next time out we get a better outing from them. I think in this case the $300K purse for a 4 round fight as a pro debut watched by more than 200M people set a level of hype that was absolutely impossible to live up to. And he didn't (according to most). Stay tuned.
(Vivek "Vito" Wallace can be reached at 954.300.5692, "Left-Hook Lounge Radio" every Monday night at 9ET/6PT, Facebook, Twitter (@vivekwallace747), & Instagram (ViveksView)