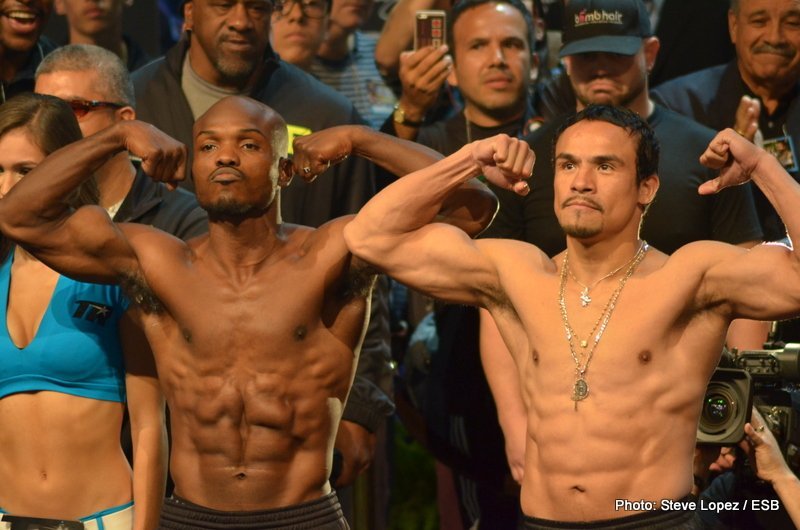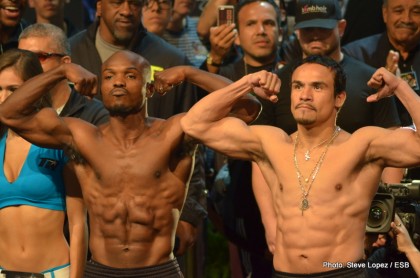 Mario H. (Tampa, FL): There was a lot of discussion in the aftermath of Bradley/Marquez about Marquez being "robbed again". How did you score the fight? And how did you rate the performance of both men?
Vivek W. (ESB): Personally, I had the fight scored 7 rounds to 5 in favor of Bradley. In all fairness, there were several rounds that were very tight that could have gone either way. Typically, we see the Champion get the nod in those rounds. My opinion on whether or not that should be a standard practice is irrelevant, as it has been that way for years, and my position won't change it. Bearing that in mind, I think what we saw in the final analysis was in fact a product of that mentality.
When you look at it for what it's worth, those close rounds could have been more decisive, but the more active fighter – be it the Champion or not – is typically going to get the nod. In this case, you have a scenario where the more active fighter was also the Champion. That's a very easy call to make for any group of judges. What I saw in Marquez was a fighter who was either too tentative, too old, or both; as he failed to let his hands go during many of the key stretches when he needed to most. Within the first three rounds, my immediate position was that similar to the Mayweather fight, Marquez was facing a man who wasn't going to make it easy like Pacquiao by coming straight at him.
As a result, he often struggled to overcome a severe speed deficit, and those close rounds didn't quite go his way due to his own limited output, and the fact that he was unable to land the big punch by timing his opponent like he managed to do to erase a points lead held by Pacquiao in their fight. I don't think he has anyone to blame but himself, perhaps age, and I'd even throw in his famed and legendary trainer, (Nacho), who kept telling him that he was ahead, rather than giving him a reason to pick up the pace.
Marquez has been an absolute warrior, but skills pay the bills! A veteran of his caliber fully understands that if one plan isn't working, you have to shift gears. When Bradley became a moving target and wasn't as easy to hit, Marquez had no plan B, and the rest was history. If it isn't a come-straight-ahead type opponent, I think Marquez will struggle greatly with most of the young crop in the sport today. When you consider his age and long list of accomplishments, there would be no shame in walking away. His best days are clearly behind him, yet his worst could lie ahead if he doesn't walk soon. As a loyal fan, I'd be the first to admit: his work is done, and the time has come.
Craig H. (San Francisco, CA): I was very impressed with the performance of Lomachenko. How did you rate his performance? And how far do you think he can go?
Vivek W. (ESB): I was extremely impressed with Lomachenko. What I saw was a very poised talent who has clearly mastered some of the basic fundamental elements of the sweet science. When I see guys like Lomachenko, Rigondeaux, and of course the Mayweather, Hopkins, and Ward's of the world, I have no idea why it's so hard for some to respect the true art of pure boxing? Not that I think we should ordain Lomanchenko as part of that group so suddenly, but I will say this: the tools for comparable success are there.
Most fans look at those basic elements like power punching and heart. But when you get beyond the "shock and awe", those deeper elements like footwork, spacing, angles, punch location, and punch variation are the things you can't always teach with the same level of success. These are things that a fighter has to feel in the ring. It's a natural instinct. Those who are taught these measures don't always perform it to perfection, because it's one thing to know, and another to know precisely when to execute using it.
That's what separates those born with the "gift" from those who never quite learn to master it. In the case of Lomachenko, it's too early to say he was 'born with the gift', but with 396 amateur fights and only one loss, clearly, there's more to this talent than hype. I love his power and his skills. I'm curious to know how much of a punch he can take; but the intriguing thing about him, just like Rigondeaux, you barely get a chance to land flush, so it's something that probably won't matter too much. If you look at the way he uses the pivot foot and not only escapes punches, but uses angles to set himself up after slipping a shot is a thing of mastery! I really like the kid and I see incredible potential.
Apparently Arum has set up a date of January 25th, for he and Salido to face off at NYC's Madison Square Garden. That's a tall order for a kid in his second pro bout. But so was Donaire for Rigondeaux in his only his 12th bout. But by the end of the night, it was easy work, because again, "skills pay the bills"! Lomachenko can make a plodder who punches wide like Salido a very easy night if he's as good as many thinks he is. As for now, we don't know. But I wouldn't be surprised to see him show us so! Stay tuned.
Maurice N. (Atlanta, GA): Timothy Bradley's performance left me very shocked! I saw your Facebook comments and would like you to elaborate on how you graded his work? And what you'd like to see next from him?
Vivek W. (ESB): I was very much impressed with the performance of Timothy Bradley. He showed me evolution that we hadn't quite seen, and didn't quite know he'd have the discipline to pull off. He's such a warrior that the moment you land flush, he has to attack! In this fight, he attacked like the vintage 'junkyard dog' he is, but the attack was very much controlled, allowing him to do just enough to cause havoc, yet not too much, leaving him in the way of return fire. That's one of the biggest learning curves for fighters who try to make that ultimate transition from a reckless fighter to a disciplined one. He not only did it, but he did it against a guy who is very precise and accurate.
I truly tip my hat to Bradley. All that being said, I think we still have to measure his effort with true perspective. The man he faced was 10 years his senior, and very much shop worn. I predicted Marquez to win, but two things happened that made it impossible for that prediction to be carried out: Timothy Bradley fought very disciplined; and he proved to those of who felt he couldn't, that he could in fact adjust gameplans mid-fight to stay ahead of his competitor, who is a very intelligent fighter. I really earned a deeper respect for him. Relative to what's next, there's a few fights I wouldn't mind seeing, but there's one fight I think we should see.
Starting with the fights I think we need to see, I think Danny Garcia and Adrien Broner would be incredible fights against Timothy Bradley. On a lower scale, I think Maidana, Rios, Alvarado, and even Matthysse would be great fights. But as good as those fights are, the fight I'd like to see most would be a showdown with Mayweather. This isn't to say I feel he wins that fight. But it is to say that on merit alone, the guy has done everything you could ask of him in order to receive that match. Although the Pacquiao victory was a complete question mark, many would argue that so was many of his against Marquez; a man Bradley defeated without question.
I really think that if Ortiz, Guerrero, and Khan can be considered, there's no way Bradley shouldn't have comfort knowing he now resides at the door step of his a mega shot at the man we know as "Money"! He has earned it. He has one fight left under Top Rank. I fully expect that to be a PPV telecast featuring him against the Pacquiao/Rios winner. I don't think he can be denied at this stage. But if he wins that fight, without doubt he'll be in Goldenboy Promotions' headquarter office by Monday morning, as there's nothing else Top Rank could offer that comes remotely close. It's the fight I'd like to see, and it's the fight I think that needs to be made.
http://www.youtube.com/watch?v=43M3E04BKb0
(Vivek "Vito" Wallace can be reached at vivekwallace@ymail.com, Twitter (@vivekwallace747), Instagram (ViveksView), and Facebook).