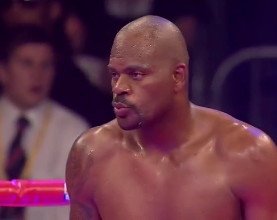 A fight between heavyweight contenders Kubrat Pulev (17-0, 9 KO's) and Tony Thompson (38-3, 26 KO's) is being negotiated for a fight that would take place in late August on the 24th or September 14th, according to Fightnews.com. The fight will take place in Germany, and both fighters have agreed on it.
Pulev, 32, is ranked #1 by the International Boxing Federation, whereas Thompson is ranked #8. What's not known yet is whether the Thompson-Pulev fight will be an IBF heavyweight eliminator bout to lock in a mandatory challenger for IBF/IBO/WBA/WBO heavyweight champion Wladimir Klitschko or not.
Both fighters are big. Thompson is 6'5" and fights out of the southpaw stance, while Pulev is 6'4" and fights from the orthodox stance. Pulev doesn't have a lot of power, but he's got a really good jab and he would be a problem if Thompson were to fight him on the outside.
Pulev doesn't fight well on the inside and he mostly likes to do a lot of clinching. You could expect him to try and shut Thompson down if the fight gets made by clinching him each time he tries to fight on the inside. Thompson is the much better inside fighter of the two, and he could be a problem for Pulev if he doesn't tie him up constantly.
It's still going to be a tough fight for Pulev because Thompson has a lot of experience and he has more ways to beat you than Pulev. With Pulev, it's pretty just his jab and not much else. He throws an occasional clubbing right hand, but it lacks power to do much damage.
Pulev hasn't fought since last September when he stopped the lumbering 300 lb. Alexander Ustinov in the 11th after jabbing him into submission. Pulev's other big wins have come against Alexander Dimitrenko, Travis Walker and Michael Sprott.
Thompson, 41, has won his last two fights in stopping Britain's previously highly hyped David Price. Last year, Thompson was stopped in the 6th round by Wladimir Klitschko in July of 2012.