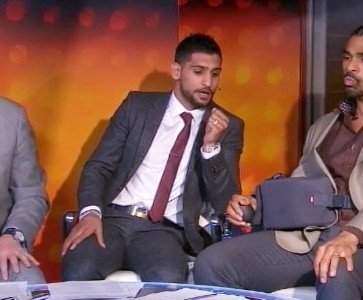 Share the post "Khan: People want to see Mayweather with a different style than Maidana's"
Amir Khan is still trying to sell himself as the right opponent for Floyd Mayweather Jr. by pointing out the flaws in the game of WBA welterweight champion Marcos Maidana. Khan believes that fans ultimately will prefer himself as Mayweather's next opponent rather than Maidana because fans have already seen Mayweather fight a lot of slow fighters. So they now will want to see him face a guy with quick hands and quick feet. Khan thinks Mayweather had problems beating Zab Judah many years ago due to Judah's fast hands. Khan thinks that this is the weakness in Mayweather's game him fighting guys with hand speed.
"People want to see Floyd in with a different style," Khan said to Hustleboss. "If you think about the last three opponents Floyd has faced, they got slow feet, slow hands…I think that suits Floyd Mayweather. What Floyd Mayweather has problems with is speed, explosiveness, and movement, which not many fighters bring to him."
Mayweather has beaten Saul "Canelo" Alvarez, Robert Guerrero and Miguel Cotto in his last three fights. These are the slow guys that Khan is mentioning. I don't know if speed is all that important for some fighters. They are all very good fighters, and Khan might have some problems with them if he were to be fighting them. It's not to say he would lose, but Khan would know he's in a fight if he were to face any of them.
It would be interesting to see Mayweather fight someone fast like Khan. He's right about it being a long time since Mayweather fought an opponent with quick hands. He fought Judah and Oscar De La Hoya, and those are the last two guys that Mayweather faced that had good hand speed.
Mayweather isn't picking his next opponent based on their speed. He's going to pick the guy that he feels will bring in the most pay-per-view buys. If he feels that Marcos Maidana is the guy that can do that, then he'll give him the fight even though he's a lot slower than Khan. If Mayweather thinks Khan can bring in the most PPV buys, then he will go with him as his opponent. This is about business. It's nothing to do with skills. It's more of a popularity contest. With Mayweather picking Cinco de Mayo holiday weekend to fight, it's going to put pressure on him to select an opponent that he feels the Mexicans fans will want to see him fight. Is that Khan or Maidana? That's the big question.