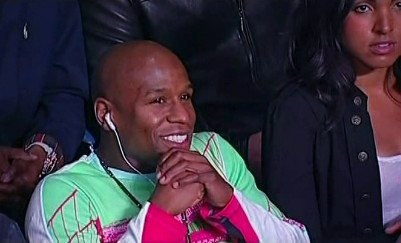 Amir Khan and Marcos Maidana are still very much in the running for the May 3rd fight against Floyd Mayweather Jr. For whatever reason, it's taking Mayweather longer this time to announce his next opponent compared to in the past. That's probably a good thing for the fans because it hopefully means he won't be selecting an opponent that fans project to have absolutely no chance of winning.
Unfortunately, you can make a pretty good case that both Khan and Maidana are guys that Mayweather will easily deal with on May 3rd, so in that sense they're interchangeable. The only difference between them is that one of them will bring in more pay-per-view buys than the other, and obviously Mayweather and his team are trying to figure that out so that they don't end up with an opponent that boxing fans feel will have no chance.
Earlier today a rumor spread about Maidana having already been selected by Mayweather for the fight. Team Maidana quickly sent out a press statement addressing this rumor and pointing out that it has no basis in face.
This is the Team Maidana press statement:
"Considering that rumors have been circulating in the last few hours addressing a "done deal" fight between WBA Welterweight champion Marcos Maidana and WBC champ Floyd Mayweather Jr. we want to clarify that those versions are not accurate.
Maidana is well aware that he is indeed a firm candidate to face Mayweather Jr. next May 3rd but the fight is far from being made or confirmed as other fighters are still also in the mix. Hopefully we will have news in the next few days but in the meantime we don't want to confuse the fans or the boxing press. Maidana of course wants to unify titles with Mayweather but for now we will have to wait."
Khan and Maidana both deserve the fight, and it'll be interesting to see Mayweather fight either one of them. Neither of them stand a chance to beat Mayweather, but they'll give it a good effort in losing. Khan will probably be knocked out at some point by Mayweahter. Maidana will be there for the full 12, but will lose by a wide decision. It'll be exciting either way.