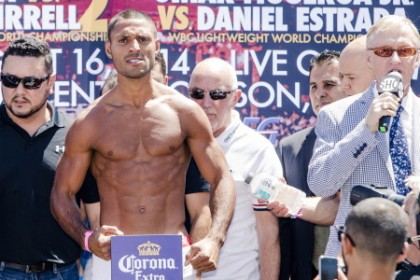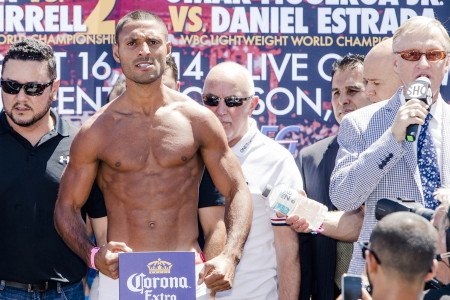 (Photo credit: Esther Lin/Showtime) Amir Khan sees a victory by Britain's Kell Brook (32-0, 22 KOs) tonight against IBF welterweight champion Shawn Porter (24-0-1, 15 KOs) as opening the door for a big fight between the two of them in the UK in the near future.
Khan isn't saying precisely when he wants to face Brook, but you've got to figure that it would need to happen fairly soon. Brook doesn't have the kind of talent to hold down the WBA title for long if he were to face the likes of Keith Thurman, Floyd Mayweather Jr or Manny Pacquiao. You'd have to favor all three of those fighters to beat Brook if a fight were made.
"If Kell Brook wins against Shawn Porter and gets the IBF welterweight crown, it could lead to a massive fight between us in the UK," Khan said to the Telegraph.co.uk. "I can see the fight going Brook's way. He's got a fantastic chance…Shawn Porter probably thinks he can walk through Brook. Porter probably thinks this is just going to be an easy task. But I think Kell Brook will go all the way and do it."
If Brook does beat Porter tonight, it would indeed be a huge achievement for Brook. In just looking at the guys that Brook has been matched up against during his career, he's take a monstrous leap up in competition in facing Porter. Brook is going from fighting the likes of Alvarao Robles, Matthew Hatton and Vyacheslav Senchenko to fighting one of the best fighters in the world.
It's not a big deal for younger fighters to be facing the guys that Brook has been fighting during his career, but he's fighting this level of opposition for years without being moved up. At 28, Brook is arguably 6 years overdue in being matched against a true world class opponent.
I'm not talking about the guys that Brook has been facing with inflated rankings like Hector Saldivia, Senchenko, Carson Jones and Rafal Jackiewicz. Porter is the real thing and that's going to be very tough for Brook when he gets in the ring with him tonight and finds out how tough things are when facing a legitimate world class fighter.