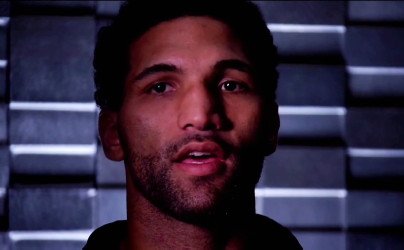 by Paul Strauss: Edwin "La Bamba" Rodriquez 22-0-0 (KO 15) pulled off a bit of a surprise when he jumped out with heavy shots in the first round of his fight with Jason Escalera 13-1-1 (KO 11) in the MGM Grand at Foxwood Resorts, Mashuntucket, Conn. Rodriquez took chances winding up and telegraphing his looping heavy shots. He realized he could get away with it, because Escalera failed to counter and instead went into an upright shell, failing to move his head. Several of the big bombs got through to the body, and many bounced off Escalera's gloves, getting through to his head. Escalera was rocking right away in the opening stanza.
Rodriquez' trainer Ronnie Shields liked what he saw, but he continually cautioned Edwin to fight smart and at the right distance. As the fight progressed, Shields knew Rodriquez was winning, but he also knew that he was getting hit with shots he shouldn't be. As advertised, Escalera showed signs of being a decent puncher, but he didn't listen to his corner men's advice about moving his head and punching to the body. Hence, he was spending way too much time catching shots, rather than throwing them. There are good things about his style, though. He has good balance. He keeps his feet underneath him when he punches. He doesn't over extend, and he throws nice, crisp, straight shots, but most of the time Rodriquez wasn't there to receive them.
By the eighth round, even Referee Steve Smoger, who notoriously lets fighters fight, had seen enough and he stepped in to stop the bout. By that time, Escalera had been blasted with just about everything on the platter from looping overhand rights and uppercuts to the head and body, with some left hooks thrown in for good measure. His mouth piece had been sent sailing three times. He was wobbling around just before the end. His raised right arm, temporarily wiggled behind his head like a wet noodle. It was definitely not a good sign. Apparently, some electrical brain impulses were not travelling along the right pathway. There also was some blood coming from his ear.
Through the course of the fight, Rodriquez demonstrated decent footwork, and slipped punches well. He also packed on about twenty pounds of water-weight after the official weigh-in, so he could feasibly fight light heavy too, which he acknowledged if it meant fighting a big name. For this night's effort, he walks away with the USBA Super Middleweight Title, and has good chance to move up and get that bigger named opponent. Escalera shouldn't be too discouraged. He can go back to the drawing board and diagnose what he didn't do right and make some needed improvements. He proved he is tough and has potential. Chances are he will be back.
That's also the case with Luis Orlando Del Valle 16-1-1 (KO 11) , who is one tough kid. In Vic "Raging Bull" Darchinyan 38-5-1 (KO 27), he was faced with one of the roughest and toughest. Vic also has one of the most peculiar styles around. Vic starts out doing everything from the left side, but before long, his opponents don't know from where punches might be coming. Del Valle took everything Vic "Raging Bull" had to offer, and came back with his own solid shots. He had Vic rocked on more than one occasion. The problem was he was on the receiving end much too much, but to his credit, many of the shots he took (especially left uppercuts) would have put away most bantamweights or super bantams. After each shot, he quickly regrouped and would come roaring back with his own.
Two or three times, he wobbled Darchinyan, but the veteran knew how to punch his way out of trouble, or just move in close and rough up the more inexperienced fighter. As the fight progressed, Del Valle got marked up, with abrasions around the sides of his head, a cut on the bridge of his nose, and one gash on the underside of his chin. There was some talk by announcers Bob Papa and Max Kellerman to stop the fight. They thought maybe Del Valle's corner should think about it, but analyst and future hall of famer Roy Jones, Jr. reminded them Julio Cesar Chavez, Jr. redeemed himself and earned a possible big rematch with one last big round. He thought Del Valle deserved the same chance, because he still looked dangerous.
Concerning Darchinyan, Roy had a colorful and accurate description of the little Raging Bull as well. He echoed Vic's comment about him always looking for the knockout. Roy humorously thought Vic might even be waking up looking for a fight just so he can knock somebody out. Vic didn't get the chance Saturday night, but he provided a hell of a lot of excitement trying to get it done.
The kid from Puerto Rico proved too tough, though outclassed, to be stopped on this night. Del Valle showed great determination, and with a little more experience, he will be a handful for anyone in the bantam and super bantam weight classes. The score cards and mandatory point system suggest it was a one sided fight, but the cards don't reveal the competitiveness of each round. There were rounds Vic won, but ones in which he was shook up and temporarily reeling.
For now, Vic is back in the big picture. As Roy Jones, Jr. suggests, Darchiyan is never in dull fight, and Saturday was no exception. That's why fans will once again be seeing him matched against a top fighter, and maybe even winning another title to go with the NABF belt he captured Saturday night. This 36 year old has plenty left, which is a good thing for fight fans.