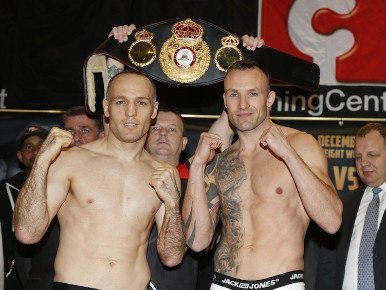 (Photo credit: Sauerland Events) By Michael Collins: Mikkel Kessler (45-2, 34 KO's) and Brian Magee (36-4-1, 25 KO's) weighed in earlier today for their fight on Saturday with Kessler coming in at 167.8 pounds and Magee at 168 for their bout at the BOXEN, Herning, Denmark. Kessler, 33, is a huge favorite in this fight, as he has the bigger power, better hand speed, bigger size and the much bigger talent than Magee. Kessler also four years younger than the 37-year-old Magee, and that's something that will help as well.
Magee has been fighting well lately and has won his last two fights, but he's traditionally crumbled when stepping it up against quality opposition in losses to Lucian Bute, Carl Froch, Robin Reid and Vitaliy Tsypko. He's got good power but not the kind of power that will get him past Kessler unless Kessler has really gone downhill since his last fight.
Kessler was knocked down in the 1st round in his last fight by Allan Green last May. Kessler came back to stop Green in the 4th round with a tremendous left hook, but it does cause you to wonder what would have happened to Kessler had he fought someone that was throwing a lot of punches at him. Green only threw a few punches in the entire fight, and yet he had Kessler hurt and on the deck. If Magee can land a decent amount of shots on Kessler's chin we could see an upset tomorrow night.
Kessler wants Magee's World Boxing Association belt so he can use it to get a better deal against the other champions in the division like Carl Froch, Arthur Abraham and Andre Ward. There's been talk about Kessler possibly fighting IBF champ Froch in a unification bout in early 2013, but it's really unclear whether that can happen for a number of reasons starting with Froch's contracted rematch with former IBF super middleweight champion Lucian Bute. If Bute decides he wants to fight Froch in March, then the Kessler fight won't happen until later on in the year.