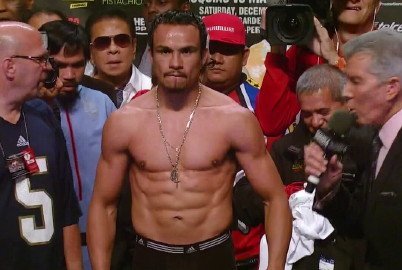 By Bill Phanco: Former four division world champion Juan Manuel Marquez (54-6-1, 39 KO's) will be looking to knock Manny Pacquiao (54-4-2, 38 KO's) clean out on Saturday in their fourth fight between them. Marquez, 39, wants to take the judges completely out of their position of being able to sit as the decider in this fight by knocking Pacquiao and making sure that he won't be on the receiving end of another controversial decision like in the past three fights.
Speaking with the BBC Sport, Marquez said "I am looking for the knockout. I have trained really hard, and I feel ready. I am looking for the knockout because the judge gave another [bad decision in last Pacquiao fight]."
Marquez has got the body and the strength now to accomplish his goal. He looks even more muscular than in his last fight against Pacquiao, and in that fight Marquez looked powerful.
If Marquez's extra muscles equate to more power than Pacquiao could be in for a brutal beating tomorrow night because he and his trainer Freddie Roach have already said that they're going to take the fight to Marquez to try and overwhelm him with punches. Roach seems to believe that the answer to beating guys like Marquez and Floyd Mayweather Jr. is to try and overwhelm their defenses.
We'll see on Saturday night if Roach is correct with his theory or if this is just another wrong-headed plan headed towards disaster for the bad luck trainer. Roach's top fighters have been getting beaten left and right lately with Amir Khan, Pacquiao and Julio Cesar Chavez Jr. all losing. Roach needs his plan to work for more than one reason tomorrow night. He needs to stop the bleeding and Pacquiao has always been the guy that has kept him on the winning track. But at 34, can Pacquiao still get the job done?
Marquez is going to have to really take the fight to Pacquiao if he wants to get a knockout because it won't be easy because Pacquiao likes to skitter away after he lands his shots. He doesn't just stand there and admire his work like some fighters do. Marquez will have to be fast to catch Pacquiao before he dashes away.