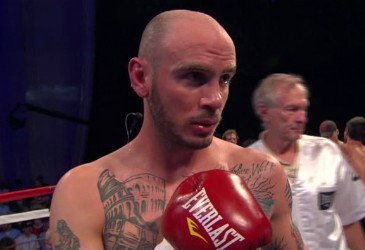 By James Slater – By now, fight fans have almost certainly read or heard about former middleweight king Kelly Pavlik's retirement announcement. "The Ghost," 40-2(34) and just 31-years-old, told ESPN.com of his decisions, citing concerns for his long-term health and a lack of drive as his main reasoning. Pavlik was all set to fight Pound-for-Pounder Andre Ward, and the cancellation of this big fight (due to Ward's shoulder injury/subsequent surgery) reportedly left the Youngstown legend disappointed and this too may have partially inspired his decision to walk away from the sport that made him great and he in turn helped make a little greater.
A genuine blue collar hero and an inspiration to millions of "small guys" the world over, Pavlik especially made the good people of his home town feel proud. This article is intended to say a small thank you to Kelly, a fighter who made this writer jump off the couch on more than one occasion. Pavlik was, above all else, exciting!
Who can forget his give and take battle with the then unbeaten Edison Miranda? The May 2007 win (a 7th-round TKO win for Pavlik) saw "The Ghost" – then aged 25 and, as we now know, in his absolute, arguably never to be better, prime – earn a shot at another unbeaten fighter: the middleweight champion of the world, Jermain Taylor. If Pavlik, a punishing puncher who had a great left jab, a reliable chin and a fine engine, wasn't at his best against Miranda, he sure was against Taylor.
Before the September 2007 clash, legendary trainer Emanuel Steward, then working with Taylor, predicted a relatively straightforward, quick win for his fighter. Steward was almost proved correct, as "Bad Intentions" scored a heavy 2nd-round knockdown over his challenger. But Pavlik, showing the bite-down courage he would soon become world famous for, fought back hard against the man who had previously beaten him as an amateur, eventually trapping Taylor in a corner and battering him into helplessness in the 7th-round of a classic fight.
Now the middleweight king and, as promoter Bob Arum promised, the next superstar of the sport, Pavlik, unfortunately, after just one title retention and a repeat, non-title points win over Taylor, began a downward spiral. A heavy points loss to the crafty Bernard Hopkins – in 2008 and up at 170-pounds – seemed to take a lot of the self confidence out of Pavlik, and the critics were quick to declare how Hopkins had "ruined" him.
But Pavlik, still the middleweight ruler, had a lot of fight left in him yet. Retentions of his belts came against Marco Antonio Rubio and Miguel Angel Espinosa (both stoppage wins), before Pavlik went twelve hard, bloody rounds with Sergio Martinez in April of 2010. At the time, the close-ish UD loss let a lot of Pavlik fans down, also further inspiring the critics to write Kelly's obituary, but in hindsight Pavlik's performance, hampered as it was a by a nasty cut to the eye, was far from poor. Martinez, of course, would go on to become a P-4-P star and, according to some experts, one of the best middleweights in history. Would the peak Pavlik have beaten Martinez?
Then came Pavlik's well-documented battle with alcohol, resulting in a stay in rehab – before a comeback in May of 2011 saw the former champ real off four useful, rust-removing wins up at super-middleweight. Now clean and sober and, more importantly, as hungry as ever with new trainer Robert Garcia (having split with long-time coach Jack Leow), Pavlik was linked to big fights with the likes of Lucian Bute, Carl Froch and Ward. For one reason or another, however, neither intriguing match-up came off.
With Pavlik's retirement (providing he sticks to his decisions, after all, many fighters have been know to have a change of heart) there undoubtedly comes a sense of what if? Pavlik, in my opinion, had the stuff of greatness in him, yet through a combination of bad luck and his own mistakes (mostly out of the ring) he never achieved all he could have. Pavlik definitely lost something after the non-title loss to "The Executioner," yet Kelly never even had to take that fight (as I recall, there was no clamour for the match-up beforehand). Would a more astute Team-Pavlik have swerved the pesky, who-needs-him Philadelphian? Maybe, and had Pavlik fought someone else other than B-Hop, nobody would have held it against him (remember, many good judges were predicting a bad night for the then 43-year-old Hopkins when he entered the fight; certainly no-one would have accused Pavlik of ducking the ageing master).
Who knows for how long Pavlik could/would have dominated had he not had that bad night against Hopkins (also remember how Pavlik suffered an elbow injury prior to the loss, an injury he could easily have decided necessitated his withdrawal from the bout). Also, nobody knows how well Pavlik would have done in big fights against Bute, Froch and Ward. Maybe, had he landed the fight with Bute, it would have been Pavlik who revitalised his career with a stunning stoppage over the Romanian, and not Froch.
Now comes the big question: does Pavlik deserve to be considered for The Hall of Fame? Most fans will likely shout out "no" upon first thought, but Pavlik's accomplishments were many and the impact he made was pretty big indeed. Let's wait and see how the "experts" decide. For what it's worth, I'd vote Pavlik in.
For now though, it's a big thank you from me for the great, great ring action Pavlik gave us all.
Kelly Pavlik: middleweight champion of the world from September of 2007 to April of 2010.
Best wins: TKO7 Jermain Taylor
WU12 Jermain Taylor
TKO7 Edison Mirannda
KO8 Jose Luis Zertuche
TKO6 Bronco McKart
WRTD9 Marco Antonio Rubio
TKO9 Fulgencio Zuniga