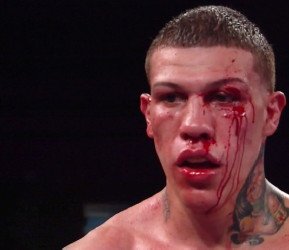 By Joseph Herron – Gennady Golovkin (25-0, 22 KOs) successfully retained his WBA Middleweight Championship with a technical stoppage over a lively but overmatched Gabriel Rosado (21-6, 13 KOs) at the 2:46 mark of round seven.
The decision to stop the contest was made by Rosado's trainer and friend, Billy Briscoe, when it became abundantly clear that the courageous Philly native's vision was being impaired by a horrid gash over his left eye. After bleeding profusely for the majority of the seven round contest, the 27 year old fighter stopped being competitive and shifted gears into survival mode throughout the final stanza of the halted bout.
While the stoppage was unanimously supported by those at ringside, it was also collectively understood that Golovkin's second consecutive HBO appearance was much more competitive than most fight pundits and boxing scribes had anticipated.
Although the entire contest was dominated by the incumbent title holder, Gabriel Rosado did a good job of using lateral movement to keep the heavy-handed Kazakhstani fighter off balance. Throughout the first four rounds, the Junior Middleweight used his crafty footwork to catch the reigning champion walking into the occasional hard left hook and straight right hand.
Although the young underdog was able to touch up the heavily favored fighter, Rosado's offensive was sporadic and ultimately ineffective.
Triple G did a masterful job of cutting off the ring and consistently landing his trademark power shots from mid to short range. According to Compubox statistics, Golovkin's precise power blows found their mark at a staggering 42% connect ratio. The WBA title holder landed 208 of 492 total punches thrown, while the brave challenger connected with only 76 of 345 attempts.
Round after round, Golovkin successfully anticipated Rosado's movement and forced the customary Junior Middleweight contender into an uncharacteristic defensive posture. Although the athletically gifted title challenger showed impressive upper body and head movement throughout most of the match, the hard punching sharp shooter carved Rosado's face into a bloody mask over seven brutal rounds.
Despite eventually halting the streaking Junior Middleweight contender within the distance, many scrutinizing fight fans will criticize Golovkin's dominant performance due to the nature of his seemingly "undersized" opposition.
Gabriel Rosado was entering the squared circle for the first time as a Middleweight fighter and was able to withstand the exceptional and somewhat fabled power of Gennady Golovkin for seven hard rounds. While no one can deny the just technical stoppage victory, many will question whether or not Triple G is the absolute truth of the talent enriched 160 pound weight class after going seven stanzas with Gabriel Rosado.
But consider these factors before exercising an overtly callous judgment against Golovkin's winning effort.
Going into the bout, the 27 year old challenger had enjoyed a seven fight win streak with five of those victories coming by way of knock-out. The athletically gifted boxer/puncher had also been previously turned away by the incumbent WBC and IBF Junior Middleweight Champions before graciously accepting a dangerous match-up with Gennady Golovkin for the WBA Middleweight title.
While Rosado had never competed above 154 pounds prior to last night's championship opportunity, the young confident pugilist enjoyed a two inch height advantage, four inch reach advantage, and an arguable speed and athleticism edge over the reigning champ.
Leading into to his first title opportunity as a Middleweight, Gabriel Rosado had spoken of his unshakable confidence despite sporting five losses on his resume. The tough Philly fighter stated that he truly felt he had the mentality of an undefeated fighter heading into January 19th. Because of his lack of amateur pedigree, Rosado had admittedly been learning on the job during the first half of his professional fight career.
It had also been discovered during a post fight interview with HBO's Max Kellerman that Golovkin had been sick prior to the highly anticipated contest.
While Triple G confirmed the illness leading into last night's championship bout, the hard punching title holder stated that it was of no consequence throughout his TKO performance.
"It's true that I was sick for two days before the fight, but there are no excuses," explained Gennady Golovkin. "Gabriel is a strong fighter and good boy. He was very strong in the ring but I knew I would eventually wear him down."
The technical knock-out victory for Golovkin marked the sixth successful defense of his WBA Middleweight title. Although Daniel Geale previously won the Super WBA 160 pound Championship on September 1st, 2012, by defeating long reigning title holder Felix Sturm in Germany, he quickly relinquished his reign by refusing to defend the coveted distinction against Gennady Golovkin, the "regular" WBA title holder, within the sanctioning body's specified allotment of time.
The current IBF title holder decided to stage a rematch with Anthony Mundine instead, which is slated to take place on January 30th, in Sydney, Australia.
It will be interesting to hear the public sentiment after last night's impressive showing against a very dangerous and underrated young fighter like Rosado. It's also very intriguing to think of the possible match-ups available for Triple G at 154, 160, and possibly 168 pounds.
But it's most fascinating to think about whether or not Triple G will continue to garner the same respect by his Middleweight peers after last night's winning effort. Will Gennady Golovkin continue to be regarded as the most feared man at 160 pounds after going seven strong with Gabriel Rosado?
2013 should prove to be a very eventful year for one of boxing's most talented and highly revered champions.