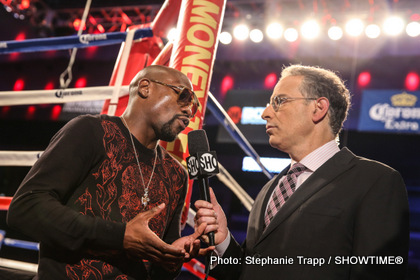 HBO commentator Max Kellerman thinks that Floyd Mayweather Jr is in a tough position to where he'll either need to move off his next fight date on May 2nd on the Mexican holiday Cinco de Mayo or he'll need to accept a fight against Manny Pacquiao. Golden Boy Promotions and Top Rank are both working on setting up a fight between Miguel Cotto and Saul "Canelo" Alvarez for May 2nd.
If Mayweather, who likes to fight on the Mexican holidays, decides that he absolutely must fight on Cinco de Mayo on May 2nd, then he's going to need to have a popular enough opponent to bump Canelo and Cotto from off that date. Pacquiao would be the only opponent popular enough to move Canelo-Cotto off that date.
"If Cotto and Canelo get made for Cinco de Mayo, Floyd can't bump them off Cinco de Mayo unless he fights Pacquiao," Kellerman said to Fighthype. "With the attrition of pay-per-view, with Cotto and Canelo getting Cinco de Mayo, the only way for him [Mayweather] not to get bumped, which is a big deal for him, is to have a dance partner like Pacquiao."
What Kellerman failed to point out is that Pacquiao's promoter Bob Arum says that the May 2nd date should be Canelo's because he's Mexican. What Arum isn't pointing out is he's actively trying to match one of his Top Rank fighters, Cotto, with Canelo for May 2nd, so it's not as if this won't help him out in the process.
If Arum does decide to stand firm and not let Pacquiao fight Mayweather on May 2nd it could end up being a huge bomb that backfires on Arum if Mayweather decides to walk away from the Pacquiao fight permanently. That would arguably be the third time that Pacquiao ended up not getting a fight with Mayweather after two previous attempts at making the fight happen.
Of course, they can always fight in September on the Mexican holiday, but if Arum still decides he doesn't want Pacquiao fighting on Mexican holidays, then that will pretty much close the door on him ever getting a fight against Mayweather. At the end of the day, it's hard to understand why Arum would care about when the fight with Mayweather takes place, as long as it can be made. But if he's going to rule out certain dates for the fight then you have to wonder how badly he wants to make the fight with Mayweather.
As much as Arum was name dropping Mayweather's name before Pacquiao recent fight against Chris Algieri, you would think Arum would jump at the chance of putting the Pacquiao-Mayweather fight together for May 2nd, especially when it's a much bigger fight than the Cotto-Canelo fight.