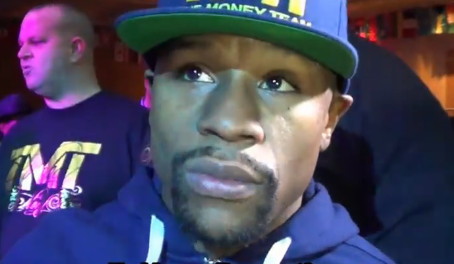 Amir Khan got a bit of bad news today with Floyd Mayweather Jr revealing that he has zero interest in fighting the British fighter due to him seeing Khan as a guy that casual boxing fans in the United States have no clue about. Mayweather says Khan is someone that only the boxing community knows about, and he's not interested in facing a guy that the casual fans aren't aware of.
Instead, Mayweather says his main focus is on fighting Manny Pacquiao on May 2nd next year when he plans on fighting again. However, Mayweather isn't sure if that fight can be made due to Pacquiao's promoter Bob Arum recently coming out and saying that he doesn't want Pacquiao to fight Mayweather on May 2nd because that's a Mexican holiday date.
Arum feels that the May 2nd date is Canelo's date. In other words, Arum wants Canelo to be free to fight Miguel Cotto, one of Arum's fighters, on May 2nd. If this move by Arum leads to the Mayweather-Pacquiao fight never taking place then it could be a huge, huge mistake because the Mayweather-Pacquiao fight is a much bigger fight than the Canelo-Cotto fight.
Neither Canelo nor Cotto have proven themselves as big money makers when they've been the A-side in pay-per-view fights. As such, a fight between Canelo and Cotto might bring in as much as 1.4 million buys, whereas a Mayweather-Pacquiao fight could bring in as much as 3 million.
It would be a pity if Arum's decision not to let Pacquiao fight Mayweather in May results in them not fighting, because plans on fighting on both Mexican holidays in 2015. If Arum says no to Pacquiao fighting Mayweather in September on the Mexican holiday then that may be the last chance of them ever fighting.
"Amir Khan, the other night I think he did [sold] 4000 [tickets]. Amir Khan, his name holds no weight," Mayweather said to esnewsreporting. "No one knows who Amir Khan is but people involved in boxing. My focus is on Manny Pacquiao. Let's make it happen."
When asked if the fight with Pacquiao will happen, Mayweather said "I'm not sure. Bob Arum and Manny Pacquiao have been fooling the public for years. The first time we didn't fight because of the random blood and urine testing. The second time we didn't fight because he didn't want to take the $40 million. Now Bob Arum is trying to throw another excuse out there talking about they don't want to fight on May 2nd. Why not? Let's make the fight happen."
As for Khan, it looks like he's going to need to look in another direction for a fight rather than continuing to waste time calling out Mayweather. With Arum steering Pacquiao away from fighting on May 2nd, it's possible but likely that Khan could be a potential opponent for Pacquiao. If that fight doesn't get made, then Khan can always fight Kell Brook in a stadium fight in the UK. However, Khan has made it clear that he wants the Brook fight to wait until he's fought Pacquiao and Mayweather.
This means that Khan will likely need to fight another welterweight while he waits until Mayweather or Pacquiao fight him. I think it's pretty obvious that the Mayweather door will be permanently closing on Khan with him taking another fight in early 2015. Khan can't fight Mayweather in September due to Ramadan, so this is kind of it for Khan. There's no point in him chasing Mayweather after this.