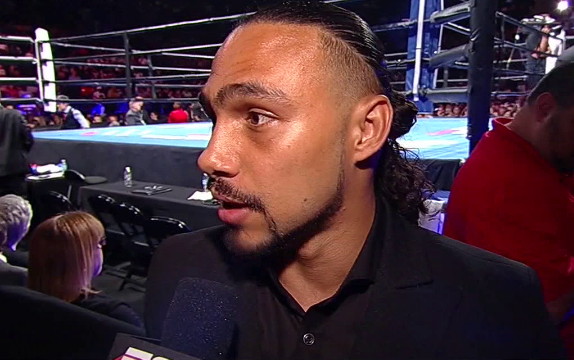 Whatever you think about Amir Khan, he was a more deserving candidate than Andre Berto for the 49th fight of Floyd Mayweather's career. So was IBF welterweight champ Kell Brook, or Ohio's Shawn Porter. In fact, there are loads more deserving fighters, including Top Rank's Tim Bradley – though let's be honest was never going to get the call, but you get the point.
Hell, given more notice Danny Garcia could have picked up a career-high payday for his 147 debut rather than fight Malignaggi, yet one man who many fans would have liked to have seen in the opposite corner is Florida's WBA (reg) welterweight champion, Keith Thurman.
It was never going to happen either, mind you. Not after Floyd suggested that Thurman should fight up and coming Mayweather Promotions prospect Errol Spence Jr first, and after his right hand man Leonard Ellerbe also accused "One Time" of not being on Floyd's level some weeks ago.
All things that haven't gone down well with the Dan Birmingham trained fighter.
Speaking at last weekend's Garcia/Malignaggi media event, Thurman, who wants a big fight to finish the year off on said;
"I'm the realest fighter you guys are going to see in a really long time because I'm not afraid to talk about boxing as the way it really is. There are beautiful things about the sport of boxing and there are ugly things.
"I've come to many conclusions watching Floyd the past three years and especially dissecting their comment that Ellerbe (said). What I've come to acknowledge is that Floyd Mayweather is in a very special position in his career where he has more power than anyone else in the sport of boxing
"He understands that and he uses that power to the best of his ability."
It would seem that Thurman feels like much of the rest of the world when it comes to the out-of-ring antics of the richest fighter in the sport's history too;
"Let's watch 'Money' spend his money on a Rolls Royce and a Bentley," Thurman said. "Let's watch 'Money' go to a strip club. Let's watch 'Money' go around with a bag of money and go buy some shoes. Whatever he wants to do, America is going to watch; it's called the 'Money Show.'
"So right now at the end of his career he's making more money than anyone thought was possible in the world of boxing. And to me that is his goal, that's why he nicknamed himself 'Money.' He's focused on the money and he wants to make history — not in the way I want to make history — but he wants to make history on numbers and numbers alone.
"So once again, enjoy 'The Money Show.' I wouldn't pay for the next fight but (if you do) that's on you."
And don't go expecting Thurman to take any fight with former Olympian Spence just yet– especially on Mayweather's say so. He feels the young Texan needs to earn his stripes first;
"With all of the welterweights Errol Spence can call out, he wants to call out Keith Thurman?" "One Time" said. "Floyd Mayweather told him to do it. 'Yes, no problem. I'll do what you ask.' Whenever that boy deserves an actual title shot against a real champion, I'll be there and I'll be willing to give him that chance."
Twitter @Undilutedpoison