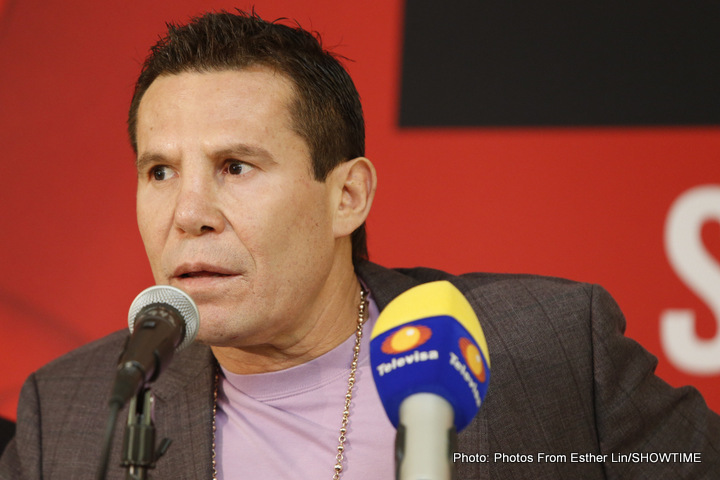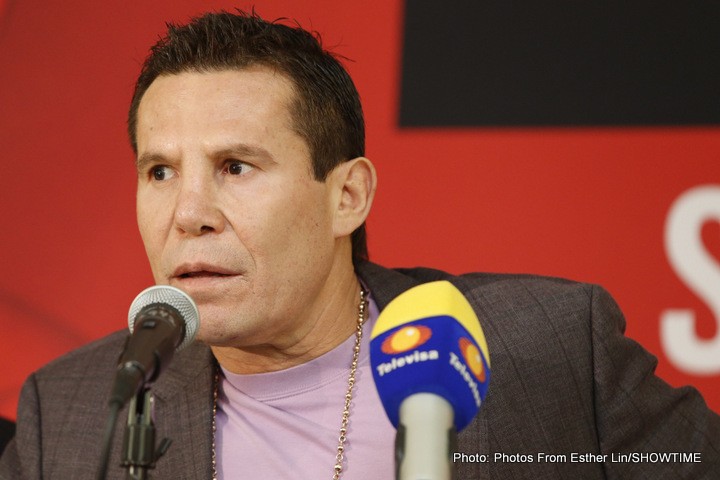 Quite often, when the subject of "Dream Fights" comes up, fight fans close their eyes and fantasize over just how special a lightweight super-fight between all-time greats Roberto Duran and Julio Cesar Chavez would be; and to wonder who would have emerged triumphant. Well, both long retired greats are well above the 135-pound limit today (and the 147, 154 and maybe 160-pound limit come to that) but they are set to face one another in a special attraction of a bout that Bob Arum is planning to add to his upcoming July 23rd show at The MGM Grand in Las Vegas (probably to be topped by Terence Crawford-Viktor Postol).
But calm down, the planned Duran-Chavez bout will be of the exhibition variety only. Arum told Dan Rafael of ESPN.com that he aims to have the two-round exhibition on his card in the name of fun. According to Rafael, the Nevada State Athletic Commission must first approve the bout, and decide what weight it will be "fought" at, but both living legends have said they definitely want to take part in the exhibition. Chavez is now 53-years-old, Duran – who will soon see a movie based on his incredible life released, with "Hands of Stone" set to hit cinemas in August – is 11 years older at 64.
"I don't want anyone to get hurt," Arum told ESPN.com. "It's fun, which is what it's supposed to be. We'll have a good card and this will be an added bonus. We'll pay tribute to the two greatest Hispanic fighters."
Who knows what to expect from the two greats with a combined age of 107! Duran, who ballooned in weight in the mid-2000s, but has since slimmed down considerably, told Arum – half-jokingly – that he wants to "kill" Chavez. Chavez, also still in possession of some of his old fighting spirit, said he'd "beat up" Duran. More than likely, the two will go though the motions, with or without head-guards and while wearing t-shirts, as their millions of adoring fans get a chance to cheer on their heroes one last time (at home whilst watching on TV, with 16,000 or so watching the bout in person).
As a piece of fun or a curiosity bout, there is nothing wrong with Arum's idea in principal. Let's just hope that neither old warrior suffers from flashbacks during whatever action they are capable of providing at their current age!
As for a Dream Fight between the two at 135-pounds – pitting the Duran of 1974 against the Chavez of 1987 – let's just leave it by saying this would have been one of the fiercest, most intense fights in lower weight history.
Panama's finest, Duran retired with an astonishing 103-16(70) record. Chavez, the greatest Mexican fighter in history, walked away with an equally impressive 107-6-2(86) ledger.