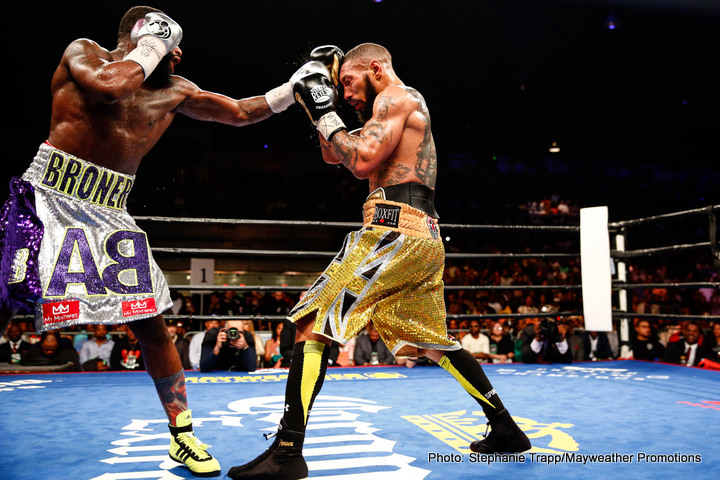 Adrien Broner seems destined as of late to make more headlines due to his out of the ring actions than those inside the four corners. Broner currently sits in a Cincinnati jailhouse due to how he was arrested this week for parole violation. Broner – who was recently in court to face assault and theft charges – violated the terms of his parole for a previous crime, that of a reckless driving conviction. Broner will not be released until April 22nd, his sentence being ten days.
Broner, nicknamed "The Problem," has recently had far more problems than the majority of his boxing opposition; although he did stop his last foe, Ashley Theophane (in a fight where the winner was stripped of his WBA light-welterweight title before the bout got underway due to failing to make weight) on April 1st.
Currently, 32-2(24) Broner once looked like a future superstar of the sport, but heavy defeats at the hands of Marcos Maidana and the Shawn Porter exposed him in the eyes of many fans. Since the two losses, Broner has made headlines for all the wrong reasons. It's not clear how the short stay in jail will affect Broner, but hopefully he will use the time in his prison cell to have a good think about things. A talented boxer who is good to watch when he has his head screwed on right, Broner could maybe get himself back on track and resume his career at top level.
Or maybe Broner is simply too much of a loose cannon, destined to go down as a man who largely squandered his natural talents. Broner though, in today's era of multiple world titles, has managed to win belts in four separate weight divisions. Despite this, he may well be best remembered for his controversial actions instead of his ring achievements.
Via his Instagram page, Broner urged fans to write to him. Broner listed his prison inmate number and the full address of the jail he is now incarcerated in. Wonder how many fans will take Broner up on his offer!