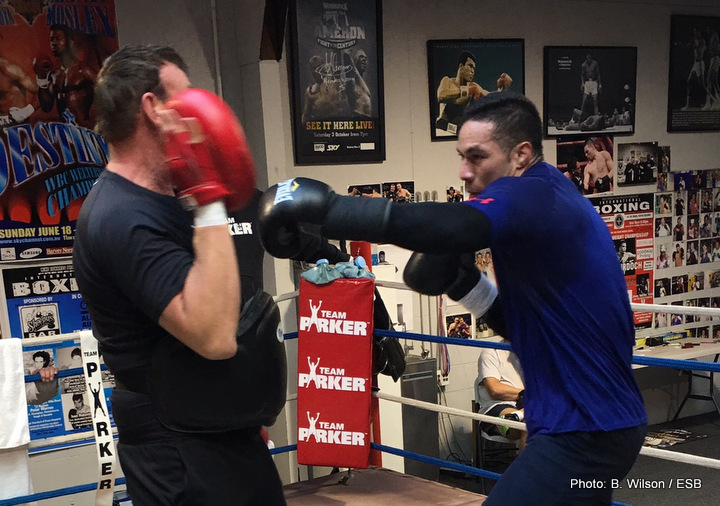 Heavyweight great Mike Tyson used to visit the gravesite of the legendary Sonny Liston (and maybe still does) and, legend has it, Tyson would carry out imaginary conversations with the 1960s heavyweight king who was so mysterious in so many ways. Tyson found inspiration from his visits with Liston and another fighter who aims to become the next heavyweight ruler, in New Zealand's Joseph Parker, has reportedly been paying homage to Liston at his final resting place just outside of Las Vegas.
The website Stuff.co.nz reports how Parker has been out at The Davis Memorial Park Garden of Peace, paying his respects to one of the finest heavyweights in history. Parker has also been reminded how important it is in boxing to fight within the confines of a trusted inner circle; something poor Sonny never had.
"You have to have the right people around you to give you the right advice and guide you the right way," Parker told Chris Barclay. "Like we see with Sonny, we're not sure how he died, maybe it was an overdose, maybe someone drugged him. No-one knows the story."
Indeed, fans and historians still ponder Liston's untimely demise of (approximately) New Year's Eve in 1970 at the age (approximately) of 38. Was Liston murdered? It seems we will never know for sure. But young fighters such as Parker can look at Liston's often tragic life as a way of how NOT to do it. Parker says he has a good team around him and that he will not end up suffering anything approaching the hardships Liston endured. Parker also says he will not carry on fighting too long.
"What I've told my team is when they see I've been taking a lot of punches or I start slurring my words, it's time for me to stop," Parker stated. [Roy Jones Junior] was a champion, in his prime he was unstoppable. He kept fighting, and just kept losing. He kept getting knocked out. It's sort of ruined his legacy."
Parker, the IBF number-one contender, has no legacy of his own yet, but he has big dreams and he is not alone in believing he has the tools needed to become a very good, maybe even great fighter. It's good to know that Parker is also a level-headed person who studies the history of his chosen profession.