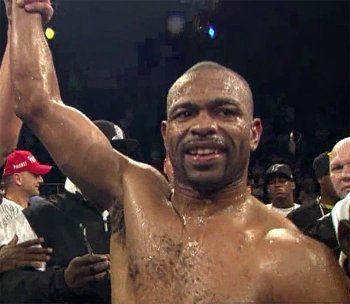 Long faded 46 year old legend Roy Jones Jr, is continuing in his quest to win an elusive cruiserweight world title, going on record to say he will pursue Brits Ovil McKenzie OR Enzo Maccarinelli in pursuit of that aim.
Last week the news broke that Jones was seeking to fight Welsh former champion "Big Mac" in his new second home – Russia, although it was unclear how that fight would lead to a world title given Maccarinelli no longer holds one and hasn't for many years – since being destroyed by David Haye in their massive 2008 unification. The Welshman fights a TBA next week in Newport over 10 rounds, and needs a win according to Warrior Promotions in order to secure any potential fight with Jones down the line.
Incidentally, Russian business mogul and promoter Vlad Hrunov was last week also touting Haye as a potential opponent for Jones, when the pair were in the UK for their fighter Fedor Chudinov's 168 lb title fight with Frank Buglioni, although it now seems that "The Upsetter," Ovil McKenzie has emerged in the American's firing line as the most realistic shot at attempting to capture the world title.
That is of course if McKenzie can capitalize on his late-notice world title shot against new IBF 200lb champion Victor Ramirez of Argentina. The Jamaica-born Brit travels to Buenos Aires this week for Friday night's dream shot and should he spring the upset then one imagines a fight with the future Hall of Fame Inductee will be sanctioned and put together.
"McKenzie is a very strong puncher, a very strong guy," Jones said. "Sometimes, God blessed people for a reason, and he is such a good guy, you would rather see him benefit than anyone else.
"If it doesn't work out, then we will go with Enzo if we have to. Enzo is a good guy too, I've nothing against Enzo. I will fight either one of them, I don't really care. I just want to fight for a cruiserweight title," he added.
Twitter @Undilutedpoison