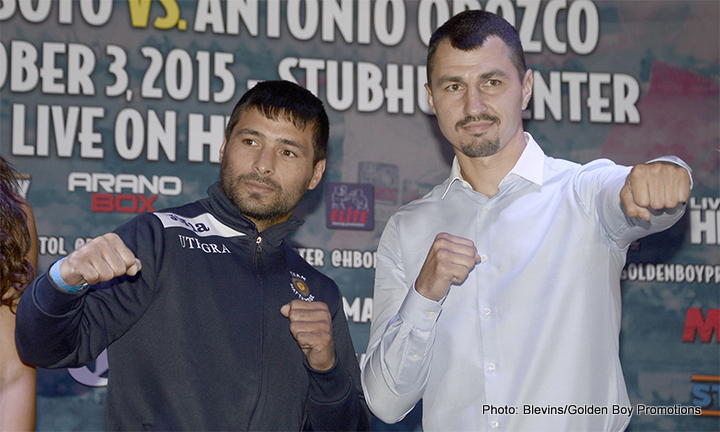 Undefeated Ukrainian 140 lb contender Viktor Postol (27-0, 11ko) is determined to seize his shot at the big time with both hands when he fights Argentine puncher Lucas Matthysse for the WBC 140 lb title on October 3rd, and he credits Wild Card veteran and 7x trainer of the year Freddie Roach with sharpening his tools enough to walk out the ring the new champion.
Postol – who last boxed in a non-televised 8 round tick-over against Jake Giuriceo in April – is the mandatory challenger to the belt left vacant by Danny Garcia's move up to 147 lbs, and has waited months and months for his title opportunity given that he took a step-aside deal to allow Garcia to box Lamont Peterson on the same bill he fought Giuriceo.
He claims that time has given him ample opportunity to learn some small nuances under veteran trainer Roach – with whom he has been working for well over a year – subtleties that he believes have improved his game and will give him the edge on fight night.
"Freddie doesn't change my style a lot but he teaches me small things that are really important that I'd not thought about before and it's going to help me a lot [in the fight,]" he said to fighthubtv via translator.
Postol, a huge 140 lb fighter at 5′ 11″ tall, is little known outside of his native land, enjoying his HBO debut just 16 months ago in a 11th round knockout of Turkey's Selcuk Aydin. Since that time he only has the fight in April under his belt but claims he is still feeling sharp and is looking to impose his size and reach advantages to great effect on the far smaller Matthysse.
Refusing to make a prediction for the fight however, Postol was still full of praise for his big-hitting foe – last seen in April's FOTY candidate with Ruslan Provodnikov.
"He's the strongest I've fought so far and he is one of the best fighters in the division so I will stay focused.
"I don't look for the knockout – when I do it doesn't end up happening – so I will just box him probably and see what happens," he added.
Twitter @Undilutedpoison