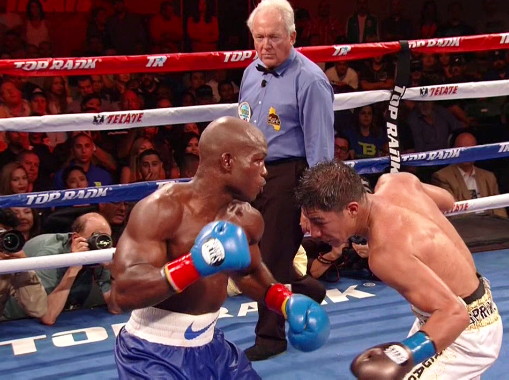 Boxing is littered with bizarre incidents and controversy, from in-ring riots to Parachutist's landing in the ring – yet last night's welterweight clash between Tim Bradley and Jessie Vargas introduced us to a slightly different kind of strange when referee Pat Russell initially appeared to wave the fight off in favour of Vargas – who behind on all 3 cards – rocked Bradley badly in the dying seconds of the final round.
This prompted wild celebration from the WBA 140 lb champion, when in actual fact, Russell was signaling the end of the action after mistaking the 10-second clacker for the final bell – and after much confusion, order was restored and the rightful winner announced – with Bradley getting the unanimous decision by scores of (115-112, 116-112 AND 117-111).
After the fight, despite Bradley's clear points lead, much was made of the case for a potential rematch – due to the controversial ending – although Bradley's trainer Joel Diaz has insisted to fighthype.com that the return makes no sense and is unlikely in his eyes.
"Honestly, it don't make no sense. Why would it make sense just because one punch landed right at the end of the fight? Tim dominated the whole fight. And just because Jessie Vargas landed ?"
" I mean, if he had landed that punch and it had stopped the fight – and ok the fight would have been over due to a punch and Tim would have went down – then yeah, a rematch would have been nice."
"But at the end of the day, Tim had the fight walked. The fight wasn't stopped. It was just the referee separated them, heard a bell and Jessie thought they had stopped it because he'd hurt him! He didn't put him out, he didn't drop him. They get separated from a clinch – how can you say you win?"
Promoter Bob Arum – who has options over both men – is as yet undecided over whether to do it all again, although one would have to think it unlikely given the dominant shift Bradley put in last night.
What is certain is that talk of Bradley moving up in weight to conquer Gennady Golovkin at 160 lb is just that, according to Diaz – who insisted that when it comes to Golovkin especially, it's the fighter in Bradley, not the realist, talking.
He said;
"Bradley/GGG? That's just a fighter's mentality. He (Tim) don't back down to nobody. But realistically? It would never happen."
"(Cotto or Canelo) That's more realistic because it's at 154 lb. I mean at 160? Honestly? Like he (Tim) says, we make decisions. I won't let him. I'll let him try the 154 division but not 160."
Twitter @Undilutedpoison