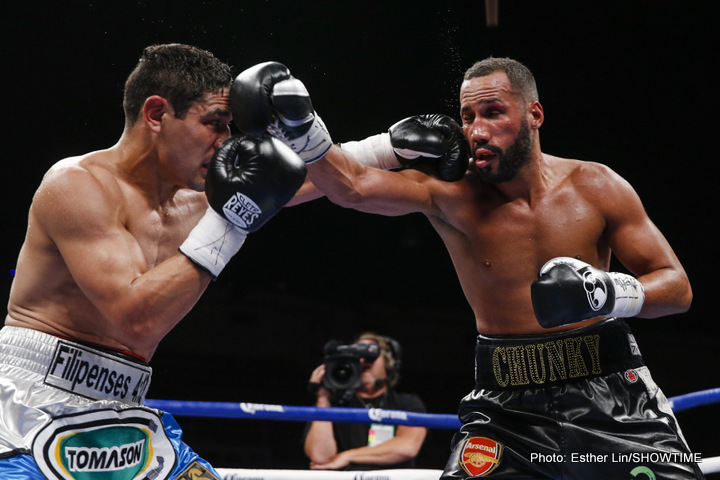 Is unbeaten puncher Jamie Cox the most avoided fighter in British boxing today? Maybe. The dangerous southpaw who is 20-0(12) returns to action tonight in what could be called a stay-busy fight if Cox had been busy to begin with, but the Swindon southpaw has had trouble finding himself fights (he has also had legal issues that were well-publicized).
Tonight the 30 year-old will face Martin Fidel Rios, 20-9-3(11) but Cox is aiming higher, much higher. Cox wants the opportunity to show how good he really is and fight for a world title. Cox's number-one pick would be a shot at James DeGale, the fellow lefty who holds the IBF 168-pound title.
"James DeGale is the best world champion for me," Cox told BoxNation. "I want to fight the best. James DeGale would be my ideal fight. For me, it's about the man [rather than the title], the best man, give me James DeGale. I sparred James, it was good work. I don't like to talk about it, but James knows what I'm about and that's the main thing. Like I said before, just give me the opportunity, let me fight, I'll show everyone."
DeGale may be looking at currently bigger names, but Cox, if he keeps on winning,will surely get his chance one day. Cox has to look good against Rios tonight, and then keep himself out of trouble and stay active. Cox, a fine amateur who boxed as a light-welter and has moved up through the weights at pro level, is too good a fighter to ignore. Powerful, aggressive and hugely determined, the man who scored a couple of eye-catching KO's last year is already planning another fight after tonight's bout.
Look for Cox to register his thirteenth KO win over Rios, this despite the fact that the 24 year-old Argentine has been halted just twice and is entering tonight's fight with three straight wins under his belt. Cox wants to fight the best and fans want to see if he really can compete at top level.