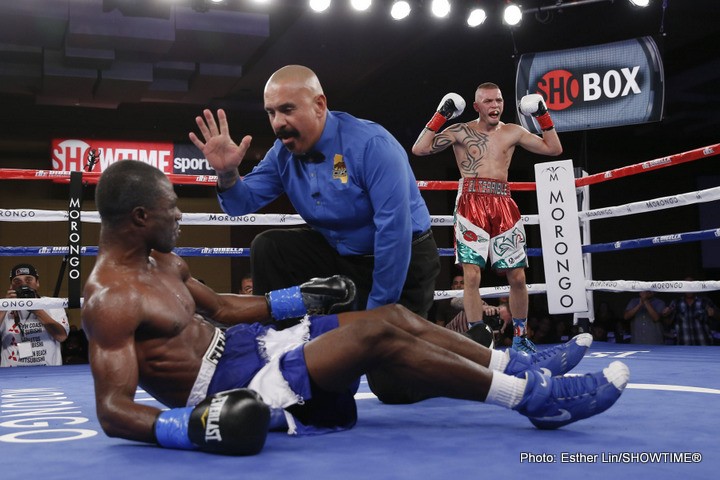 Undefeated prospect Ivan Redkach (18-0, 14 KOs) was impressive in a sixth-round knockout victory over Yakubu Amidu (19-6-2, 17 KOs), who failed to get off his stool following the sixth round in Friday's main event of ShoBox: The New Generation from Morongo Casino, Resort & Spa in Cabazon, Calif.
Working for the first time with new trainer Robert Garcia, Redkach, of Los Angeles by way of Ukraine, started out slow as he found his range, with the durable Amidu handling his power in the opening rounds. Amidu, of Los Angeles by way of Ghana, started slow but picked up the pace in the fourth and then was docked a point by referee Ray Corona for repeated low blows in the fifth.
Amidu, who had never been knocked down in 26 professional fights, suffered two knockdowns in the sixth, with the first coming after a quick right followed by a hard left and the second after an onslaught of power punches. Amidu barely beat the count both times, but he simply couldn't handle the power of Redkach, who landed 45 percent of his power punches.
"I was getting ready to knock him out," Redkach said. "I was going to finish him before his corner stopped the fight. I would have finished him in the next round.
"I hadn't been in the ring for sixth months, so I had to feel him out in the beginning before we attacked," said Redkach. "That was the game plan with Robert Garcia. I was in perfect physical condition. I will be a world champion very soon. That is my dream."
Amidu complained that a leg injury was the reason he quit on his stool.
"I hurt my knee in the last round when I fell on it," Amidu said. "I was OK after the knockdown, but when I stood up I felt something in my knee. I didn't stop fighting because of the punches; I stopped because I hurt my knee."
While Amidu complained of a hurt knee after the fight, the California State Athletic Commission stated that the bout was stopped due to punches. By rule, the commission rules that a knockout.
SHOWTIME Analyst Steve Farhood was impressed by Redkach, who has been labeled by many boxing pundits as a hot prospect to watch.
"It was a very impressive victory because Amidu had never been down and had fought much better opposition," Farhood said. "It's not that Redkach beat him, it's the way he beat him. When Redkach debuted on ShoBox we billed him as a lightweight terror and he didn't really fight that way. But tonight he fought smart and in the sixth round the terror came out. He showed he had legitimate power."
In the co-feature, undefeated junior middleweight prospect Alantez "SlyAza" Fox, of Forestville, MD, kept his undefeated record intact with an eight-round majority decision victory over previously unbeaten Patrick Day, scored 76-76, 78-74, 80-72.
Fox (14-0-1, 4 KOs), who is 6-foot-5, was able to keep Day at distance with his highly effective jab, averaging 54 jabs a round with a total of 436 jabs thrown in just eight rounds. Day (9-1, 5 KOs), who went past six rounds for the first time in his career, wasn't able to come forward and looked frustrated in later rounds as he entered unchartered territory.
"I was able to land my jab," said the 22-year-old Fox. "I kept moving and was able to stay off the ropes. I kept him on the outside with my jabs and movement. That definitely was the advantage that I had over him in the fight. It wasn't just my height that worked; it was my movement and range.
"I was anxious before the fight, but once I was in the ring I settled down," said Fox, who was making his SHOWTIME debut. "I'm very thankful for the opportunity and am very excited for big things to come."
Day seemed frustrated with the decision saying, "I think I did enough to win. I think that I landed the better, harder, cleaner, more effective punches. I thought that's how professional boxing is scored, but I guess not tonight. His height wasn't a huge issue because I still think I won, but it was definitely an obstacle."
In the ShoBox: The New Generation opening bout, 2012 Olympian Ievgen "Ukrainian Lion" Khytrov (8-0, 8 KOs) remained undefeated with a dominating third-round technical knockout victory over outmatched Maurice "The Natural" Louishomme (8-1-1, 4 KOs).
Khytrov, of Brooklyn, N.Y., by way of Ukraine, controlled the fight from the outset, lighting up Louishomme, of Colorado Springs, Colo., with aggressive right hands and uppercuts to the body that sent Louishomme staggering on multiple occasions in a fight that was entirely one-sided.
Khytrov was highly accurate, landing 53 percent of his power punches, 51 percent of his jabs and 52 percent of his total punches. Referee Ray Corona stopped the fight just 24 seconds into the third round after a hard right from Khytrov sent Louishomme's mouthpiece flying for the third time and awarded Khytrov the technical knockout.
"I was just concentrating and trying to get some work in," Khytrov said. "I wasn't in there just looking for the knockout. I was looking for chances, but I wasn't going to force it. The plan was to get some rounds in and really start pushing in the fourth.
"I'm ready to take on anyone. It's been hard to get fights, but we're just going to go home and prepare for the next one."
Ivan Redkach vs. Yakubu Amidu ShoBox: The New Generation Weights, Quotes
The six fighters who will compete on Friday's ShoBox: The New Generation on SHOWTIME (11 p.m. ET/PT, delayed on the west coast) made weight on Thursday at Morongo Casino, Resort & Spa in Cabazon, Calif.
In the main event of the DiBella Entertainment-promoted event, unbeaten lightweight Ivan "El Terrible" Redkach (17-0, 1 NC, 13 KOs), of Los Angeles by way of Ukraine, will meet Yakubu Amidu (19-5-2, 17 KOs), of Los Angeles by way of Ghana, in a 10-round fight.
In the co-feature, former amateur standouts Patrick Day (9-0-1, 5 KOs), of Freeport, N.Y., and Alantez "SlyAza" Fox (13-0-1, 4 KOs), of Forestville, Md., collide in an eight-round junior middleweight bout.
In the opening bout of the telecast, former amateur sensation Ievgen "Ukrainian Lion" Khytrov (7-0, 7 KOs), of Brooklyn, N.Y. by way of Ukraine, will take on Maurice "The Natural" Louishomme (8-0-1, 4 KOs), of Colorado Springs, Colo., in an eight-round middleweight bout.
ALL ACCESS: Stiverne vs. Wilder will premiere at 10:45 p.m. ET/PT on SHOWTIME immediately preceding the ShoBox telecast.
Weights: Redkach and Amidu tipped the scale at 137 pounds; Day weighed 154 pounds while
Fox measured 155 pounds; and Khytrov weighed in at 163 pounds and Louishomme measured 161 pounds.
Here's what the fighters had to say prior to Thursday's weigh-in:
IVAN REDKACH:
"This year I have a new team, I have a new manager and this year I'm going to fight for a world title. It would be my dream matchup to fight Jorge Linares for the title. I'm ready.
"I trained for about five months, training three times a day in Oxnard at Robert Garcia's gym.
"With Robert Garcia we've been sparring with some of the top fighters. We sparred with Brandon Rios, Jessie Vargas, Ray Beltran, Mike Perez. Top fighters. It was a great experience.
"Robert has changed some of my techniques to get ready for this fight. He's made 11 world champions out of his gym. That's why he was the top trainer of the year. There's a reason that he's made so many champions so I think I'm in good hands.
"I've sparred with Amidu and I've seen him train. It's good to have that under my belt going into this fight."
YAKUBU AMIDU:
"Training camp has been going great. I've been working out for a few months because I was supposed to fight an opponent at an earlier date that had to pull out.
"My entire team has been working very hard, focusing on this fight.
"I have been training with Freddie [Roach] at WildCard gym, we are all a family at the gym. It has been very comfortable for me.
"I know that Redkach is a tall, strong puncher. I have a strategy for him. We will see what he comes with after the first few rounds.
"Redkach is a very good fighter. I have done my homework on him. If the knockout comes then I will take it, but if it doesn't come then there's nothing to worry about."
PATRICK DAY:
"I guess we'll find out tomorrow in the ring if this is the toughest guy that I've faced. On paper he is, but statistics don't always prove it. We'll find out. We'll see how he reacts.
"His height won't be a problem for me. Not at all. It will be a bit different than usual, but I've faced tall opponents in the past before and I know how to deal with it. It's not new to me.
"He'll try to clinch once he feels my speed, how fast I can strike. If I release a hard power shot he'll definitely try to clinch to slow things down a little.
"I'm looking to make a statement.
"Camp was excellent. We had a superb camp. We trained for about two months straight. We brought in some tall sparring partners to prepare for his height and style. We were running in freezing weather in New York and my will kept me going. We're ready."
ALANTEZ FOX:
"Training camp has been great, I feel super strong. I'm ready for this fight and will be in great condition if the fight goes eight rounds. It was a six week camp and I feel 100 percent.
"I don't know much about [Patrick] Day. I know he's short, but everyone is short to me. I will use my distance to my advantage like I always do.
"I know that he has to come on the inside and press, and if he doesn't then he will be playing to my game beautifully.
"I have to thank my team for giving me this wonderful opportunity to be fighting on SHOWTIME. This is what I have been waiting for my entire boxing career since I was eight years old.
"I hope this won't be my last time on SHOWTIME. I hope to be fighting for a championship bout within the next year or two."
IEVGEN KHYTROV:
"Training camp was great. We were sparring with Daniel Jacobs, Luis Collazo, Marcus Browne, the strongest guys in the division.
"We knew about this guy for about a week, but it doesn't matter who I fight. I want to be champion of the world.
"I'll do my best to knock him out. Fans want the knockout and I'll try to give them a knockout. I can't predict the future, but I'm going to do everything possible to get it done.
"I can't predict the future, but I'm looking for a big year in 2015."
MAURICE LOUISHOMME:
"I have been training the past 10 years for this fight. I have constantly stayed busy in the gym with the hopes of being able to get this opportunity.
"My biggest strength in this fight will be my jab. I really utilize my jab well. I am looking to set the entire fight up with the jab, and then look for openings with my right hand and uppercuts.
"This is an eight round fight. I am looking to box, move and avoid his big shots. If I can catch him and hurt him I am definitely going to jump on him for the knockout.
"I feel privileged and blessed to be here. I am thankful for SHOWTIME for giving me this opportunity. It's a chance of a lifetime."