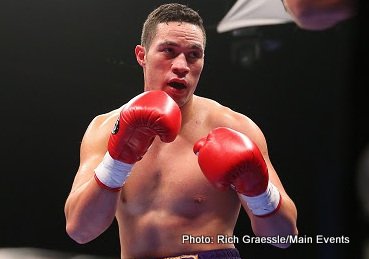 At just 22 Kiwi Joseph Parker is one of the most exciting heavyweight prospects to come along in some time. Now living and training out of Las Vegas with Kevin Barry, Parker is set to face the very durable Sherman 'The Tank' Williams at the Trusts Arena in Auckland New Zealand on October the 16th in what will only be his 11th pro fight. We caught up with Joseph to get his thoughts amongst other things on the fight, how he first got into the sport and the fighters he grew up most admiring.
ESB: Hi Joseph, thanks for making time for us today. What was it that first made you lace up the gloves? Was it your dad that got you in to the sport? How old were you when you started fighting in the amateur ranks and did you have immediate success?
JP: Yeah my dad had an interest in boxing so I came up quite young, probably around the age of about 4 or 5. Then I had my first fight when I was 12 years old. It went well, I got the win and I sort of carried on from there. I did a lot of travelling and represented New Zealand from about 16 onwards.
ESB: At what age did you feel like you could make this your chosen profession?
JP: At the age of 18 when I attended the Commonwealth Games and travelled to the world games and I just started winning some medals and then I thought I could turn it into a career. Then I made the decision to turn pro and had a great team supporting me from the start. My parents always supported my boxing.
ESB: You've mentioned in the past admiring Lennox Lewis and Larry Holmes. Who was your favourite fighter growing up besides those two that you enjoy watching?
JP: I watched a lot of Lennox Lewis' fights just because of the way I knew that I had good height on me, just the way he used his height and his jab. I also liked watching Roy Jones Junior.
ESB: Since training with Kevin there has been a noticeable increase in your power. How difficult is it to be patient in a fight and not fall in love with the power you now have?
JP: Before training with Kevin I was making a lot of mistakes, still fighting like an amateur in my first 3 or 4 professional fights. When I joined with Kevin he taught me how to throw my punches, how to pick my shots a lot better. We did a lot of different drills to help with my power and speed. He taught me to be patient and not waste my shots. We do a lot of training both mentally and physically. I know a lot more about the sport now, not just the physical side but the mental side as well.
ESB: You fought Marcelo Nascimento on the Wladimir Klitschko/Leapai undercard. How did it feel to fight in such of a large crowd in Germany? How inspirational was it to be around a champion like Wladimir during that event and what did you learn from him?
JP: It was a great experience for me. Still being at the beginning stages of my career it was great opportunity and I was keen to be there in Germany and to fight on that card. I was able to meet him (Klitschko) and he was a great guy. I watched his fight and he looks like he trains the house down for his fights, so he's someone I look up to as well.
ESB: We saw some blood in a couple of fights most notably a really ugly cut from a head butt in the King Afa Tatupu fight. Some fighters tend to freeze when they get cut but it didn't seem to bother you?
JP: I got a big cut in that fight, he head butted me and I came back to the corner and Kevin told me it was a real big cut. I was a little worried that they were going to stop the fight but Kevin told me to go out there and be patient and look for the chance to finish the fight which we did in the 2nd round.
ESB: Have you seen much tape on Sherman Williams and what do you think he brings to the table?
JP: Before every fight me and Kevin sit down and look at the footage of the opponent and look for the positives they bring to the ring and the weaknesses they have. I know Sherman's going to come prepared, he's had a lot more time to prepare himself. I know he's durable so he's going to give us a lot of rounds. We're going to try and break him down.
ESB: Obviously in New Zealand the public are beginning to become really aware of you and support you in a big way. I know you have attended some big fights in America recently such as Mayweather/Maidana over the weekend. Are you also starting to get noticed by more fight fans?
JP: Mainly more in New Zealand, it's still coming up a little more slowly in America.
ESB: Saying that I saw a photo that you posted on your Twitter last weekend of you with Oscar de la Hoya.
Yeah he noticed us and came over and took a photo with us and that was a great experience meeting someone like Oscar who was such a big time fighter.
ESB: Thanks for talking to us Joe and we look forward to catching up again soon.
JP: No problem, thank you.
Be sure to get updates from Joseph and Kevin on their Twitter accounts: