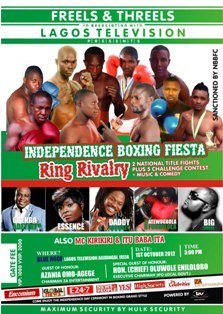 By Prince Dornu-Leiku: The Blue Roof of Lagos TV in the Nigerian economic capital takes centre stage when a boxing bonanza with two national titles at stake comes alive on Monday October 1. There will also be music and comedy featuring some of Nigeria's top comedians to spice up the occasion.
Nigerian Light Welterweight champion Sunday Ajayi (12-6-1, 5 KOs) makes a defence of his title against unbeaten Sadiq Ahmed (4-0, 2 KOs) whilst young Waidi Usman (2-0, 2 KOs) battles Dare Oywola (2-2, 2KOs) for the vacant Nigeria Featherweight championship in the main events.
Under the auspices of the Nigerian Boxing Board of Control (NBBofC) and promoted by Freels and Threels Entertainment headed by Remi Aboderin who is also Secretary General of NBBofC, a total of seven bouts are lined up to whet Nigerian boxing fans' appetite and excitement on this most important of days in the country's history and also push up the quest to bring out the best in professional boxing in the big West African nation.
"Last year we did a world title, now we are promoting a 2 bout title fight and a 5 bout contest match in total 7 bouts. Next year between February to June 2013 we will be promoting a WBC Silver belt title and a WBC International. I am also thinking about contacting the WBO for titles too. Freels and Threels Entertainment will bring out the best of professional boxing and bring boxers from Kenya, Ghana, and South Africa," wrote Freels and Threels Director for Sports Onyeka Eboma Elum on his Facebook page.
Other supporting bouts are a 6-round Super Middleweight contest between Jude Ilo and Bassy Epenyoung, an 8-round Light Welterweight championship featuring Saheed Olayiwola versus Ahmed Yusuf and Alani Suleman against Isiaka Akinsola in a Middleweight contest, also over 8 rounds.
Completing the line up for Monday Night in Lagos are a 6-round Cruiserweight fight featuring Ademola Faniyi against Rafiu Olanipekun as well as Abolore Olamide versus Thomson Chukwuemeka at Lightweight over 6 rounds.
Tickets for entry are priced at N500 (Five hundred Naira) for regular and N1000 (One thousand Naira) for VIP.