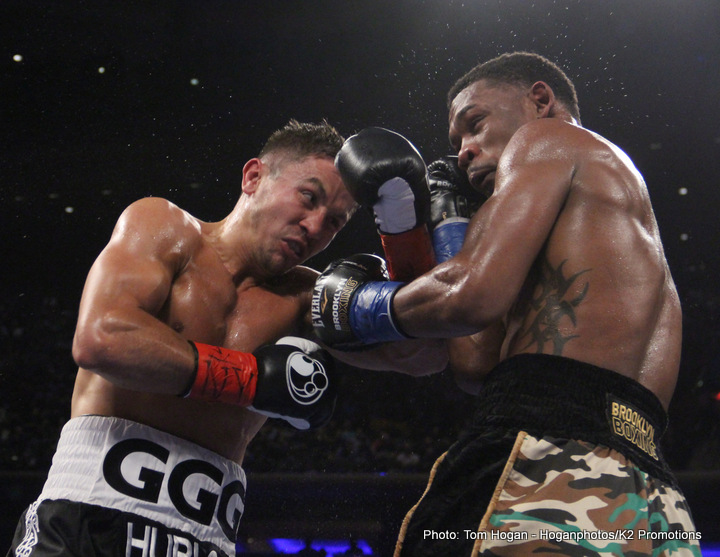 Though he didn't get the verdict many people felt he deserved in his close fight with middleweight ruler Gennady Golovkin, Danny Jacobs certainly proved, or re-proved, his worth in a big way. Arguably the second best middleweight in the world today, Jacobs, once he recovers from the crushing disappointment of losing (or, in the opinion of some, "being robbed") can get himself some big, big fights.
Jacobs, who lost for just the second time in his fine career (one that could have ended but for Danny's famously heroic winning battle with cancer) wants a rematch with Triple-G, but it seems unlikely the New Yorker will get one; certainly not this year anyway. So who could Jacobs fight next – who would you like to see "The Miracle Man" get it on with in his ring return?
David Lemieux, 37-3(33):
This one could be special. Lemieux, who has bounced back from his own, stoppage loss to GGG, looked truly frightening last week in crushing yet another Golovkin KO victim in Curtis Stevens. Would Jacobs box the powerful Canadian or would he opt to thrill the fans by slugging it out with him? Who wins this one!?
Andy Lee, 35-3-1(24):
Lee, a tough and fan-friendly Irish warrior, won on the GGG-Jacobs under-card, outpointing KeAndrae Leatherwood over ten rounds, and he wants one last shot at a title. A win over Jacobs would very possibly get Lee a shot. While for Jacobs, an impressive win – a stoppage win being especially impressive – would get him firmly back in contention for another shot of his own.
Hassan N'Dam N'Jikam, 35-2(21):
N'Jikam stunned an unbeaten Alfonso Blanco to take the interim WBA middleweight strap back in December, and as a "comeback" foe for Jacobs, the Cameroonian who is based in France would be a good, interesting opponent. Often in exciting fights, N'Jikam might be capable of dragging Jacobs into a thrilling slugfest.
One thing is certain: whenever and whoever he fights next, boxing fans will definitely be cheering for Jacobs.