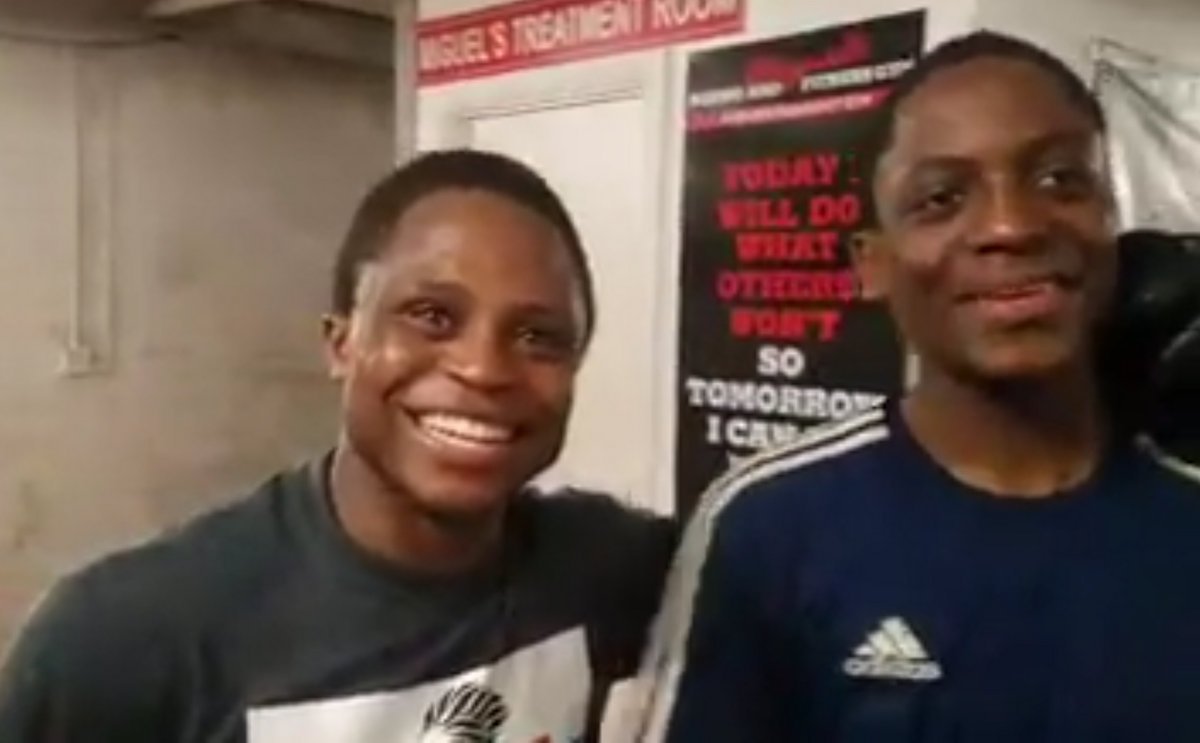 Ghana's undefeated WBO interim super bantamweight world champion, Isaac 'Royal Storm' Dogboe has boldly predicted a knockout victory over Jesse Magdaleno when he challenges the Mexican-American for the WBO world title in Las Vegas next month.
23 year old Dogboe (18-0, 12 KOs) has been training at the Miguel's Gym in London, UK as the countdown to the big fight against the 26 year old Magdaleno (25-0, 18 KOs) on April 14 edges ever closer. Dogboe is sparring with his 13 year old kid brother, Josiah Dogboe who like Magdaleno is a southpaw. The 5ft 6′ Josiah is highly rated by the family and is helping the elder brother by mirroring the southpaw stance of Magdaleno with whom Isaac even once sparred in Las Vegas.
"I believe that Magdaleno has something that belongs to Africans so when Isaac knocks him out, he's going to grab him by the legs and throw him over the great wall of Mexico and present the title to President Donald Trump," young Josiah stated in a video shot and directed by their father and trainer, Paul Dogboe.
In full agreement is Isaac Dogboe himself who has declared war on Magdaleno, having been incensed by recent social media posts and memes by Magdaleno showing the Mexican mopping a decapitated head of the Ghanaian in a ring setting.
"My little brother, he's 13 years old, he's very talented and he's the one who's been helping me get ready for you, Magdaleno. Like my little brother said, I'm going to stop Magdaleno, take the WBO belt, pull him by his legs, throw him over the wall of Mexico and present that title belt to President Trump," Dogboe said full of poise.
"I'm going to get into that ring with Magdaleno, only I and him and I will make sure he does not have any chance to show any disrespect or mop anyone. That's the treatment I'm going to give him," Dogboe added.
He continued: "I'm going to restructure his face and destroy his make up. I am going to knock you out and you will regret all the silly memes you've been posting about me."
The hard punching Ghanaian has also rubbished Magdaleno's reported 6-week high-altitude training camp in Mexico as a non-starter and indicated that he remains non-plussed on his mission to destroy the also undefeated Magdaleno.
"I fought Cesar Juarez who was born in Mexico, raised in Mexico, trained in Mexico, had almost all his career fights in Mexico. I know Magdaleno was scared that's why he did not fight Juarez. And that's someone I knocked out in round 5 so Magdaleno going to Mexico for high altitude training makes no difference for me," Dogboe said.
He further stoked the vastly emerging Ghana-Mexico ring rivalry with a warning to Mexican fight fans travelling to the Mandalay Bay Avenue for the ESPN pay-per-view event come April 14, 2018.
"I admire Mexicans a lot, they are great warriors so I'm telling all Mexican boxing fans out there to come in their numbers to support their champion, to see their champion get beat because I'm coming with the Africans, the African warriors are coming and we fear no one," Dogboe said.