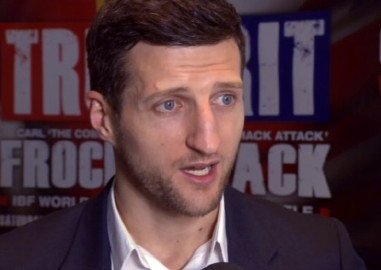 Sky Boxing analyst and former 168 lb world champion, Carl Froch, is picking Wladimir Klitschko to successfully defend his heavyweight titles against Tyson Fury on Saturday, though 'The Cobra' is urging Fury to 'put it on him' and 'make things rough' if he is to stand any chance at all of winning.
Froch – set to travel out to Germany for the fight on Wednesday – spoke to iFLtv about the anticipated heavyweight clash, and is predicting a points decision in favour of the 39 year old champion, who is seeking to go on and capture the WBC title before his eventual retirement.
"I give Fury a bit of a chance. Unfortunately I don't see him winning," Froch said "I think Klitschko's gonna nick it on points in what is gonna be – for a bit – quite entertaining.
"I really hope Fury gets in there, puts it on him, roughs him up, puts the nut on him if he has to. Make it rough, a rough, tough brawl because Fury's got the size and is physically strong.
"I think Klitschko's gonna win on points [though]. I want Fury to win, I really do but I've got to go with what I think and be honest. I think Klitschko will keep him at the end of his jab, outbox him, move, and in Germany I'm not gonna give Fury a points verdict.
"I do think it'll go the distance [though], and I think it'll be quite close."
Either way, Froch would like to see a more entertaining and spirited effort than that of fellow Brit, David Haye, who despite all his pre-fight boasts was woefully ineffective against Klitschko in 2011, a performance that later became known as 'Toe-Gate' thanks to Haye's post-fight excuses for his comprehensive defeat.
"I hope Fury really sticks it on him early, roughs him up and makes him work for his [title] defence, because unfortunately David Haye couldn't do that because he wasn't big enough," Froch said. "Every time he got near, Klitschko leaned on him, [Klitschko] won't be able to do that to Tyson Fury.
"If Klitschko gets old overnight like some fighters do? Though, [either way] I'm looking forward to it and I hope Fury does the business."
Twitter @undilutedpoison