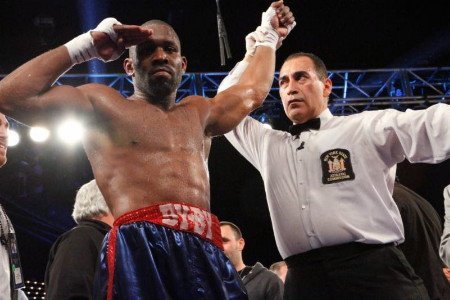 Share the post "Bryant Jennings Victorious in HBO Debut with TKO Victory Over Artur Szpilka"
(Photo by Rob Epstein – Gary Shaw Productions) NEW YORK (January 25, 2014) – Tonight Gary Shaw Productions and Antonio Leonard Promotions Bryant "By-By" Jennings (18-0, 10 KOs) remained undefeated in his HBO debut with a 10-round TKO victory over Poland's Artur Szpilka (16-1, 12 KOs).
From the opening round Jennings controlled the action with his superior boxing skills and eventually landed a body shot in round six to take a convincing lead in the fight. As the fight moved on, Jennings kept the pressure on Szpilka and ultimately closed the show with a combination that sent the Polish fighter to the canvas in the final round. The referee seen enough and the bout was halted at the 2:20 mark of round ten.
"I came out here to put on a show and I think I accomplished that goal," said Jennings. "Szplika is a very tough fighter and I give him credit for lasting as long as he did. After the first knockdown I didn't think he would last much longer but he showed great heart and almost went the distance."
"I'm ready to step up and challenge for a world title," Jennings continued. "I'm going to take it one day at a time and see what my team presents me. I want to thank Gary Shaw, Antonio Leonard, James Prince and HBO for giving me this opportunity."
"Jennings showed he's a very talented fighter," said Gary Shaw. "Boxing needs heavyweights that can close the show and Jennings proved that tonight on his HBO debut. I will talk with James Prince and Antonio Leonard to see what is next for Jennings. He's the first American heavyweight in many years that has a legitimate shot to be the World Champion. The Polish Prince put up a great fight, but tonight it was all about the USA. Right now I'm very happy with Jennings performance."
"Bryant Jennings is no joke," stated co-promoter Antonio Leonard. "He's going to take the heavyweight division by storm and I see him becoming a world champion very soon."
"I know Jennings has the talent to take over the heavyweight division," manager James Prince said. "Tonight he took a giant step toward a world title shot. Boxing fans here in the U.S have a heavyweight in Jennings they can rally behind. We are gunning for the best out there."