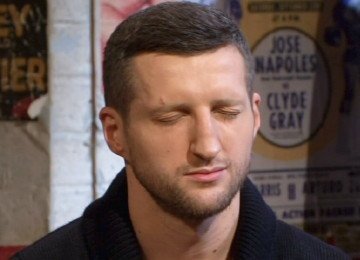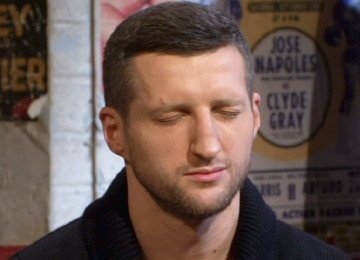 Matchroom Sport promoter Eddie Hearn was very surprised at how his fighter IBF/WBA super middleweight champion Carl Froch (31-2, 22 KO's) seemed to come unglued last Thursday night on the Sky Ringside show with his opponent George Groves (19-0, 15 KO's). Froch was under constant pressure from Groves the entire program with Groves needling him while the two fighters sat on the same bench in the studio.
Near the end of the shot, Froch looked like he was on the verge of tears from Groves comments. Instead of backing off, Groves went for the kill and started pointing out that Froch looked like he was about to cry. It was bad for Froch because he turned to Hearns to see if he would step in to deflect some of the stuff that Groves was saying, but Hearn just sat silently not saying a word. Froch even attempted to get the Ringside host Johnny Nelson to start asking questions of him, but Nelson seemed to be paralyzed by what was transpiring between Froch and Groves.
A gleeful looking Groves said "Calm down, Carl. Are you going to cry? I can hear your voice breaking. He's going to cry! Don't cry, He's going to cry. Adam, is he going to cry. You look like you're on the verge of tears. He [Hearn] can't help you, Carl. You're going to have to hold it together all by yourself."
Froch said "Yeah, go on ask me questions. What's happening right now. Are you going to ask me questions, Johnny?"
It was a pretty painful looking sight to see Froch struggling to control his emotions, and Groves enjoying every moment of it with his teasing. It was a wonder that Hearn didn't step in to get Groves to back off because Froch was really getting it from him the entire program especially at the end when he appeared to be near tears.
Hearn said afterwards to IFLTV "George is very smart. He has a plan inside and outside of the ring. I've never seen Carl rattled like this in any fight I've worked with him. This is the first time I've seen him outside of his comfort zone and I'm enjoying it. It's making the fight bigger than I ever thought it would be. I feel this fight will be bigger than Haye-Fury. We've got three weeks to go and I think it's going to be one of the biggest fights this country has ever seen. They hate each other. You don't see what goes on outside the camera."
Hearn may be enjoying it, but it was hard not to feel sorry for Froch because he was really getting worked over by Groves in the studio much of the time, and he couldn't even get himself to look the much younger fighter in the eye to argue back at him. Froch literally wouldn't look at Groves the entire time and it was very odd. Froch across like he was intimidated by the 25-year-old, at least in terms of carrying on a discussion. Froch doesn't appear to be afraid to fight Groves. T